Catching Up with Carey Mulligan
At a celebration of her new film, Far from the Madding Crowd.
---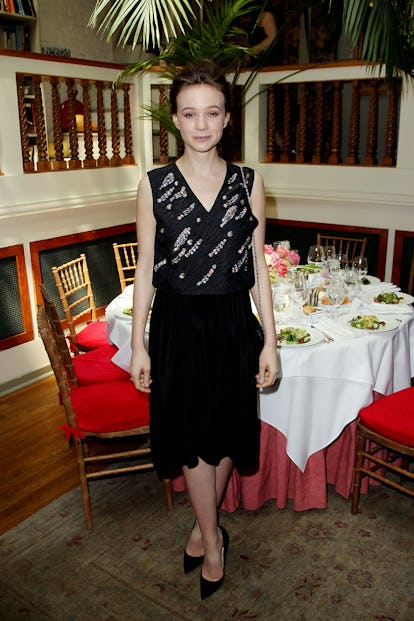 Tuesday afternoon, the top floor of the very French New York restaurant La Grenouille was hit with a British invasion when Sir Peter Westmacott, British Ambassador to the United States; Danny Lopez, British Consul General in New York; and an Anglo-heavy host committee including Tina Brown, Peter Copping and Alexander Gilkes hosted a luncheon honoring the new film Far from the Madding Crowd. The movie from Fox Searchlight, which opens May 1st, is based on the 19th century Thomas Hardy novel and stars Carey Mulligan as a young woman torn between three suitors: a sheep farmer played by Belgian actor Matthias Schoenaerts, a haughty sergeant (Tom Sturridge), and a wealthy landowner (Michael Sheen). Naturally, bad decision-making and high drama ensues. After the second course, Sir Westmacott addressed the crowd, which included the actors Matthew Morrison and Ellen Burstyn. "We wanted to show our pride and celebrate the arrival of such British talent in America," he said, noting that "there were 24 Oscars for British people this year alone."
His colleague, Lopez, was more direct in his pitch for the homeland. "There seems to be a constant appetite for all things British. This should be a reminder to audiences that they should spend more time in the UK," he said, and then nodded towards Mulligan and Schoenaerts. "What we're doing to help the UK is with aid from Belgium."
Afterwards, writer Amanda Foreman moderated a chat with Mulligan and Schoenaerts. "This clever woman is brought down by some incredibly stupid decisions," Foreman observed of the film's protagonist.
"I think they're small decisions that snowball," said Mulligan. "I like that she's flawed and you see her falling prey to many of the choices that women fall prey to."
Mulligan revealed that she was, at times, just as headstrong as her character, particularly when she realized some of her favorite Hardy lines were going to be cut from the film. "It's a lot about what she does and not what she says. But she does have so many great lines and that's how I got into trouble," said the actress of her battles with her director. But there were high points, too. "I got to sing with Michael Sheen. And that's my mom's idea of heaven because she's Welsh."
Photos: Catching Up with Carey Mulligan
Carey Mulligan. Photo by Startraks Photo.
Julie Taymor and Matthew Morrison. Photo by Startraks Photo.
Matthias Schoenaerts. Photo by Startraks Photo.
Misha Nonoo and Alexander Gilkes. Photo by Startraks Photo.
Danny Lopez and Luke Parker Bowles. Photo by Startraks Photo.