Fashion Veterans Carine Roitfeld and Paul Smith Expand Their Reach
The old guard of fashion is still going strong. Plus, Cate Blanchett, drag star, and Jordan Peele, director.
---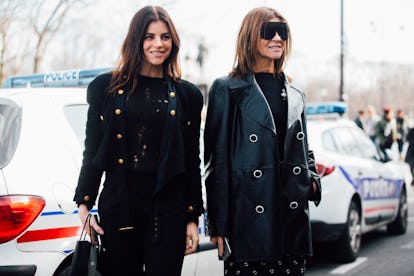 Getty Images
Blanchett, Cate Lip synced with some drag queens at the Stonewall Inn on Monday night. How else do you blow off some steam in between starring on Broadway in The Present, art directing the Sydney Theatre Company, and winning all the awards?
Fashion Week, New York A writer reflects on skipping the shows, seeing New York Fashion Week's politicization (and, in some cases, relentless optimism and even more relentless graphic tees) through an outsider's lens.
Gurira, Danai, and Holland, André As a freshman and a junior at New York University's Tisch school, Danai Gurira and André Holland struck up a friendship (borne, in part, of Holland's doting admiration) that has seen them through their Broadway premieres on the same stage, countless collaborations, and onto the big and small screens.
Peele, Jordan In the comedian and actor's directorial debut, Get Out, he explores race and gender through horror-satire. Yet it entirely defies genres — in conversation, Peele compares it to both Scream and The Stepford Wives. There's a bit of Black Mirror thrown in, too — or maybe that's just the presence of Daniel Kaluuya, the Black Mirror alum who plays protagonist Chris.
Ritchie, Rocco, and Turnbull, Kim Madonna's son Rocco Ritchie and his girlfriend, model Kim Turnbull, are London's answer to Jaden Smith and Sarah Snyder. Watch out, Lourdes — your brother might be coming for New York Fashion Week next.
Roitfeld, Carine With five years of CR Fashion Book behind her, the legendary French stylist and editor looks to expand her reach. What that means: For the magazine's 10th issue, she cast Somali-American model Halima Aden, the breakout star of Yeezy Season 5, and Paris Jackson, daughter of Michael, as her two cover stars.
Smith, Paul More than 50 years after opening his first shop, Paul Smith is still thriving at 70 simply by doing things his own way. Sometimes, that involves a rubber chicken and a business meeting.
Supreme On the heels of an unlikely collaboration with Louis Vuitton, Supreme teamed up with yet another unlikely collaborator: the New York City MTA. On Presidents' Day, subway ticketing machines across the city spat out Supreme-branded passes at random, setting off a hysteria among young hypebeasts everywhere.
See W's most popular videos: