Snake Charmer
Carlos Falchi has dressed everyone from Elvis to the Allman Brothers. Now his signature animal-skin designs are appealing to a new wave of musicians.
---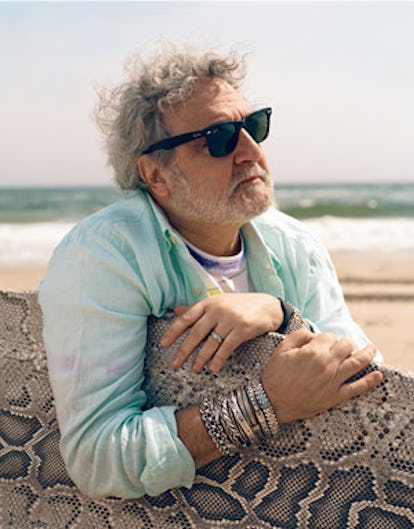 IF YOU WERE a struggling fashion designer in the late Sixties, crafting funky pieces from scraps of bleached and painted animal skins, there was perhaps no better place to work than Max's Kansas City. "People would say, 'Where did you get that jacket with all those fringes everywhere?'" recalls Carlos Falchi, a former busboy at the New York nightclub. "And I would say, 'I made it!'"
The Brazilian-born designer—then a long-haired hippie in head-to-toe leather outfits—was soon hand stitching clothes in his Eighth Street studio for such people as Patti Smith. He made Andy Warhol an alligator-skin jacket, for which Warhol later paid him by playing an art critic in Falchi's 1984 fashion presentation and performance piece at the nightclub Xenon, where his designs were hung like art in a gallery.
The designer and Andy Warhol, 1984.
But it was the music crowd that Falchi—who rode the wave of bossa nova in Brazil—loved to dress most. Seated in his New York showroom, where he is putting the finishing touches on exclusive items for Artisan Workshop, the East Hampton boutique he opened earlier this summer with handbag designer Isabella Fiore, Falchi lights up as he recounts his early days of dressing the music greats in spectacular getups. "A friend of mine, who was Miles Davis's drummer, used to wear my pants," he remembers. "One day at Max's, Miles saw them and said, 'I want to meet this cat.'"
For the next two and a half years, Falchi worked closely with the jazz trumpeter, making house calls during the wee hours with leather vests and patchwork python trousers in hand. "Miles was a night person," he explains, "but so was I." Through Davis, Falchi was introduced to Tina Turner. "Oh, I made some fun dresses for her!" he hoots. And later, working for a concert production company, he met and dressed the Allman Brothers, Mick Jagger, and the Grateful Dead—"all my heroes." He swapped pants with Steve Winwood moments before the musician went onstage, and flew to Las Vegas just to give Elvis some belts. "I got a nod from him and a 'Thank you very much,'" Falchi recalls. Cher, with whom he worked for three years, would spend whole days with him in his studio, trying on assorted bustiers. "She had terrific taste—and she always paid! Back then, I got paid in all kinds of moneys," he says.
On the advice of Geraldine Stutz—Henri Bendel's legendary buyer—in the late Seventies Falchi began focusing on handbags, like his now signature draped-and-cinched Buffalo bag, which was an instant hit on the disco floor. "It was all about how long the strap was," Falchi says. "I made one all the way down to the knees. It was very chic. I didn't know what chic was back then, but it was very, very chic."
From top: Max's Kansas City; Jimi Hendrix performing at Woodstock in Falchi's deerskin jacket.
Three decades later he is still turning out soft, slouchy handbags that are popular with a new generation of women—both musicians (Rihanna, Katy Perry) and non. "I have girls come up to me and say, 'I love your bags—I carry my mom's from the Seventies.' I tell them, 'I have a family to support; it's time to buy a new one!'" Indeed, there are plenty of covetable styles to choose from: Falchi has reintroduced the mini Buffalo bag in an array of metallic skins. And in the spirit of his new Hamptons shop, he's made beach totes in Sex Wax–inspired pastel python, with snakeskin surfboards to match. Now that's rock 'n' roll.
2011 Falchi: Graeme Mitchell; All others: Courtesy of Carlos Falchi.