The Lab of Luxury
Entrepreneur Carmen Busquets has launched the luxe Web retailer CoutureLab, which specializes in the offbeat and one-of-a-kind.
---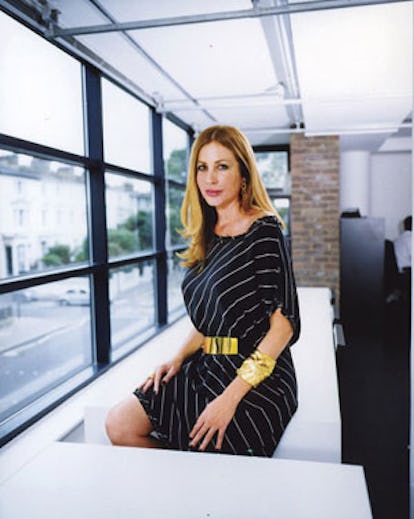 It didn't take long for Venezuelan entrepreneur Carmen Busquets to discover her calling. She knew from her college years that she could unload just about anything on the shop floor. "I'd sell head-to-toe leather outfits—with a fox stole on top—to tourists, Europeans, Miami ladies," says the green-eyed Busquets in her husky, Spanish-accented voice. "But then I thought, I'd better get out of here soon, before I lose my taste."
With a degree in marketing and advertising from the University of Miami—and her taste unsullied—Busquets, now 42, went on to pursue a career in retail and then some. After making her name with a multibrand designer boutique in Caracas in the mid-Nineties, she started building a portfolio of Internet investments and became a major backer of Net-a-Porter. Although she remains a 31 percent shareholder and a member of the board of directors at the online fashion boutique, she has now moved on to a new project. Her CoutureLab is a Web-based luxury retailer that offers one-off or limited-edition items including Revillon furs by Rick Owens; small, Ethiopian rosewood chairs; and hand-embroidered blanket shawls from India.
It is a chilly midsummer day, and at CoutureLab's showroom in London's Chelsea, Busquets is strapped into four-and-a-half-inch Azzedine Alaïa gladiator sandals and glistening with gold jewelry: dangling earrings from Pasquale Bruni, a chunky beaded ring by sculptor Pol Bury and a gold Schiaparelli cuff the size of a lobster tail. Her draped black tunic is from the Paris label E2, which recycles vintage dresses from such houses as Yves Saint Laurent and Chanel. Around her, mannequins wearing Maurizio Galante's delicate origami-like shawls and jackets mingle with artsy items such as French artist Christian Astuguevieille's wacky mirror frames­—fashioned from hemp rope, synthetic lavender sprigs and red pinecones—and Marcelo Lucini's champagne bucket made from deer horn and an alloy of sterling silver and nickel.
The showroom, which opened this past spring, is used for special appointments and preview exhibitions. The site, couturelab.com, went live in mid-June and delivers globally. Its wares range in price from about $150 for a set of embroidered cotton place mats from Mali to $3,500 for a reworked Seventies Hermès silk jersey dress from E2 and $6,000 for a brown ostrich travel case by Jean-François Ducas. After Net-a-Porter, Busquets wanted to stick with online retail, but she was eager to make a shift from an all-fashion focus to luxury products. And while clothing is still a big part of the site, it's less seasonal, more classic and often handmade or hand-finished. "We want to sell products with a story and tradition behind them; there is a world out there far bigger than fashion," Busquets says. She adds that each piece of CoutureLab merchandise has some sort of traditional technique or artisan's skill behind it, noting the weighted hemlines of L'Wren Scott's handmade black dresses and the fact that an Ethiopian chair is carved from a single piece of rosewood. She's currently working with Munnu Kasliwal from Jaipur's Gem Palace and the London-based Cora Sheibani to develop special pieces of jewelry for the site.
Because CoutureLab deals in small quantities, Busquets wants to ensure that the site will not be overloaded with demand—at least for the moment. Access is by membership only, and for now it's a select group of just 700. Those core customers are friends of Busquets's and the CoutureLab staff, family members and friends' referrals. Over the next few months, Busquets says, she'll slowly open the site to a wider audience as she acquires enough designers to meet the demand. Currently, 5,000 people are waiting to join.
Busquets divides her time between Paris and London. Because she travels frequently to South America, India, the U.S. and across Europe for her other role (she manages her family's financial portfolio, which includes stakes in industrial companies and hedge funds), she does a bit of sourcing herself. Some CoutureLab merchandise is also the work of designer friends.
"Luxury has gotten to the point where it's so homogeneous and corporate," says Clements Ribeiro's Inacio Ribeiro, who will design a collection of 12 dresses with his wife and business partner, Suzanne Clements, for CoutureLab in November. "Carmen has understood that today it's about exclusivity and personal service." Ribeiro adds that some might underestimate Busquets. "She's blond, sexy, Latin—and passionate about fashion. But she's no bubblehead; she's a sharp, cunning businesswoman." Net-a-Porter founder Natalie Massenet says Busquets has a great blend of artistic and financial acumen and a sixth sense about what's coming next. "And she's not afraid to roll up her sleeves," Massenet adds. "She opened tons of doors for us in the early days, and would be in meetings with the buying team until 4 a.m."
CoutureLab has been a long time coming for Busquets, who has attempted other Web ventures over the years, including a site for Hispanic women called Entrenos, which was a flop. "At that time, it was all about maximizing subscribers and content on the Internet—and not about e-commerce," she says. "The advertising was slow and slowed down even more in 2000. It was one of those great ideas that happened at the wrong time." She also served on the board of Deepak Chopra's ill-fated Web site mypotential.com. (Busquets's Cuban mother and Spanish father are friends of Chopra's.) "It came out in 2000, and the investors freaked out," she recalls. "They'd spent millions on it, and they didn't want to spend any more because the market crashed."
But Busquets remained undaunted. In fact, she takes pride in thriving under challenging circumstances. She's dyslexic and has been wearing a hearing aid in each ear since she was in her early 20s. "I kept saying I was half deaf, and no one would ever believe me! So I'm half deaf—and dyslexic. How about that?" she says. "Nobody's perfect, and I'm proud of my defects."
Around the same time her other projects were folding, Busquets met Net-a-Porter's Massenet through a former boyfriend who specialized in Web-based venture-capital investments. "Everyone told me I was crazy to invest in Net-a-Porter, but I always knew you could sell fashion online," she says. Indeed, she knew that firsthand. While she was running Cabus, her boutique in Caracas (which she closed in December 2001), she would attend the runway shows in Europe and snap pictures of—or even sketch—the looks. In the days before e-mail, she would mail the images to her best clients. "I actually sold 60 percent of my stock that way; it was a very personal service I was doing for my clients, my friends and their friends," Busquets says. "The clothes that went into the store were partly returns from those presales," she adds.
In addition to CoutureLab, Busquets has a 49 percent stake in London designer Hamish Morrow and helps run the business. She enjoys inspiring people to become designers and was instrumental in encouraging L'Wren Scott to do her collection. Busquets is a patron of London's Tate Modern gallery, where, in addition to fundraising, she tries to raise the profile of Latin American artists and exhibitions. She is also a member of the Museum at F.I.T.'s Couture Council, which raises funds for all the exhibitions and events at the museum.
Despite all of her jetsetting and a host of fashionable friends including Tomas Maier, Rebecca Korner, Duro Olowu and Mina d'Ornano, Busquets isn't a fixture on the social scene on any continent. "Sometimes I make it to parties and sometimes I don't," she says. "Social life is always something you can go back to. The past five years have been a big time for me to concentrate on my work. And I've always been lucky with my friends—I've always met the right people at the right time."