Five Questions For: Carole Bouquet
Since her film debut at age 18 in Luis Bunuel's surreal That Obscure Object of Desire (1977), Carole Bouquet has become French acting royalty. She won a Cesar for the 1989 Too Beautiful for...
---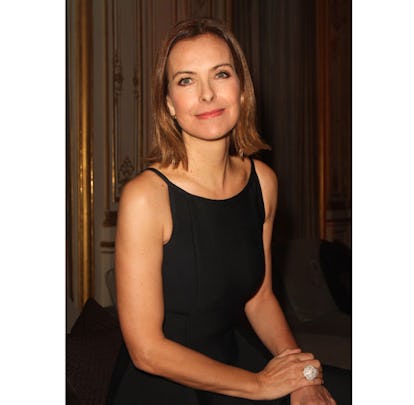 Since her film debut at age 18 in Luis Bunuel's surreal That Obscure Object of Desire (1977), Carole Bouquet has become French acting royalty. She won a Cesar for the 1989 Too Beautiful for You opposite Gerard Depardieu (her onetime fiancé), tested the Hollywood waters as a Bond girl in For Your Eyes Only and has even taken time from her career to buy a vineyard in Pantelleria, where she lives and produces wine.
This week, the actress stars in veteran director Andre Techine's latest movie Unforgivable set in Venice and its nearby island Sant'Erasmo. Bouquet is Judith, a real estate agent and the younger, seductive wife to Francis (Andre Dussolier), a famous French novelist whose rebellious daughter (played by Melanie Thierry) goes missing. Obsessed with finding her, he soon starts to harp on the other source of mystery in his life, namely, Judith's rich amorous past which has him convinced she's being unfaithful.
Bouquet, a former face of Chanel No. 5, sat down with us to discuss the pain of love, maturing as an actress and the burdens—and blessings—of winning the genetic lottery.
How would you characterize Judith's trajectory over the course of her life and the course of the film? I think she is, I don't know how to say in English, une amoreuse, a lover. Her life is dedicated to love, obviously, because that's what she's been doing. She's ready, she's open to life, to accidents in life, she's still very open which is nice because she is 50, I'm 50 in the movie. Because when you've been hurt…you know when you're young you think that when you grow old you're going to get better and that the skin is going to be thicker and you'll get stronger. That's exactly the other way around, by the way, that I discovered…
Uh oh. In fact, yes, I have bad news for you because you're young. That's the opposite. You become more fragile. Because yes, in fact, you had pain and that doesn't make you stronger. When you're young, all the accidents, all the pain you take them, but at least you're very strong. In fact through time, it's just adding more and more pain, more and more loss and it makes you more fragile.
Do you think Judith has felt burdened by her own physical effect on other people? I think she didn't like it. We could guess from the character and what Andre did and what we did together that she wanted to put that aside. Can it not be the point? And then she arrives at 50 where it shouldn't be part of her life, it's like, Let's talk about something else. Of course it comes back and it comes back and it comes back. Which is normal. It's part of her. It's part of you.
And what about you, personally, as an actress? You became a beauty icon in France at such a young age and later on the face of Chanel No. 5. As you've matured do you find it's been easier to leave that aspect behind? It's like a jigsaw, there's a piece of the puzzle at the beginning and it's the only one and of course it had a lot to do with the way you look. And then you have to have the time to add pieces of the jigsaw. And I was lucky enough to be able to do comedies, dramas, completely different parts. At the beginning when you start you have a fantasy that you could be somebody else. Which is absurd. That's part of being an actor. It's your voice, it's the way you move, it's your body, even if you transform it, you play with it. And you play with something that already exists. You can't completely erase it. And that would be stupid, by the way. After a while, you have to understand it's even better if you use it. So now, yes, anyway I have no choice anymore I'm 54. I love that English expression, Been there, done that.
On a totally embarrassing personal note, I grew up with my mother telling me since I was about seven years old that you were the most beautiful actress in the world. Not in anyway to diminish your acting ability! When I was younger, I wouldn't take that as a compliment. Now that I'm 54, I really love when people say that. Not that I take it for granted, it's just very pleasant. It's like a gift whoever gave it to me, besides my genes and now I love it when people say, God you're beautiful. I say, Great! Keeps on going a little bit (knocks the wooden table). So thanks to your mom. Tell her I thank her a lot.
Bouquet: Getty Images