Carolina Castiglioni, Daughter of Marni Founder Consuelo Castiglioni, Is Designing Her Own Collection Now
Carolina Castiglioni came of age with Marni, the label her parents founded. Now, with Plan C, she's hoping to add a new chapter to the fashion clan's history.
---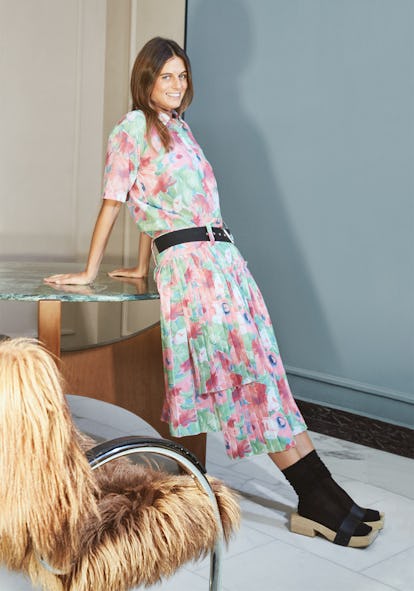 Photograph by Ilaria Orsini.
When Consuelo Castiglioni announced that spring 2017 would be her last collection for Marni—the brand she and her husband, Gianni, founded in 1994 and built into a fashion powerhouse—arty, intelligent women worldwide let out a collective cry. After having sold the label outright to Renzo Rosso's holding company, OTB, the time had come, she said in a press statement, "to dedicate myself to my private life." And sure enough, she has been unwinding ever since at the family's country house in Celerina, Switzerland, and babysitting her four grandchildren. "She's really enjoying her new life," says her daughter Carolina, 37, who, in her absence, is stepping into her mother's chunky, flat-soled sandals.
Earlier this year, Carolina, who had overseen special projects at Marni, came up with Plan C, a "small and relaxed" women's wear line geared toward her own upbeat, somewhat unconventional fashion sensibilities. And because the Castiglionis like to do things as a family—at Marni, they ate lunch together every day, and would then regroup for an aerobics class led by their trainer, Armandino—she called on them to help. She enlisted her younger brother, Giovanni, to head up operations, as he had done at Marni, and her father, who was the house's president, to serve as a sort of CEO at large. "He's involved in a soft way," she says. "When we need him, we call him." While Mama, for the most part, steers clear, her influence is apparent. With its mix of colors and patterns, playful proportions, and quirky styling, Plan C could be considered Marni 2.0. "We have the same taste," concedes Carolina, recalling a recent trip they took to Tokyo. "I went to a kids' shop and bought some clothes for my daughter, Margherita. At the hotel later that day, my mother was like, 'Look what I got,' and it was the same stuff."
Plan C's debut spring collection includes graphic-print sundresses, color-blocked anoraks, asymmetric plissé skirts cinched with long, strappy belts, and slouchy sweatshirts charmingly printed with drawings that Margherita made when she was 3. In signature man-repellent Marni style, the looks are accessorized with stiff wooden clogs worn with trouser socks. "I'd never done a collection on my own before, so I did what I like," Carolina says. "I kept asking myself, Would I buy this piece?" In fact, if she and her mother differ at all, it is in Carolina's more practical way of thinking. "My mother's very free; I'm more concerned with what will sell."
When Marni began, it was as a side business to Gianni's parents' fur company, Ciwifurs. In a nod to those roots, Plan C has moved into the family's original fur atelier on Milan's Via ­Visconti di Modrone, where Carolina's great-grandmother would meet with clients. "It's nice to start where she started," says ­Carolina, who kept the original marble floors, moldings, and glass-paneled doors intact, but painted the walls in teal and dusty blue, and brought in midcentury pieces procured from flea markets. She shares the space with her brother and his wife, Cynthia Vilchez, who started Aliita, a jewelry brand. "For me, it's home," Carolina says.
Certainly, Consuelo takes pride in the new business, too. "The best accolade from my mother was her personal order," Carolina says. "She bought half the collection for herself."