Caroline Polachek's Arcadia
The singer finds paradise in the form of an alter ego.
---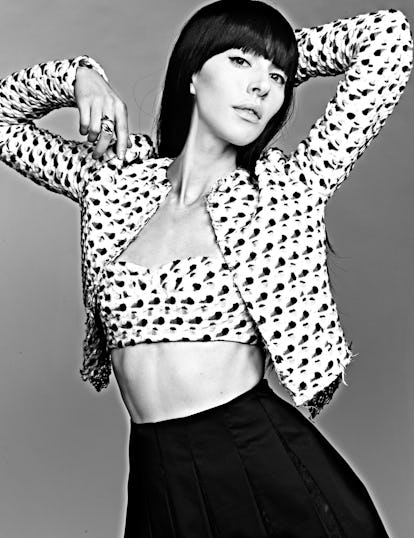 Photography by Taea Thale Styled by Lindsey Frugier
Caroline Polachek wrote and recorded Arcadia, her solo debut under the name Ramona Lisa, in London, Tokyo, Sao Paulo, and Singapore, among other parts of the world the 27-year old singer traveled to while touring with her indie pop band Chairlift last year. But the album, which arrives April 30 on Terrible Records along with a lush visual backstory, doesn't conjure any of those places. "It's more of an interior world where I felt at home in those unfamiliar cities," Polachek says.
For Chairlift, Polachek can be a high-concept songwriter, adopting characters and unexpected points of view. (On the song "Sidewalk Safari," from 2012's acclaimed Something, her clear falsetto gives voice to a maniac with bloodlust.) Arcadia is no different. "I thought of this project as though I were the director of a film," she says. Ramona Lisa, a play on Mona Lisa, is an alter ego that Polachek created when she was 19. "I used to think of her as this Miami version of the Mona Lisa, with, like hoop earrings," she says with a laugh. But the Ramona Lisa of Arcadia, which has an airy electronic sound and dissonant environmental noise, is more a sylphlike spirit wandering unaccompanied through an enchanted and maybe haunted wood.
If that sounds like a young girl's fantasy, in a way it is. Growing up in Connecticut, Polachek rode horses and worked in an entomologist's lab, cataloguing bees and wasps. "That was formative for my imagination," she says. "As a teen, I was very spacey. In that way, I was alone—which is weird when you're surrounded by people."
As Polachek recorded the album by herself in hotel rooms, tour vans, and airplanes, she realized early on that she was making what she thought of as "a pastoral record." But it was during an artist residency in Rome where, she says, "something clicked." In the city's crumbling glory, Polachek saw an allegory for the post-globalization idea of nature she was writing about. "Rome is thick with ghosts. It's this time capsule with groomed gardens and marble sculpture, but then you hear Rihanna blasting from a club," she explains. "It all just blends into one thing now."
In her mind, Arcadia is Nature 2.0. "It's a virtual reality," Polachek says. "The album could be the soundtrack to, say, the first drama that comes out on Oculus Rift." But that doesn't mean it replaces real feelings with artificial inner life. "The lyrics represent a more essential, and feminine, part of me," she says. One of the most personal songs she wrote for Arcadia, in fact, she gave away—to Beyoncé. "No Angel," a catchy slow burn, ended up on the pop star's surprise album last fall. Although Beyonce made the song very much her own (she shot the music video in her hometown of Houston), she sings it in a higher register than her normal husky growl. "Before 'No Angel,' I'd only written songs for my own voice," says Polachek, who also floated her sirenlike vocals over the recent Blood Orange hit album Cupid Deluxe. "But Beyoncé has an uncanny ability to pick out songs that are the most emotional to the writer. Ultimately, that's what translates to people the most." But, she admits, it's also fun to try something new on—especially when you're borrowing from Queen Bey. "Now the next Chairlift record has some R&B bangers."