How Caroline Sunshine Made Her Way From the Disney Channel to… Trump's White House?
Former Disney Channel stars have wound up in some dark places, but this is another level.
---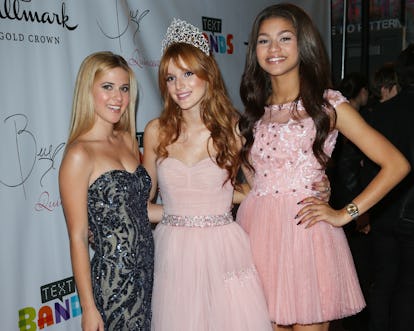 Paul Archuleta
We're used to former Disney stars making some interesting choices in their lives once they extricate their personal brand from the kiddie entertainment conglomerate. There's been public breakdowns, stints in rehab, (calculated?) image-shattering roles in risqué indie films, bizarre concept albums and tortured on-and-off relationships with Justin Bieber. Yet, perhaps we've never seen a former Disney Channel star wind up in quite as strange of a place as Donald Trump;s White House. But that's exactly where Caroline Sunshine is.
The former actress—and we should note, Caroline Sunshine is her real name, not the name of her former character—had been quietly serving as an intern in the Trump administration since last year, and has now been promoted to a full-time gig as a press assistant where working alongside such notables as Sarah Huckabee Sanders and whoever it is that replaced Hope Hicks.
So, who is Sunshine and how did the 22-year-old make the journey from Disney Channel's Burbank studios to 1600 Pennsylvania Avenue? Here's a brief, unlikely road map.
She starred as the main rival in Shake It Up opposite Bella Thorne and Zendaya.
Sunshine was raised in Orange County, California and caught the acting bug early, making her way through the local theater scene and commercial gigs before landing her breakout role on Disney's Shake It Up. That was the series that also shot Bella Thorne and Zendaya to fame, and Sunshine played one of their main rivals, a foreign exchange student from an unnamed European country named Tinka Hessenheffer. The role required a strange accent, lots of loud fashion statements, and politely ignoring that the character's twin brother is a collection of weird gay stereotypes.
She was also in the forgettable Marmaduke movie with Emma Stone, and a dramatic Lifetime movie.
Unlike Thorne and Zendaya, Hessenheffer's career didn't really take off outside of the show, though she did land a role in noted 2010 box office bomb Marmaduke. She played the daughter in the family that owned the big comic strip dog, while stars like Owen Wilson, Emma Stone, and Fergie provided voices for some of the animals.
She also had a lead role in the non-equity national tour of Bring It On the Musical, appeared in a few other Disney shows, had her character written out of a pilot for Freeform, and played the love interest of Vine star Nash Grier in a direct to download movie about baseball. She also had a role as a duplicitous villain in the wonderfully titled Lifetime movie Mommy I Didn't Do It. According to a Lifetime Movie fan site (which, yes, do exist), her character falls in love with a teacher but after he rejects her she kills him and blames it on her best friend.
At least one of her former costars is an outspoken critic of her new bosses.
Sunshine appears to have remained close to her former co-star Zendaya. Sunshine's last Tweet, from back in September, wished the burgeoning superstar well on her birthday.
Though, as it turns out, Zendaya is not a fan of Sunshine's new bosses Donald Trump and Sarah Huckabee Sanders. She once clapped back at Huckabee Sanders when she tried to brush off a controversial remark Trump made about police brutality as merely a joke.
As for her other major former co-star Thorne, well, she did once party with Tiffany Trump. Though, she hasn't been very outright political otherwise.
Sunshine put her showbiz career on the back burner for college, where she became active in politics.
Sunshine attended Claremont McKenna College and it is there, according to White House spokeswoman Lindsay Walters via CNN, that she became involved in politics.
"Caroline Sunshine was a White House intern. In college, she was involved with the American Enterprise Institute and an active member of her school's Model United Nations team. Prior to her internship at the White House, Caroline interned for the Office of House Majority Leader Kevin McCarthy, the College Republican National Committee and the California Republican Party," Walters said.
She also interned at Neo-Con think tank the American Enterprise Institute.
Sunshine was involved with AEI, one of Washington's oldest and most powerful conservative-leaning think tanks. The organization's mission statement says its role is "to defend the principles and improve the institutions of American freedom and democratic capitalism—limited government, private enterprise, individual liberty and responsibility, vigilant and effective defense and foreign policies, political accountability, and open debate." During the George W. Bush administration, AEI became known as both a talent feeder into the White House and a hotbed of the type of Neo-Conservative thinking favored by Bush and his cabinet.
Though, as an institution, the AEI has kept its distance from Trump. Notably, its Vice President Danielle Pletka has called Trump an "idiot" on television and numerous times on Twitter.
Sunshine, apparently, does not quite agree.
Though, Suneshine didn't get too political on social media.
Thanks to her Disney fame, Sunshine has over 500,000 followers on Twitter and 236,000 on Instagram. Though, her social media habits are decidedly un-Trump-like in that she's not too into making incendiary or blistering political comments online. She seems to get very excited around patriotic holidays like the 4th of July, has a thing for posting images of immigrants taking their oath of citizenship, and once retweeted an AEI article about Flag Day. But, otherwise, people who kept up with the former Disney Channel star online might be surprised to learn she's joined one of the most divisive Republican administrations in recent memory. In any event, she hasn't been doing much Tweeting or 'Gramming since last year.
She fits a larger pattern of former TV Stars joining the administration.
While it's unclear how much Trump himself had to do with bumping Sunshine up from intern to the entry level position of Press Aide (which is to say, likely none, but who knows?), she does fit a pattern of the White House staffing itself with people familiar to television viewers. CNBC host Larry Kudlow will now lead the White House National Economic Council, and of course reality TV star Omarosa, as we all remember, held a position on staff before leaving.
Related: Melania Trump's Reported Worst Fears Are Coming True: The Trumps Are Morphing Into the Kardashians