Why Your Perfume Should Never Be Trendy, According To Two Legendary Perfumers
The legendary French perfumers, Jean-Claude Ellena and Mathilde Laurent, behind Cartier's Declaration fragrance explain what makes a fragrance timeless.
---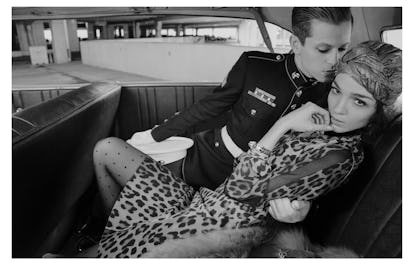 Photographer: Inez Van Lamsweerde and Vinoodh Matadin Stylist: Edward Enninful
When it comes to the world of luxury scents, French perfumers Jean-Claude Ellena and Cartier In-House Perfumer Mathilde Laurent, are legends. And in the house of Cartier, "daring elegance" is what the brand strives for, while staying true to its longtime traditions of originality and authenticity. In an exclusive interview with W and in celebration of the 20th anniversary of their iconic fragrance, Declaration, Ellena and Laurent open up about their unique creative processes, what makes a fragrance timeless and why it is up to us to make a fragrance extraordinary.
How does it feel to be celebrating the 20th anniversary of this fragrance? What does it mean to you both?
Mathilde Laurent: For me, it means a lot to be with such a house that treats perfume very well and who respects all the fragrances the house has created. It shows the respect that Cartier pays to its fragrances.
What keeps a fragrance like Declaration timeless?
Jean-Claude Ellena: First of all, it's because it doesn't follow the fashion, it doesn't follow the trends, so it's out of the trends. If you want to make a fragrance timeless, the first thing is not to copy the market or follow the market; you have to be unique and Declaration is unique in this way. There is no way to compare Declaration to something on the market because it is really unique and this is a good way to be timeless.
ML: Declaration is really difficult to copy. This is really important because Declaration could have built a trend, but it was so difficult to copy, so it would have taken a lot of courage to launch a copy of Declaration in another house.
How did you create a fragrance that is representative of the Cartier brand?
JCE: When Cartier launches a product, they are deeply concerned about stressing quality, authenticity, and singularity, So, the idea was not to follow the trend of the time, it was to give something unique. I had this fragrance with me that I thought was unique, and I showed it to Cartier and the first time when they smelled it, they said, "Ah, that's right." Then we worked a few months on it to make something more rich, more elegant, and more sophisticated.
ML: We call it daring elegance. In fact, it's something very particular; it's creative and very unique, yet very elegant. Sometimes when you have something creative, it's not elegant or chic enough. A characteristic of Cartier is to combine real creativity, originality, and newness with very strong elegance.
How do you know when a fragrance is ready?
JCE: When you are creating a perfume, you question always yourself. And once when you have no more questions, that means that it's finished. What is perfume? A perfume is the mirror of you, of yourself.
What do you love most about creating an aromatic experience for people?
JCE: Perfume is very selfish. When you create, you are very selfish, you talk to yourself. Creating is a very narcissistic approach, and so you are selfish in the way in that you [make] the best perfume for yourself at the beginning. When it is finished, you give to the others. The difficulty is to give to the others, because you are very happy and very proud of what you have done, and then you have to give and not keep. And if you are a good creator, you give and you give a lot. The more you give, the more you are ready to give more.
ML: When you give it, it's like a language. In fact, what I really love is that it's not just an experience for people, it's a message. It's a discussion, a dialogue without words.
What are your favorite scents for a man and woman? Can they be unisex?
JCE: Perfume has no gender. I don't like the name of unisex, because that means there is no sex, when in fact that is not true.
How can someone find their own signature scent?
ML: For me, the only way to find your own signature scent is with your heart, your personality, your emotion. A very famous, wonderful creator of perfume, Edmond Roudnitska, said that a good perfume is the one that gives you an emotional shock. I think it is the only way to choose a perfume. You should always choose a perfume with heart and emotion.
JCE: Don't believe on the advertising; believe on your nose.
ML: Your nose, your heart, that's all. No images, no bottle, no name, no brand, just the smell and your body. If you have goosebumps, that's a good sign.
An Unabashedly Biased Guide to the 5 Best Fragrances for Fall