Tom Ford's New Expletive Laden Fragrance Could Actually Be Pretty Tame Compared to His NSFW Perfume Campaigns
The designer is known for his NSFW fragrance moments—and fashion moments—from Tom Ford for Men to Opium.
---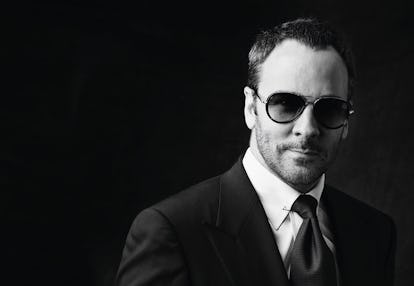 Tom Ford is one of the few marquee-name designers who has stuck by New York Fashion Week when it seems like all other brands, from Proenza Schouler to Tom Ford to Altuzarra, are fleeing to Paris. And ahead of his upcoming Spring 2018 show, the designer has unveiled his new scent effort, "Fucking Fabulous"—a fragrance he sent out with invitations to the show, slated for Sept. 6 at the Park Avenue Armory, and which he plans to debut following the show. It will be available in Tom Ford boutiques and online the following day.
The limited-edition fragrance contains notes of almond bitter oil, tonka resinoid, orris accord, cashmeran, leather accord, and clary sage oil, according to Harper's Bazaar, but it's the name, rather than the scent itself, that is quintessential Tom Ford. After all, Ford, like Calvin Klein, is well known for his not-safe-for-work ad campaigns, whether for Tom Ford Eyewear, the various brands he's creative-directed (Gucci, Yves Saint Laurent, his eponymous label), or, of course, his fragrances. It's little surprise that a designer whose favorite pastimes include waxing poetic about sex and objectification should also be the master of campaign images in which perfume bottles barely cover male and female genitalia.
A Brief History of Fashion's Most NSFW, Controversial Ad Campaigns
For their first large-scale campaign, the designers behind Eckhaus Latta enlisted a diverse group of 30-something couples to not only wear their spring 2017 collection, but have real sex in front of the camera for the photographer Heji Shin, who had produced a similar series of images for a German sex education book for teenagers.
In 1971, a nude (and largely hairless) Yves Saint Laurent posed nude for Jeanloup Sieff to debut his first-ever perfume for his namesake label, Pour Homme.
Other than her controversially "heroin chic" ads for Calvin Klein, a topless, 17-year-old Kate Moss also starred in this 1992 campaign for the brand with Mark Wahlberg—one that made her so uncomfortable, she later said it prompted a nervous breakdown.
Rumor has it that Wonderbra's billboards of Eva Herzigova caused traffic build-ups and car crashes when they went up in 1994.
It didn't take long for controversy to erupt after Steven Meisel and Calvin Klein cast a crew of apparently underage models, including Kate Moss, for a 1995 Calvin Klein campaign; eventually, CK responded to the outcry over the ad with another ad, a full page in the New York Times announcing it was pulling the original advertisement.
This infamous 2000 campaign from Yves Saint Laurent, featuring a nude Sophie Dahl, drew 948 complaints to the U.K.'s Advertising Standards Authority, making it the eighth most complained about advertisement in recorded history.
Yves Saint Laurent again pared things down for one of his perfume ads in 2002, this time swapping out the designer's likeness for a chiseled model to go full frontal.
Tom Ford and Carine Roitfeld both solidified their reputations as provocateurs when the designer and stylist drove down the fact that they were working for Gucci by shaving a "G" into a model's pubic hair for this 2003 campaign shot by Mario Testino.
American Apparel, whose founder Dov Charney has faced a litany of sexual harassment lawsuits, began its run of controversial ads depicting highly sexualized and barely clothed women—an approach that was highly successful in creating conversation, but hardly saved the brand from bankruptcy—with this 2006 campaign.
The concept of "sex sells" barely gets more explicit than in Terry Richardson's 2007 campaign for Tom Ford's men's fragrance, an ad that was banned in Italy.
"Stupid is as stupid done" is how some critics responded to Diesel's 2010 "Be Stupid" campaign, which featured images of models flashing security cameras, among other suggestive poses. Some felt the images were needlessly sensationalistic while others described them as youthful and rebellious.
Dakota Fanning's 2011 campaign for Marc Jacobs' Lola campaign was banned in England after the U.K.'s Advertising Standards Authority deemed it too "sexually provocative" for the then 17-year-old actress, who was photographed by Juergen Teller.
Thanks to a little Photoshop, Barack Obama and Hugo Chavez were just several of the world leaders found making out in a 2011 campaign by United Colors of Benneton, which has a long history of provoking with their ads.
The model Anna Ewers has long been one of Alexander Wang's muses, but the pair ended up in hot water with this 2014 campaign, in which Ewers is only just barely wearing Wang's clothes.
This 2007 campaign by Dolce & Gabbana's came to be known as the "gang rape advert" not only then, when several magazines refused to run it, but when it resurfaced online in 2015.
The U.K.'s Advertising Standards Agency also banned this 2015 Miu Miu campaign, shot by Steven Meisel, for being "irresponsible" in sexualizing an apparently underage (but actually 22-year-old) Mia Goth.
Calvin Klein courted controversy again last year with a campaign that featured a model photographed from under her dress, but the acclaimed British female photographer Harley Weir, whose work has long been interested in youth culture and sexuality, defended the campaign.
"I've been criticized for objectifying women. But I'm an equal-opportunity objectifier—I'm just as happy to objectify men," Ford told The Guardian in 2015. "The thing is, you can't show male nudity in our culture in the way you can show female nudity. We're very comfortable as a culture exploiting women, but not men. But I don't think of it as exploitation."
But there's no campaign imagery yet for "Fucking Fabulous," making it one of Ford's least-NSFW projects in a while. What's an F-bomb compared to a Terry Richardson-lensed nude, after all? Some of Ford's most provocative visuals have since been outpaced by labels like Eckhaus Latta, who featured models having actual sex in their Spring 2017 campaign, but he has been the subject of scrutiny for campaigns at both Yves Saint Laurent and Tom Ford.
When Ford was creative director of Yves Saint Laurent, a position he held from 1999 to 2004, the brand released an ad campaign for its fragrance Opium featuring model Sophie Dahl, nude, lying on a black sheet, her back arched and one hand over her breast. The ad, unsurprisingly, sparked complaints to the U.K. Advertising Authority—948 complaints, to be precise—which made it the eighth-most-cited in advertising history.
Two years later, he proved he's a man of his "equal-opportunity objectifier" word: The 2002 campaign for Yves Saint Laurent M7 featured a fully nude male model juxtaposed against an image of the perfume bottle. (This was perfectly in keeping with the spirit of YSL's branding; the label's first-ever perfume, launched in 1971, also featured a male nude.)
When it comes to Ford's eponymous label, he also has not held back in featuring nude models in his fragrance campaigns. Terry Richardson photographed the images for Tom Ford for Men in 2007—in the first, a well-oiled model holds a bottle of the fragrance between her breasts, and in another, she perches it between her legs. It drew criticism, not least because nowhere is the model's face pictured. Instead, she's reduced to a collection of sexy body parts—not to mention Richardson has been accused numerous times of sexually harassing and exploiting the models he photographs. The advertisements were banned in Italy—but not in the U.K., even though the country's relatively strict advertising authority had taken such issue with Opium seven years prior.
Campaigns for Neroli Portofino have also featured nude models; in 2011, the campaign, starring Mariana Braga and Max Motta, depicted the two models playfully flinging oversized bottles of Neroli on each other. He followed it up three years later with a similar set of images, this time with models Josephine Skriver—best known for her work with Victoria's Secret—and Jamie Jewitt lounging naked in a pool. (For this one, it seems, he emphasized the "Portofino" aspect of Neroli Portofino.)
Then, most recently, in 2015, he featured model Cara Delevingne—since retired to pursue her big-screen career—in a campaign for Black Orchid. Delevingne appeared nude, partially submerged in water, clutching a bottle of the perfume.
So all this could be a hint of what's to come for "Fucking Fabulous"—but with a name like that, it might be better to keep things simple.
Related: Tom Ford Doesn't Get Why We Still Won't Objectify Men
Getting ready for the Tom Ford show with Cindy Crawford: