Tom Ford Doesn't Get Why We Still Won't Objectify Men
The designer-director, who's been proving that sex sells for well over a decade, thinks America has gotten even more prudish as of late.
---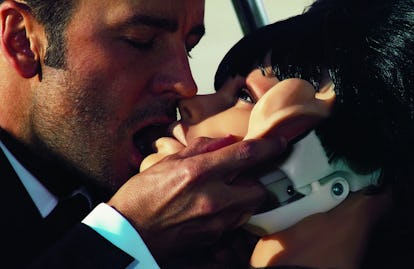 Tom Ford. Photo by Steven Klein, styled by Camilla Nickerson. W Magazine, November 2005.
There is perhaps no better evidence of the tried and true adage that "sex sells," especially when it comes to the fashion industry, than the designer—and director—Tom Ford. But since helming Gucci and his own namesake empire, and after endlessly waxing poetically about sex, Ford is now finally, at long last, starting to get tired of his old ways: "I've done the G-spot. I've put the perfume there," he said, referencing his infamous 2003 Gucci campaign, where the Gucci logo could be found shaved into a model's pubic hair.
It's important to note, though, that the shaved model was a woman—which is in part why, more than a decade later, Ford is finally starting to get fed up with the world's "prudishness." "I get the criticism, I see it in my press reports, all complaining about the objectification of women," Ford said in an interview out this week in New York magazine. "I've objectified men just as much in my career, but you just cannot run those images. I put that perfume bottle between a woman's breasts, but I also put it between a guy's butt cheeks, but [few] would accept that because our culture is more comfortable with the objectification of women to sell products than it is with the objectification of men to sell products."
A Brief History of Fashion's Most NSFW, Controversial Ad Campaigns
For their first large-scale campaign, the designers behind Eckhaus Latta enlisted a diverse group of 30-something couples to not only wear their spring 2017 collection, but have real sex in front of the camera for the photographer Heji Shin, who had produced a similar series of images for a German sex education book for teenagers.
In 1971, a nude (and largely hairless) Yves Saint Laurent posed nude for Jeanloup Sieff to debut his first-ever perfume for his namesake label, Pour Homme.
Other than her controversially "heroin chic" ads for Calvin Klein, a topless, 17-year-old Kate Moss also starred in this 1992 campaign for the brand with Mark Wahlberg—one that made her so uncomfortable, she later said it prompted a nervous breakdown.
Rumor has it that Wonderbra's billboards of Eva Herzigova caused traffic build-ups and car crashes when they went up in 1994.
It didn't take long for controversy to erupt after Steven Meisel and Calvin Klein cast a crew of apparently underage models, including Kate Moss, for a 1995 Calvin Klein campaign; eventually, CK responded to the outcry over the ad with another ad, a full page in the New York Times announcing it was pulling the original advertisement.
This infamous 2000 campaign from Yves Saint Laurent, featuring a nude Sophie Dahl, drew 948 complaints to the U.K.'s Advertising Standards Authority, making it the eighth most complained about advertisement in recorded history.
Yves Saint Laurent again pared things down for one of his perfume ads in 2002, this time swapping out the designer's likeness for a chiseled model to go full frontal.
Tom Ford and Carine Roitfeld both solidified their reputations as provocateurs when the designer and stylist drove down the fact that they were working for Gucci by shaving a "G" into a model's pubic hair for this 2003 campaign shot by Mario Testino.
American Apparel, whose founder Dov Charney has faced a litany of sexual harassment lawsuits, began its run of controversial ads depicting highly sexualized and barely clothed women—an approach that was highly successful in creating conversation, but hardly saved the brand from bankruptcy—with this 2006 campaign.
The concept of "sex sells" barely gets more explicit than in Terry Richardson's 2007 campaign for Tom Ford's men's fragrance, an ad that was banned in Italy.
"Stupid is as stupid done" is how some critics responded to Diesel's 2010 "Be Stupid" campaign, which featured images of models flashing security cameras, among other suggestive poses. Some felt the images were needlessly sensationalistic while others described them as youthful and rebellious.
Dakota Fanning's 2011 campaign for Marc Jacobs' Lola campaign was banned in England after the U.K.'s Advertising Standards Authority deemed it too "sexually provocative" for the then 17-year-old actress, who was photographed by Juergen Teller.
Thanks to a little Photoshop, Barack Obama and Hugo Chavez were just several of the world leaders found making out in a 2011 campaign by United Colors of Benneton, which has a long history of provoking with their ads.
The model Anna Ewers has long been one of Alexander Wang's muses, but the pair ended up in hot water with this 2014 campaign, in which Ewers is only just barely wearing Wang's clothes.
This 2007 campaign by Dolce & Gabbana's came to be known as the "gang rape advert" not only then, when several magazines refused to run it, but when it resurfaced online in 2015.
The U.K.'s Advertising Standards Agency also banned this 2015 Miu Miu campaign, shot by Steven Meisel, for being "irresponsible" in sexualizing an apparently underage (but actually 22-year-old) Mia Goth.
Calvin Klein courted controversy again last year with a campaign that featured a model photographed from under her dress, but the acclaimed British female photographer Harley Weir, whose work has long been interested in youth culture and sexuality, defended the campaign.
In short, Ford continued, he's all "for equal-opportunity objectification," though that approach is hardly accepted around the world—and especially lately, which is definitely surprising given that his famed Gucci ads have recently been followed by campaigns so NSFW they feature models having real sex. Admittedly, that charge has now been taken up by indie brands, which could explain why Ford continued: "Oh my God, we've gotten so prudish. We've gone in reverse. It's so weird."
On TV, for example, saying "f—" "is part of modern parlance," and "you can see full-frontal male nudity. Like, all the time." Porn's accessibility, Ford continued, has made it largely impossible for an adult to "say she's freaked out by seeing a penis on television," but at the same time, "it goes both ways. In advertising we've become so prudish, and I think that comes from a fear that half our population in America is rejecting something, and that affects our business."
"Even as television and language go forward, you can still not show a woman's nipple in many magazines. You can show a breast, but not a nipple! To me a breast without a nipple is more perverse and is really creepy, but if I do those things, no magazine will run them, so I can't push images too far or they'll be rejected."
The censorship, Ford explained, is "definitely" part of why he now works in Europe (though he has lately shown in New York). It's also why he and his company always take care to shoot three ad campaigns: "the world version, the conservative version, and the Middle East version." The Middle East version has to adhere to rules like men not touching women, and all parties wearing clothes, but "the conservative version is for America," Ford took care to clarify.
To be clear, Ford is not "done with sex," but he has "been more romantic lately"—"more sensual than sexual because that's all quite easy at this point." After all, he's been doing the latter for well over a decade—and admitted to "feel[ing] less sexy" now that he's a father. Though, to stick with his argument for male objectification, we must point out he's been looking particularly sexy directing his movies in his own Tom Ford suits as of late.
All Tom Ford's clothing and sunglasses by Tom Ford.

Photographer: Steven Klein
Versace mink and fox coat; OMO Norma Kamali nylon and Lycra spandex swimsuit. Agent Provocateur hosiery; Azzedine Alaïa shoes.

Photographer: Steven Klein
Nautica polyester spandex trunks.

Photographer: Steven Klein
Ralph Lauren Collection beaded viscose and silk jersey dress. Cynthia Wolff bracelet. Right: Oscar de la Renta for Alixandre Furs mink coat. Vintage corset; Agent Provocateur hosiery; Balenciaga shoes.

Photographer: Steven Klein
Rochas silk dress. Ralph Lauren Collection silk satin dress. David Webb bracelet.

Photographer: Steven Klein
Photographer: Steven Klein
Photographer: Steven Klein
Photographer: Steven Klein
Carolina Herrera lynx coat. Calvin Klein Collection cashmere and mink dress. Fogal hosiery; Prada shoes. Right: Narciso Rodriguez cashmere, wool and linen tweed corset; Hermès cotton and spandex jodhpurs, at Hermès. Linda Farrow Vintage sunglasses; Hermès boots.

Photographer: Steven Klein
Related: 15 Times Tom Ford Has Waxed Poetic About Sex
Amy Adams Imitated Tom Ford in 'Nocturnal Animals' and He Didn't Even Notice: