Tom Ford Directs His Movies in Tom Ford Suits, Thank You Very Much
Most directors show up to set like they're about to pull an all-nighter​ in the college stacks, but not Tom Ford.
---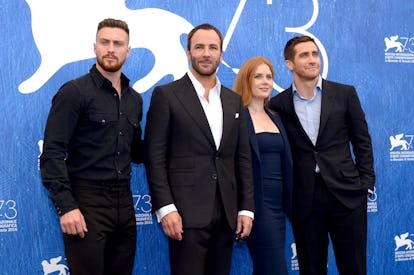 WireImage
Has anyone ever given much serious thought to the topic of movie directors' on-set style? A quick browse of on-set photos seems to prove it's probably not a topic worth much consideration. Steven Spielberg wears a lot of baseball hats and comfy jackets. James Cameron isn't above showing up to work in an old t-shirt. Martin Scorsese at least likes to wear a shirt with a collar, but his on-set style is, at best, business casual. Even the fashion world's favorite director Sofia Coppola keeps it pretty casual in boyfriend-cut dressing.
We're a far cry from the times of Hollywood's earlier years when apparently enough directors showed up on set in riding boots, jodhpurs, and a beret to make the outfit a stereotypical get-up worthy of Halloween costumes. Today perhaps director style might be best summed up, as Slate noticed last year, by a black baseball cap.
These women and men might be responsible for multi-million dollar productions, but often they show up to work looking they're up to pull an all-nighter studying in the library stacks (even if that look happens to be very cool right now).
So when Tom Ford switches from his life of being the head of a fashion empire to being the head of a movie set, does he revert to Hollywood director's preference to leisure? No. No, he does not, thank you very much.
He showed up to the sets of his upcoming Nocturnal Animals and his debut film A Single Man in his own Tom Ford black suits, he'll have you know.
"Somebody said to me, 'Are you going to wear a suit on the film set?'" Ford says in a new interview with The Telegraph. "And I said, 'Yeah, this is who I am and this is the way I dress. Why would I change my clothes? I'm most comfortable like this.'"
Ford is a practitioner of one of the fashion industry insider's favorite style cheats: they find a basic uniform and they stick with it. In fact Ford, this has lead to Ford figuring out the secret of how to look impeccably stylish while traveling and only bringing a carry-on bag.
"In fact, I'm travelling with only carry-on luggage," he told The Telegraph. "I wear this same suit over and over and over. I have probably quite a lot of them but they're pretty much all the same. I have a uniform; it's easy: I get up in the morning and I put on that uniform."
Developing a particular uniform look and then building out a wardrobe is pretty much what some people consider the definition of style (Which is why, perhaps, some feel that people who change into rather five outlandish Instagram like-bait outfits a day may be heralding the death of style). Even other movie directors who show up to work all the time in a beaten-up leather jacket and black hat practice it.
Clearly, Ford's definition of comfort is a bit different than the rest of the Hollywood director pack. Though, there was at least one iconic director who always showed up to set every ​day in a black suit: Alfred Hitchcock. Fittingly, as Ford's Nocturnal Animals is getting favorably compared to that late auteur's work.
Watch Cindy Crawford get ready to attend Tom Ford's Fall 2016 fashion presentation: