Casey Spooner Is Baring All There Is Left to Bare in Fischerspooner's Return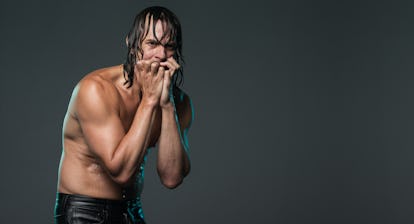 Photo: Jesus Ugalde Solis
Casey Spooner, the artist with the '70s shag haircut and beefcake body, stood in a dark, carpeted basement in Vienna, surrounded by dicks and muscles and ass. Some of them, in fact, are his own. We are at the Austrian modern and contemporary art museum Mumok, in an exhibition of Spooner's making, and occupying the walls are images he has collaborated on with the photographer Yuki James, which feature himself and his lovers, creative partners, and friends in various states of nakedness.
There's a tall nude of Martin, his former "party boy boyfriend"; Robert, a dancer he met on Grindr, is photographed wearing fishnets in a bathtub; and, in the middle of the room, a large projection of a video that features him and another past lover named Juan Pablo dancing conceptually in tiny underwear, atop of a bed they once slept on together. "We're living through this sexual revolution. Everyone has a camera. People are redrawing their boundaries of what they share and what they don't," Spooner said of his thinking behind the show, called, suggestively, "Sir." "I'm trying to reflect what entertainment is now: Personal space. And nudity."
Spooner, 47, along with his creative partner of almost 20 years Warren Fischer, make up Fischerspooner, the art-music-dance-costume-everything project that became famous with their debut album, #1, and the firestorm first single, "Emerge," in 2001. Though Spooner and Fischer, who met at art school, have always thought of Fischerspooner as a holistic project—involving performance, photography, and immersive enterprises like the one at Mumok—music has been the essential thread. There will be, in conjunction with this exhibition, an accompanying album also called Sir on September 22, the duo's first record since 2009. Fischer is a trained musician and handles most of the instrumentation, preferring to stay behind the scenes, while Spooner holds nothing back as the frontman, writing unambiguous lyrics about his life. "It's aggressively homosexual," Spooner said of the new album.
By "aggressively homosexual," he meant of and about sex and longing and partying and danger, of which there is much on Sir. In the middle of working on the album, which he recorded over two years in a small studio in downtown New York, Spooner broke up with his boyfriend (and, more recently, fiancé) of 14 years. "When I started, the record was optimistic because I was in a happy, open, long-term relationship," he said. "Warren was like, 'The best thing that happened to this record is you getting dumped."
After the breakup, he went on something of a journey of the mind (and body), landing in Belgium and eventually Madrid, where he lived with one man and fell into bed with what sounds like an endless stream of others. "I had not Eat Pray Love but Lift Tan F—," is how he described his rebound. It all became fodder for the music, at times without mediation: In the middle of sex with a guy in Madrid, he pulled out his iPhone and recorded the moans. Those sounds are now on the album.
R.E.M.'s Michael Stipe came on to produce the album, which has heavy synths in the vein of Depeche Mode and Nine Inch Nails animate songs about imaginary trysts in Brazil, and the excitement and anxiety of new paramours. Stipe, like a handful of the guys in the Sir exhibition at Mumok, is a former boyfriend. The track "Get It On," as Spooner described it, is a "dual abstract portrait of the night we met combining both of our perspectives."
"He was my first boyfriend in 1988," Spooner went on. "It was my first month of college. He de-virginized me. I met him on the dance floor at the 40 Watt club in Athens, Georgia. I wasn't really into R.E.M.—I was more into Grace Jones or goth, like Sisters of Mercy. I think he liked me because I didn't know anything about the band. We had a very intense nine months. It was a very dramatic and tumultuous relationship."
There's a sense of liberation from this relationship and others in the "Sir" art exhibition. The photos in the project were shot over a period of two weeks, in the former apartment that Spooner and his long-term ex shared in Williamsburg, Brooklyn, which he would soon be evicted from. Theatrical and darkly lit, they have an unnerving, Lynchian quality to them. "It's a psychosexual landscape," Spooner said.
Which can be radical in Vienna, even though it was famously the home of Sigmund Freud. Mumok is a large industrial space in the museum quarter of the city, surrounded by ancient buildings holding historic art collections, and Spooner's plainly erotic and intimate work felt youthful and wild against such a stately setting. One afternoon, while we were walking the stone streets around Vienna, a young fan from Germany came up to Spooner not so far from the show and gushed excitedly about how amazing it is to have such queer work in an Austrian museum. "It's post-Trump. We need positive queer representation," Spooner would tell me later on. And Marianne Dobner, the 27-year-old Mumok curator who spearheaded the "Sir" exhibition, recounted to me, with a satisfied smile, that the opening for the show in July, at which Fischerspooner performed, was more like an all-night club party.
In the exhibition's self-portraits, there's a reminder that, like many great artists, Spooner's most enthralling work just might be himself. He is his best sculpture, literally and figuratively—he has in the past few years undergone a physical metamorphosis into a muscled hunk (Barry's Boot Camp and Crossfit), partly to feel more comfortable being naked in his work, and partly because a hard body comes in handy when you're single and looking for love. "I want to be comfortable with myself, so I have to make that a project," Spooner said.
Post-breakup, though, he's also made himself over into something of a romantically rootless artist, one who resists expectations of what a 47-year-old man is supposed to be doing with his life. "Why is aging in homosexuality always tragic, like Death in Venice?" he asked defiantly.
Spooner has been bumming around Europe, staying with friends and temporary boyfriends, deciding his next destination by whom he knows and opportunities that arise for art. Charisma, of which he has an abundance, is mapping his path—he came to Vienna after a few days in Madrid, where he performed in Zana Bayne leather harnesses at a fetish party for World Pride; during our brief time together in Vienna, he had a lunch date with a man he met on the plane over, and another with a man he met at the museum.
"I have always depended on the kindness of strangers," Blanche DuBois said in A Streetcar Named Desire. So too does Spooner, who like Tennessee Williams is a boy from the deep South. In Vienna, two guys introduced to Spooner by the man from the plane took us to dinner on a quiet corner of the old city, and ferried us in a Mercedes to different gay clubs around town. Spooner, as usual, looked perfectly at home.
Still, he is in a unpredictable and thrilling time in his life, creating art and music and persona and showing it all over the world. "Everyone thinks I'm having a midlife crisis," Spooner told me with a smirk at Mumok, surrounded by the nude remnants of past affairs. "And maybe I am."
How Hiplet, a powerful fusion of hip-hop and ballet, is transforming the dance world: