Five Minutes with Casper Christensen
Casper Christensen has spent over half his life being the butt of all jokes – literally. The Danish-born comedian is a star in the World's Happiest Country, having created the six-season television series Klown, which...
---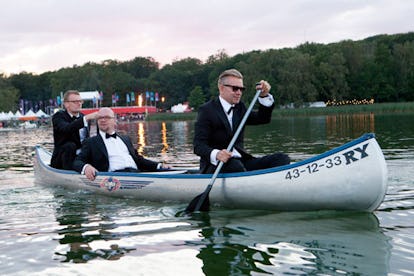 Casper Christensen has spent over half his life being the butt of all jokes – literally. The Danish-born comedian is a star in the World's Happiest Country, having created the six-season television series Klown, which follows the bad judgment and bare-assed, boorish antics of its two middle-aged actors: Christensen and cohort Frank Hvam. So popular was the show, it caught the eye of filmmaker Lars von Trier: in 2010, his production company released Klown: The Movie, in which the two cutups set out for a sex-mad, debauched river tour around rural Denmark—with a 12-year-old boy in tow. A box office hit, one critic described it as making "The Hangover look like The Little Mermaid," which is fitting, then, that Todd Phillips has signed on to produce Klown's forthcoming American version, with Danny McBride as the headliner. The Danish version arrives at select movie theaters tomorrow.
W caught up with Christensen in Texas, as he rowed us down the Guadalupe River in a canoe, nonetheless.
So when was the last time you were in a canoe? The last time was when we did the movie, over two years ago. Once you spent three weeks like this—you don't want to go back in the canoe ever again.
You had a really scary experience the last time. Oh yeah. We capsized on purpose for a shoot and we had a diver and a stuntman in the water. And we were supposed to yell out the safe word.
What was the safe word? I think it was "Dennis." The kid in the movie can't swim, so he panics in the water. So this kid is climbing up on my shoulders, pushing me down so my head is under water and I can't yell "Dennis". I'm scared and I'm blacking out. That's when the stuntman jumps in and saves the kid and I.
You started your career as a standup comedian when you were 19. What's the secret to humor? The secret is to try not to be funny. You've got to believe the situation is funny enough by itself; to write the fun scene but not the fun dialogue. Because if you try to be funny, you might lose the character. But you know, this character is pretty close to myself, I'm sorry to say. I think everybody has dark sides.
Is there a scene in the movie you find particularly funny? The morning after the threesome when Frank comes out to the kitchen and I'm wearing a sarong, making toast, and I'm all about the "We succeeded! We got laid!" and at the same time, the lady comes back and she's like: "You took advantage of me."
Was this from personal experience? I wouldn't say personal experience; I would say that I've had a "good friend" who may have tried it.
I'm sure your "good friends" have inspired some great stories. Where do you find your best material? There's a lot of comedy in anger and frustration. I'm 43, but I've still got the sexual drive of a 25-year-old man, but it just seems pathetic now. I find a lot of comedy in that; there's a lot of that in the movie, too.
What's one thing girl should know about Danish men? They're not male chauvinists. They've been brought up by strong women, so they have a lot of respect for them. But at the same time, they may not be used to girls being as feminine as some American girls are. I mean, I grew up with my mom having hair under her arms and no bra.
You've been famous for more than half your life. Tell me something surprising about you that the Danes don't know about you. I spent a year in Las Vegas.
Given the debauchery in this film, that doesn't seem surprising. Well, I was a 17-year-old exchange student with the worst family you could imagine, but I loved them from the day we met. They handed me the handgun on the first night, and the automatic weapon on the second. I had never seen a weapon in real life. Oh man, that was wild.
There are so many inappropriate scenes in the movie. Was there a moment during production when you thought, maybe this is too taboo or risqué? Yes, when we shot the scene where Frank and I are taking the blackmail picture of the kid's penis. It's not a real penis – it's made out of latex or spandex. When we saw the playback, we knew this was over the top, but it was just too funny.
I heard that one in five Danish people have seen this film. It's the most popular movie in 25 years. Doesn't that say something about the Danish society?
It means they like a good laugh. Or can relate in some way. I think that the men can relate – and the women are just curious.
Photos: Courtesy of Drafthouse Films