Castle Rock: Bill Skarsgård's It Followup is a Stephen King TV Series and It Looks Just as Spooky
Masked murders, creepy mascots, and blood trickling down stairs.
---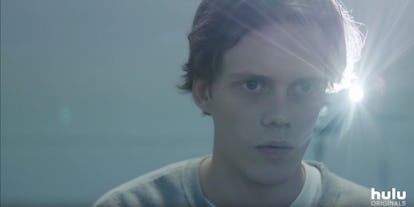 We are living in the Stephen King adaption renaissance. Seriously, the man's IMDb page is a mess of upcoming and recently released projects, but for every It, a critical and commercial smash, there's a The Dark Tower, a film released just a few months ago that we've all already forgotten. So, it's hard to pick and chose which upcoming King project to be excited about, but Hulu's anthology series Castle Rock definitely looks like a candidate to get hyped about.
For one thing, it's It star Bill Skarsgård's first post-clown project, and he looks like he's poised to bring the frights even without that makeup. Sissy Spacek, the star of a King adaptation classic, Carrie, also features into the cast along side Moonlight's André Holland, Jane Levy (the best thing about ABC's since-cancelled sitcom Suburgatory), Lost's Terry O'Quinn, and Melanie Lynskey.
Equally promising is the behind-the-scenes talent (J. J. Abrams is producing) and the source material. Set in the fictional town of Castle Rock, Maine (a frequent King setting), the series promises to include characters and storylines from a long list of King's work including It, Salem's Lot, Shawshank Redemption, The Green Mile, Misery, Hearts in Atlantis, The Shining, The Night Flier, and many, many others.
Set to an ominous score of electronic keyboard droning, the first-look trailer is basically just a series of low-key frightening and mysterious shots. Is that an old lady about to be executed? Who's to say for sure, although those are definitely missing children posters, VHS tapes on fire, blood dripping down stairs, and a masked man holding a knife. Somehow, out of all the scenes, it may be the waving cougar mascot standing atop a house that will haunt our dreams the most.
There's not too much known about the series yet, but it will be an original story despite all the King-inspiration. The first season will also be a self-contained story.
No word on when it will debut (it's still in production, actually), but it is expected to begin streaming sometime in 2018.
Related: Mindhunter, Netflix's New Serial Killer Series, Will Keep You Up at Night
Alexander Skarsgård's First Kiss Made Him Cry: