Catch Up On Culture This Thanksgiving with These Essential Reads
Behind on your reading? Us, too. Here, we offer a few recommendations — some old, some new, some politics, some arts — for where to start when diving back into the internet over the Thanksgiving holidays.
---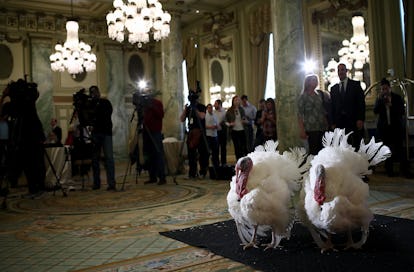 Getty Images
Browne, Rembert New York Magazine critic Rembert Browne offers an insightful analysis of how the election of Donald Trump, one-time Apprentice star, revealed "white supremacy is everybody's problem."
Caro, Robert The storied biographer, historian, and Pulitzer winner discusses power and its effect on the powerless — an all-the-more compelling read in the wake of the election.
Chabon, Michael The writer's meditation on his son's coming-of-age while surrounded by the peacocks of Paris Fashion Week will make you weep by its conclusion. Brace yourself. Then, as a palate-cleanser, try Buzzfeed's profile of the writer himself.
Lonergan, Kenneth A sweet, compelling portrait of the director and playwright behind one of the season's best movies, Manchester by the Sea — a surefire Oscar frontrunner.
Media, Social Jenna Wortham reflects on the social media bubble that led New Yorkers to believe the election was in the bag — and what it would mean to engage IRL.
Michele, Alessandro If you're not a fan of Alessandro Michele's Gucci, you will be by the time you reach the end of this profile.
Mirror, Black The dark BBC anthology series Black Mirror, which has gradually amassed a stellar cast including Jon Hamm and Bryce Dallas Howard, imagines different dystopia scenarios wrought by technology and social media — something that's become a little too real following the election of former reality television star Donald Trump. Still, this profile of its creator is a must-read.
Rodarte New Yorker writer Amanda Fortini's profile of the Mulleavy sisters, the designers behind Rodarte, is still worth catching up on six years later.
Thornton, Billy Bob Taffy Brodesser-Akner's hysterical profile of actor, musician, one-time director, and former husband of one Angelina Jolie, Billy Bob Thornton, is the antidote to all that family time you didn't know you needed. (Or maybe you did.)
See W's most popular videos: