Catherine Zeta-Jones and Michael Douglas Took Their Kids on a Luxurious Vacation to India
The family is celebrating the holidays in India.
---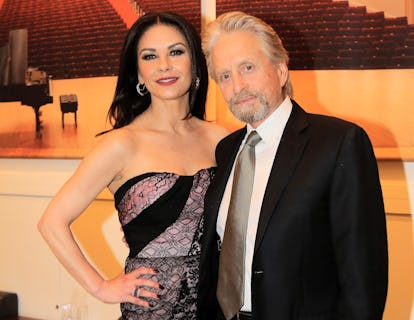 Al Pereira/Getty Images
If you're Catherine Zeta-Jones and looking to get out of the country for a bit, you certainly aren't planning any normal trip. Rather, a family vacation halfway around the world is apparently the best way to celebrate the holidays and ring in the new year. The Chicago actress and her husband, Michael Douglas, are currently enjoying some time with their teenage children in India, a country that Zeta-Jones says she's been dying to visit.
The family's toured New Delhi, visited the Taj Mahal, and gone out on safari, complete with tigers. Not bad for Douglas, who turned 73 years old in September, or children Carys, 14, and Dylan, 17. The 48-year-old actress posted some sweet messages about her family to Instagram, including a snap of the foursome in front of the Taj Mahal with the caption, "At the Taj Mahal with the three other 'Wonders of the World' in my life❤️." She also posted a video holding hands with Douglas, calling the landmark the "ultimate love story."
This trip could be an extra-special way to honor a relationship milestone for the couple; they celebrated their 17th wedding anniversary last month. Zeta-Jones posted a throwback picture from their 2000 wedding at the Plaza Hotel in New York City. "Thought it could never get better than that day, but it did," she wrote. The couple also marked the 16-year anniversary of their engagement in March 2016 by visiting the scenic mountain landscape in Aspen, Colorado, where Douglas proposed. The happy couple's 20-year anniversary is sure to be an over-the-top affair, but what could possibly top the Taj Mahal?
See the family pictures, below.
Related: Catherine Zeta-Jones's Cocaine Godmother Trailer is Here and It is Something