Larry David's Daughter's Favorite Show is Curb Your Enthusiasm, and She's Not Afraid to Admit It
The 23-year-old daughter of the comedy icon is becoming a name in her own right.
---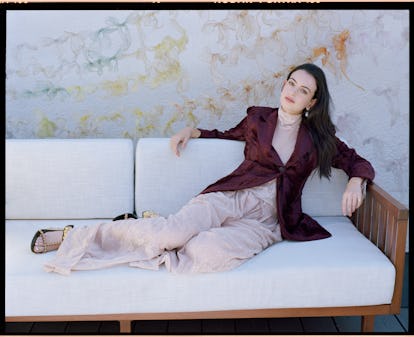 When it was announced that HBO would bring back its beloved series Curb Your Enthusiasm this fall, perhaps nobody was more excited than Cazzie David. Yes, as in that David.
"It's my favorite show, how embarrassing is that?" said the 23-year-old daughter of the show's creator, Larry David. "I have to hide if I'm watching it when someone is coming over. It's so weird if I'm watching it."
David may be the daughter of the man behind two now iconic series, Seinfeld and Curb, but she's well on her way to becoming a name on her own right, and a writer, as well. On a recent Thursday afternoon, she sat in a corner table at a Mexican restaurant in Chelsea, mindlessly tearing at the top of a paper menu.
"I have really bad ADD," she said, noticing the shredded mess. " I just realized I am actually wasting paper. That'll destroy me for a while."
David speaks in a deep voice with equals parts sincerity and sarcasm (okay, maybe slightly more sarcasm) on any number of topics. (A prime example: when asked how old her younger sister Romy is, she responds, "I'm very self involved, so I can't remember."). Like with Curb Your Enthusiasm, it also comes with an easy charm that draws you in—just ask any one of her 95,000 Instagram followers.
If it seems like David's ascent into the limelight came seemingly overnight, she'll be the first to agree with you. "I had 400 followers and was private, and someone I guess had randomly followed me and I posted this picture of me and my dad at a Civil War battlefield," she explained. "Someone randomly posted it to another Instagram account, and a bigger site reposted it. I got like 20,000 follower requests overnight. I was so panicked because I didn't know what I was doing. It was weird. But i just decided to go public. I was like, 'I'll take the followers and run.'"
Of course, her striking looks and boyfriend, Saturday Night Live's Pete Davidson, don't help with curbing—no pun intended—the attention. "I met Pete when my dad hosted Saturday Night Live. SNL has literally set up so many couples. There are millions of couples that met at SNL. Well, not millions…I went earlier in the year when my dad was playing Bernie [Sanders], and I didn't meet Pete then, but I was around. Then I met him when my dad was hosting, and I was very interested. I was definitely the one trying to make it happen," she said.
But despite growing up the daughter of a famous comic, this newfound fame is a completely unfamiliar world for the young David. "I didn't even know my dad was famous, to be honest," she said. "I was in elementary school when [Curb] started, and by the last season, I was in high school, but I still don't remember it really being on the air…It was never spoken about, never thought about."
It's a fact that David attributes to coming of age and attending school in Los Angeles, where just about everyone has some connection to the entertainment industry—save for a few odd moments here and there. "When I was in elementary school, this girl came up to me and was like, 'My dad's show is better than your dad's show,'" she recalled. "It was such a weird thing to say."
David, whose mother is environmental activist Laurie David, described her home life growing up as your normal family dynamic. "My sister and mom are very similar, and my dad and I are very similar. Both my parents are extremely neurotic in different ways," she said. "It was interesting household, but nothing out of the ordinary."
So ordinary, in fact, that upon graduating from Emerson College last year and moving back home with her dad, her parents demanded she find a part-time job. "My mom really wanted me to work in a restaurant. I am not a people person, so that is just not the job for me," she said. "She really wanted me to work at Starbucks. She was like, 'It is going to build character.' But I wanted the easiest job possible. I am extremely lazy."
Luckily, a certain HBO series was just about to go into production. "I thought, 'This is going to be so easy, I'll just work for my dad. I'll be able to do whatever I want.'" she said. "Then the first day comes, which is the day after the election, and I am hysterically crying. No one else is crying, which I found really strange. Jeff Garlin came up to me and was like, 'It is going to get better,' and I'm like, 'Is it?'"
In a plot straight of, well, Curb Your Enthusiasm, David quickly surmised that everyone thought that the boss's daughter was upset about having a job—not the major national news that had happened just hours before. "Turns out, everyone was talking about how I can't handle work," she said.
Quite the opposite, actually. It was during her time as a production assistant on set that David was also working on her first web series, alongside her college best friend, Elisa Kalani, who was also PA-ing on the show.
Eighty-Sixed, which just wrapped up its eight-episode run last month, follows Remy, played by David, a twenty-something going through a particularly devastating break-up, a concept that came about after David went through a break-up of her own.
"When I was going through that, what really helped me was watching all of these break-up movies," she said. "They aren't regular rom-coms; Jessie and Celeste Forever is a really good one, The Break-Up—I have a whole list because I watched them over and over again. It helped me so much that I wanted to write one myself."
The series, which was funded by David herself, was originally meant to fly relatively under the radar.
"I actually didn't want that many people to see it. I just wanted material that could maybe persuade somebody to let me write," she said, adding, "I wanted to be very careful about how I entered the industry publicly. I didn't want to get shit, because I would give me shit if I weren't me."
But with the series under her belt, and a new script with Kalani under-way ("We're writing a lot," is all that she'll say), David is only likely to have even more eyes on her—and her Instagram—in the coming months.
"I would be lying if I said I don't overthink all of my posts," she said. "I will test it on a fake account to see if it looks okay. I also have to stare at a photo of myself for a long time, and find literally nothing wrong with it. And of course, over time I will find something wrong and delete it."
It was a good thing, then, when the check arrived. The night before she had attended the premiere of Curb Your Enthusiasm, and had yet to post any pictures from the event—a task she assures will take up the majority of her afternoon.
She was joking.
Maybe.
Related: Riverdale's Lili Reinhart Declares "I Am Not Betty Cooper," and Speaks Candidly About Her Struggles with Anxiety
Julia Louis-Dreyfus On Why Elaine Never Had Her Own 'Seinfeld' Spin-Off