Sandra Bullock, James Comey, and More Celebrities Who Channeled Beyoncé in 2018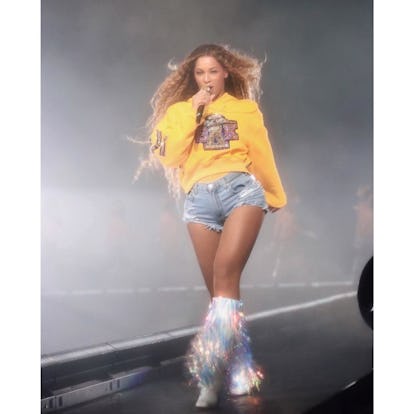 @beyonce
Beyoncé remains the great unifier of culture, as more and more celebrities of varying social strata admit to "channeling" the pop icon when facing daily adversities or making decisions concerning their wardrobes.
The Internet loves to remind us that "nobody is perfect, except for Beyoncé," or that "you have the same amount of hours in the day as Beyoncé." There are myriad other basic, Pinterest-able quotes about Beyoncé and how perfect she is, but the message is clear: You can do anything you set your mind to, as long as you imagine how the performer would handle the same situation.
And it does seem like more and more celebrities have been spreading the gospel of Beyoncé lately, telling reporters that they are inspired by the singer: The Good Place, NBC's sitcom that criticizes moral absolutism, joked about the singer being "104% perfect"; Oprah said she felt as though she looked like Beyoncé's aunt; and even former Trump employees are singing her songs at work. Is it her looks, her lyrics, or her tendency to precisely calculate every career move she makes that is inspiring stars to adopt her ways into their routines? Perhaps it's a little bit of everything. Here, a rundown of celebrities claiming to "channel" Beyoncé, from the red carpet to the White House.
On the red carpet
For InStyle's June cover story, Sandra Bullock told the interviewer that she thinks of Beyoncé whenever she hits the red carpet or attempts to ignore criticism or negative press. "I am affected by it because I don't feel confident when I dress up and go on the red carpet," the actress said. "I'm not that person who knows how to work it. I try to channel Beyoncé. I do the same pose every time."
In FBI meetings
We know how the former president Barack Obama feels about Beyoncé (she performed at his inauguration in 2009, and Michelle Obama paid homage to the singer's "Formation" look last September), but what about the former director of the FBI? James Comey admitted that he once sang "Sandcastles" by Beyoncé in front of all of his colleagues during a counterintelligence briefing. One of the bureau's cases went by the code name "Sandcastles," and the former director was quick to make the connection to the pop icon. "It was 'Sandcastles,' and so I said, 'Beyoncé!' And I was the only one in the room who had any idea what I was talking about," Comey told PBS. "People were like 'What?' I said, 'We built sandcastles….' Honest to God, I sung like that."
On set
When asked about her costume and makeup for A Wrinkle in Time, Oprah Winfrey told Entertainment Tonight that she looked like "Beyoncé's aunt" when wearing her film character's fierce curly mane. "It's a whole lot to put on, but when I did the whole scene out in the middle of the grasses and the golden grasses, I thought, 'I am a relative of Beyoncé—a distant relative of Beyoncé,'" she said.
On the dance floor
Chris Evans recently celebrated the birthday of his Lobby Hero costar Bran Tyree Henry, and eyes on the ground reported that he danced with some "Beyoncé-inspired moves." If only he could convince the Marvel screenwriters to incorporate a "Beyoncé-inspired" dance-off into the next Captain America movie.
During a political tête-à-tête
When Melania Trump wore a white Michael Kors suit and matching hat during a meeting with the French president Emmanuel Macron and his wife, Brigitte, many Twitter users were quick to make the comparison to Beyoncé's "Formation" hat.
In the animal kingdom
Leonardo DiCaprio, the multihyphenate actor and environmental activist, can now also call himself the namesake of Grouvellinus leonardodicaprioi, a species of water beetles discovered in Borneo by Malaysian scientists. But, of course, Queen Bey did it first—Scaptia beyonceae, a species of horsefly, was named after Beyoncé in 2011.