The Celebrities Taking to the Streets, Fundraising, and Using Their Platforms for Good
John Boyega, Halsey, and Tinashe are among the number of celebs taking real action to demand justice for George Floyd.
---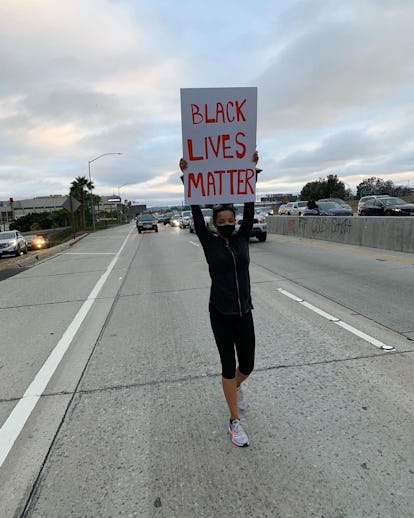 Courtesy of @tinashe
"Silence = violence," reads a slogan you're almost guaranteed to find at a protest against white supremacy and police brutality. And while celebrities have the platforms to speak the loudest, it's not always for the best. In the week since a white police officer killed an unarmed black man named George Floyd, sparking a nationwide wave of Black Lives Matter protests, some have done more harm than good (see: posting videos of looters' faces, remixing Martin Luther King Jr.'s "I Have a Dream" speech).
At the same time, a surprising number of celebrities have gone the extra mile in raising awareness and advocating for change. Just like thousands upon thousands of people across America, some are braving the pandemic and taking to the streets. (Even if it means getting hit by rubber bullets, as was the case with Kendrick Sampson and Halsey.) Others are demonstrating how to take action from home—beyond reposting petitions and infographics—and putting their money where their mouths are, donating significant sums to bail funds before asking their financially stable followers to do the same.
Don Lemon
"If you're not going to do it now, when are you going to do it?," CNN anchor Don Lemon said over the weekend, addressing the celebrities who have yet to speak up. "Yes, I'm calling you out, and you can be mad at me all you want. And what they're doing—you're sitting there and watching TV and you're bitching abut it," he continued, noting that a number of those staying silent have reached out to him privately. "Get on television or do something and help these young people instead of sitting in your mansions and doing nothing. And have some moral courage and stop worrying about your reputation and your brand."
Ariana Grande
Ariana Grande has spent the past week or so dutifully promoting her new single with Lady Gaga. But since Thursday—the day before Chromatica's release—she's been exclusively posting about Black Lives Matter, urging her followers to act and sharing dispatches from the Los Angeles protests this weekend.
Halsey
Halsey also hit the streets in Los Angeles over the weekend, sharing updates on the police's use of rubber bullets and apparently helping treat injuries. Yungblud seems to have done the same; Halsey tweeted that the singer "literally ran exposed in front of rounds being shot to drag wounded people to safety without even thinking twice."
A few days earlier, Halsey also led the brigade of celebrities in taking action financially. On Thursday, the 25-year-old singer compiled a list of organizations to support, noting that the $100,000 she donated was just "the first wave" of her contributions. (Chrissy Teigen, as well as Blake Lively and Ryan Reynolds, have since donated $200,000 apiece to bail and legal defense funds.)
Leslie Jordan
Not all effective activism has to take place in the streets. On Sunday, the actor Leslie Jordan made use of the massive Instagram following he's amassed in quarantine by "passing [his] microphone" to Deesha Dyer, an activist with significantly less followers than Jordan's 4.6 million. "I know that you don't know me at all," Dyer began. But that didn't stop hundreds of thousands of viewers from listening to her explain why it's time to be not just an ally, but a "conspirator" and "advocate."
Jay-Z
There has been no shortage of people criticizing Minnesota's governor Tim Walz over the past week. But Jay-Z actually took things into his own hands. He gave the governor a call, urging him to ensure that the three police officers who witnessed Derek Chauvin kneel on Floyd's neck also be held accountable. "I am a human, a father, and a black man in pain. And I am not the only one," the rapper later wrote in a statement. "Now I, along with an entire country in pain, call upon [attorney general] Ellison to do the right thing and prosecute all of those responsible for the murder of George Floyd to the fullest extent of the law." And that's "just a first step."
Tinashe
"Where we linking up to protest today y'all? Let's organize," Tinashe tweeted on Sunday. True to her word, she headed out to join the Los Angeles protests, tweeting suggestions of other courses of actions to consider in between.
Marc Jacobs
Many have been quick to decry looting—but not Marc Jacobs. Over the weekend, the designer proudly posted a photo of his Los Angeles store graffitied with the names of Sandra Bland and George Floyd on his personal and professional Instagram accounts. "NEVER let them convince you that broken glass or property is violence," the designer elaborated in a separate post. "RACISM is VIOLENCE. WHITE SUPREMACY IN VIOLENCE … Property can be replaced, human lives CANNOT."
John Boyega
Well before many celebrities had even acknowledged George Floyd's death, John Boyega made it clear that he had no time for those offended by his tweet that he "really fucking hate[s] racists." He's kept up a steady stream of information, activist retweets, protest tips, and well-argued points ever since.
Kendrick Sampson, Billie Eilish, J. Cole, Tessa Thompson, Lorde, Shawn Mendes, Nick Cannon, and Timothée Chalamet
Many, many more celebrities are stepping up to the plate, too, whether breaking down the issue of "all lives matter" or protesting from as far as New Zealand.
Related: Justice for George Floyd: What to Read and What You Can Do