Celebrities Pay Tribute to Tom Petty
He had an indelible influence on rock and roll.
---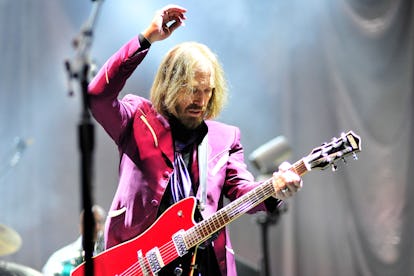 Jerod Harris
Legendary rockstar Tom Petty suffered a cardiac arrest and was rushed to the hospital after being found unconscious. Premature reports of the rockstar's death have been rescinded, but TMZ reports that Petty is not expected to survive. Update: The singer died late Monday night surrounded by family and friends, People magazine confirmed.
According to TMZ, who broke the story, the musician was rushed to UCLA Santa Monica Hospital and put on life support on Sunday night after he was found unconscious in his Malibu home. Petty's influence on rock and roll is undeniable, with an illustrious career that spanned four decades. Artists, musicians, and his fellow icons have shared their grief, love, and memories on Twitter. Many expressed their shock, as well as stories about how he changed their life.
"I loved Tom Petty and I covered his songs because I wanted know what it felt like to fly," wrote singer John Mayer. "'you belong somewhere you feel free.'"
"I feel like today, the music truly died," wrote Sheryl Crow. "Can't go see/hear music and be safe and one of the greats just passed."
Ryan Adams, who has been called "this generation's Tom Petty" by multiple publications, wrote, "RIP Tom Petty. Thank you for giving so much, a lifetime of inspiration and love. Your music has changed this world for the better."
Read the eulogies below.
Related: Rock Legend Tom Petty Hospitalized in Los Angeles
See What's Trending in W Video: