Celebrities Who Are Voting for the First Time
From Selena Gomez to Latrice Royale, this is a personal milestone election for some.
---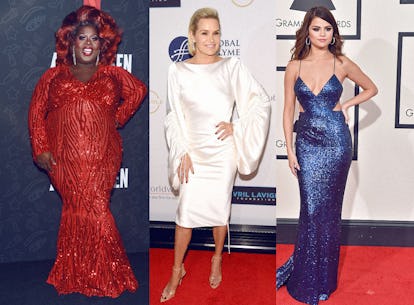 On election day, there's exactly zero difference between you and celebrity. All of our voices matter equally when it comes to casting our votes. There's no VIP entrance at the polling place.
As it turns out, several celebrities are sharing stories of their first time voting (whether ever, as American citizens, or after having their rights restored) that may not differ too greatly from average Americans as well. This cross-section of celebrities is discussing publicly overcoming their past indifference, admitting their trouble navigating the sometimes confusing minefield of voting laws, or becoming citizens, and they aren't afraid to admit that this is a milestone election for them.
Selena Gomez
The 28-year-old singer and actress is one of the most followed American citizens on Instagram, but earlier this year, she admitted she hadn't voted before due to both her mental health struggles and feeling like her vote didn't really matter (this isn't particularly rare, as people are more likely to vote as they get older). This year, however, Gomez has gone all out encouraging her followers to vote (she's one of the co-chairs of Michelle Obama's When We All Vote initiative) and shared her first ballot selfie on Instagram.
Latrice Royale
Drag Race star Latrice Royale may be one of the single most beloved drag queens on the planet, but in the eyes of the state of Florida, she wasn't eligible to vote for the past 20 years. Royale has been open about getting caught up in the criminal justice system, and has been an advocate for the rights of former felons. In 2018, the voters of Florida overwhelmingly passed an amendment restoring voting rights to former felons in the state, overturning some of the harshest laws in the country. Despite Republican politicians' attempts to blunt its impact, Royale was able to register. It may not be her first time voting ever, but Royale is a member of a historic class of Florida voters this year.
Yolanda Hadid
Dutch-born Yolanda Hadid became an American citizen back in 2013, but hadn't previously exercised her right to vote in the country. Of course, her two supermodel daughters Bella and Gigi have been outspoken about urging their followers to vote, but there's nothing quite as effective as urging your own friends and family to vote. Bella escorted her mother to an American polling place for the first time ever.
Ryan Reynolds
Reynolds, too, is an immigrant. He's a product of Canada. But now, as Mr. Blake Lively, he's eligible to vote in America and did so for the first time this year.
Tan France
The British-born Queer Eye star officially became an American citizen just months ago and immediately exercised his right to register to vote.
Tyler, The Creator
Like Gomez, 29-year-old Tyler was a Millennial who didn't see much point in voting, but this year finally saw the light and not only announced his intention to vote but urged his followers to vote.
Kaia Gerber
Granted, this will be the first time voting in a presidential election for just about every celebrity 21 and younger, and 19-year-old supermodel Kaia Gerber was amongst them.
Gregg Sulkin
Sulkin may have played all-American teens in his Disney Chanel days, but the British-born actor only recently became a citizen. Like his former Wizards of Waverly Place co-star Gomez, this marks his first time voting.
Kelsea Ballerini
The outspoken country star was a bit embarrassed about admitting the fact that she hadn't voted before, but the 27-year-old joined the list of younger stars who realized it was about time to exercise that right.
Offset
Offset was told at 17 by a parole officer that his youthful legal troubles would make him ineligible to vote. Of course, when you're married to the politically outspoken Cardi B, you have to make sure that that's actually correct. Earlier this year the Migos rapper discovered there was, in fact, nothing stopping him from casting a ballot. Offset actually voted in Georgia's primary, but this marks his first general election.
Snoop Dogg
Snoop Dogg, too, assumed his past criminal record excluded him from voting, but the California icon finally realized that actually he is allowed to vote in the state.
…And Kanye West
Then there's Kanye West…the only man in the country who announced that he's never voted before but was going to make an erstwhile run for president anyway. "Today I am voting for the first time in my life for the President of the United States, and it's for someone I truly trust…me," he wrote.
Of course.
In actuality, you shouldn't be voting for just yourself (literally or figuratively), but your friends, family, community, and country, and especially for those who aren't able to vote.
If you happen to be reading this before about 7 p.m. on election day and feel inspired, you still have time to vote if you're registered. If you're not? Well, 22 states, including New Hampshire, Wisconsin, Michigan Minnesota, Iowa, Nevada and California, allow same-day voter registration.