The World's 10 Best Vintage Stores
A shopping guide to chic thrifting from London to Los Angeles.
---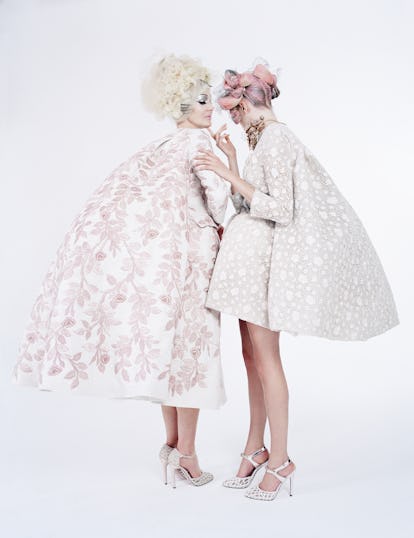 Walker Tim
Fashion is the world's second most polluting industry, producing some 80 billion pieces of clothing per year. So what's an eco-conscious shopper to do? While vintage clothing is, quite literally, nothing new, Hollywood fashion royalty like Lady Gaga, Nicole Richie, and Chloë Sevigny continually prove it's a cool way to go. Here, the chicest thrift shops from London to Los Angeles.
New York, USA
Feng Sway
Half vintage store, half nursery, this bohemian dreamland sells vintage rugs, crop-top bustiers, and silk-tiered palazzo pants from the '70s, interspersed with exotic jade and aloe plants.
Berlin, Germany
Townes
Archival pieces from Raf Simons, Commes de Garçons and Helmut Lang line the walls of the Mitte-based vintage store. You can also find eccentric vintage tees and sunnies.
Austin, Texas
Feathers Boutique
Stocked with maxidresses, caftans, and velvet vests, this store is a bohemian rocker's dream wardrobe—at great prices.
Paris, France
Thanx God I'm a VIP
Vintage silk Givenchy and Commes de Garçons for fair prices? In Paris? Welcome to Thanx God I'm A VIP.
Los Angeles, California
Melrose Trading Post
Every Sunday on the corner of Melrose and Fairfax, you'll find the more than 100 vendors that comprise the Melrose Trading Post, a West Hollywood vintage haven filled with a vast assortment of artisan goods, vintage silver jewelry, Levi's cutoffs, and silk blouses from the '80s. Leave yourself a good two hours to scratch the surface.
Tallinn, Estonia
Vintage Fankadelic
Tucked away on a charming cobblestone street in Tallinn's Old Town you'll find Fankadelik Vintage, a semi-retro hair salon cum vintage store, with vintage Prada patent leather jackets and crocodile-skin bags from the '70s. The best part is the non-Prada prices.
London, England
William Vintage
William Banks-Blaney is known as the "king of vintage" to his A-list fans, who include Lady Gaga, Victoria Beckham, and Amal Clooney. Customers fawn over 1960s Courrèges and his treasure trove of '80s and '90s Gianni Versace.
Milan, Italy
Groupies vintage
A haven for the streetwear set. Think Champion, Kappa, and Fila from the '90s, coupled with velvet skirts and beaded crop tops.
Lausanne, Switzerland
Soda Boutik
The cute two-story shop looks like a real-life dollhouse. Expect a well-curated stock of vintage blouses and minidresses, which the owner sources from Japan.
Copenhagen, Denmark
Time's Up Vintage
This subterranean spot is Copenhagen's best-kept secret. Here you'll find Fendi polo shirts from the '90s, vintage Yves Saint Laurent scarves, a chest of jewelry replete with Chanel and Dior vintage logo necklaces, and sunglasses from Prada and Givenchy.