Celebrity Micro-Updates in Lockdown Are Now Fully Out of Hand
Breaking: Meghan Markle put chocolate chips in the banana bread she baked in 2018.
---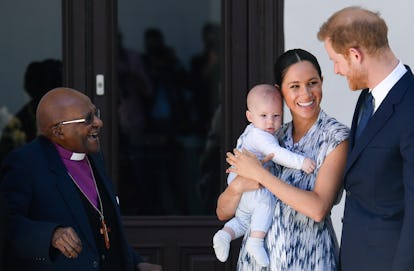 Pool/Samir Hussein/Getty Images
What's the paparazzi to do when celebrities are staying at home en masse? It was a full month ago that Chrissy Teigen tweeted that she was considering throwing them a bone by staging a nip slip, and since then, things have only gotten worse. Teens are getting entrepreneurial, manufacturing their own gossip, but tabloids and other news outlets are still grasping at straws. If a celebrity goes for a walk, they're guaranteed to make headlines, and it's been that way for weeks.
Sure, there's something in that Sophie Turner's baby bump was visible on her stroll with Joe Jonas, or that Naomi Watts's grocery run with Liev Schreiber means she's been staying at home with her ex. But for the most part, there are just two possible narratives: a celebrity steps out wearing a mask, or a celebrity steps out not wearing a mask. In the case of Camila Cabello and Shawn Mendes, who infamously indulge the paparazzi with a stroll almost daily, there are also only two options: the couple steps out together, or Mendes steps out solo.
With nothing to promote, celebrities have cut back on doing press. Tabloids, then, are relying on unnamed "sources" more than ever. On Wednesday, one such source divulged a rare detail about the personal life of Archie Harrison Mountbatten-Windsor, Meghan and Harry's one-year-old son. If People is to be believed, Archie has been upholding the centuries-long tradition of affection between babies and dogs. "They make him laugh and are gentle with him," the source said of Archie's "best friends," a beagle named Guy and a black lab whose name remains a mystery. (At least we've finally learned Meghan's nickname for Archie: "Arch.")
There's just one other source for celebrity updates: social media. Thanks to Instagram, we now know that Cole Sprouse has been "twinning" with Dylan Sprouse, his literal twin, and that Kate Middleton and Prince William once posed for a photo that is now their new profile picture. On Mother's Day, the app served as a platform for the first celebrity "scandal" in weeks: a debate over Kylie Jenner cutting a circular slice from the middle of an olive-oil cake. (She has since "clapped back at the trolls" who disagreed with her methods, according to People.)
In other culinary Kardashian news, Jenner also recently ate a few mini waffles. But, as the Daily Mail lamented, further details are scarce: "It is not known how many she ate or if she shared them with her house mates, daughter Stormi, on/off beau Travis Scott and best friend Stassi."
So far, no pastry has made more headlines than banana bread. A full two years and three months after Meghan Markle baked a loaf while on her royal tour, People discovered that her recipe included ginger and chocolate chips. (Never mind that the latter have been visible in photos of the loaf since October of 2018.)
Teigen's banana bread recipe has proven much more controversial. Threatening a lawsuit, a Twitter user alleged that Teigen stole her recipe from someone named "Chef Mike." Tragically, Teigen easily could have avoided this nonsense: Her break from the app, prompted by drama with the cookbook author Alison Roman, only lasted 17 hours and 44 minutes.
Related: In Quarantine, Teens Are Manufacturing Their Own Celebrity Gossip