The Best Hair Oils Right Now According to Celebrity Hair Guru Guido Palau
Taking inspiration from Alexander Wang's last collection, here are your 10 must-know hair oils to buy right now.
---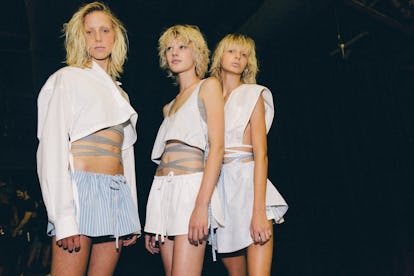 The possibilities for your hair are endless. You can go short, you can go long, you can go wet or you can go dry, like Alexander Wang at his Spring 2017 show in New York last September, when his models sported a blonde surfer style. "I think it's something a lot of women want to try once and have that blonde effect, which is startling," said celebrity hair guru Guido Palau, who was responsible for styling the look.
As he reminds us, though, with great color, comes great care.
"You have to protect your hair, not too many heat styling tools on your hair. You should use nourishment hair masks, conditioners, and products that have oils in it," Palau says.
So whether you're ready to take the plunge to go for that coveted "Blonde Effect" or want to keep hair healthy and nourished, here are 10 hair oils to help get the look.
The Best Hair Oils to Achieve the Blonde Effect