Celebrity Hairstylist John Barrett Talks Hillary Clinton, Beyoncé, and Which Celeb Has the Best Hair
From the Dames to the White House? John Barrett looks back—and forward.
---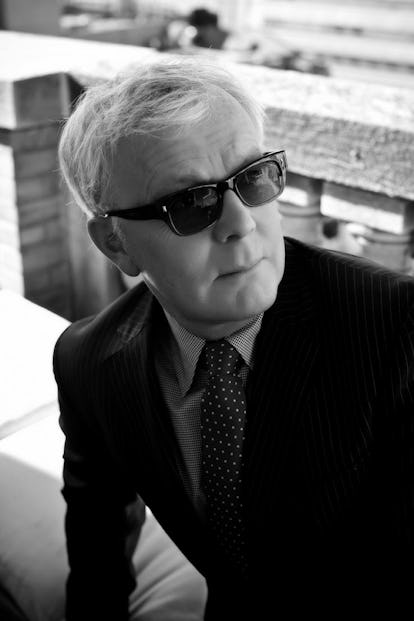 For 20 years, the world's fanciest women (and men) have taken the elevator to the top of Bergdorf Goodman to be beautified at the John Barrett salon. Barrett's client list is wide and impressive (Beyoncé, Hillary Clinton, "all the Dames. Smith, Dench, etc," he says), and next, he's adding author to his resume. His first book, simply titled Hair (Assouline), comes out next month. While the book proves that Barrett has an encyclopedic knowledge of 'dos through modern history, he is a self-described low maintenance guy when it comes to grooming. That's not to say he doesn't have opinions about others' beauty looks. I can attest to that. I've known John all these 20 years, and every time I see him, I know I'm going to get some kind of assessment. "Who does your brows?" he'll ask, with his eyes focused just above my own. Or "I think you need a new foundation." They haven't always been critical, and, frankly, they've never been wrong. That being said, I was happy that this was a phone interview.
John! How's Hillary Clinton doing? How often do you see her? Sometimes I travel with her, and sometimes others from my team do. It's actually really annoying because when I'm not with her, sometimes she looks so great, and sometimes not so great. We're working on a plan.
She's having a tough time of it, no? Just the schedule alone! She's doing incredibly well, though. I saw her two days after the New York primary at 6:30 in the morning. She was in great form.
If she goes to the White House, will you go with her? I don't think she'll be coming to the salon anymore to get her hair done! Hopefully, I'll be a frequent visitor. Even in last few weeks, her secret service has doubled. She finds it annoying because it slows her down.
Switching gears, let's talk about your book. Is this your first? It is. It was such a dream to work on. Since I was a kid, I was obsessed with hair, so when Assouline approached me to do a book on hair's history, I said, "Wow!"
Even though it's quite big (263 pages), was it hard to edit down? Oh, yes. I could have included 20 more people! What also hit me is how everything old is new again. Like, when Jean Shrimpton made her appearance in the '60s, it was the hottest, hottest thing. Well, we're back to that kind of style again and everyone thinks it's a new look and it's not.
And what about Zendaya's Peggy Moffit-like bowl that we saw at the Met Gala… Yeah. It's like going back in time. When I was a kid, I used to watch Busby Berkeley movies, and that was the first time I noticed hair. Of course, I didn't know they were wearing wigs at the time. I also noticed (when I was curating the book) that the things I thought were so cool in the Eighties look so ridiculous now. Even Madonna when she did "Desperately Seeking Susan." I thought everyone looked so cool and we were trying so hard to recreate them! Diving back into the Sixties was great fun. It really was a revolution, and all those looks are still fresh. Looking at Bardot with her hair up, I thought that was the sexiest thing in the world. And it's as modern today as it was then. My philosophy is: Your hair shouldn't overwhelm you. I'd be happier if you walked into a room and people said, "You look amazing" instead of "Who did your hair?" That's how I separated out the greatness in the book.
Whose work do you admire? Editorial work is almost a different craft from what I do, and I think the book shows a respect for that. That's why I gave shout outs to Didier [Malige] and Guido [Palau]. They're just extraordinary in the way they keep the movement going forward. Subtle adjustment, subtle adjustment, subtle adjustment. Then you look back over what they did the last five years and think, "Wow. That was a big change."
How did you get started in the business? Who did you train under? I trained at Michael John salon in London. I was 16. In England, you don't need a license. It's an apprenticeship and you get paid starvation wages. So if you're not good, you're not going to last. In America, you have to get a license but you can be absolutely awful. Even though my salon is here, you have to go through an apprenticeship if you work for me. In England, the untalented get weeded out. It's a better system there.
Do you have hairdresser idols? Of course, Vidal Sassoon was my greatest idol. He completely revolutionized hair.
What's your first grooming memory? When I first discovered a razor, I desperately wanted to shave, but it was so painful because I had this delicate Irish skin, not to mention having no hair on my face. The cuts I gave myself were unbelievable. The only good thing about aging is that my skin is much tougher, so it's much easier to shave now. Also, when I was young, I had really gorgeous hair. When I was about 15, I picked up some dark hair dye. That alteration gave me a lot of confidence.
What was your first cologne experience? Brut 33. It was all the rage in England! I, along with half of the world, was obsessed with it. I don't know what I must've smelled like, probably a bordello. That part of my adolescence was so exciting for me. When I wore Brut, I felt, "Ok, wow. I'm special." I was probably 14 or 15, and I bought it myself.
Describe your daily routine: I am as low maintenance as you can get. I wouldn't dream of putting anything on my skin. Sometimes I put stuff in my hair because it's getting thin now. Ironically, though, my bathroom is just filled with stuff. People see it and say, "It must take you hours to get ready!" But all I do is wash my face, maybe use a scrub. Sometimes face oil or moisturizer. And deodorant. Currently, I'm using Baxter of California. My current scent is Chanel Bleu, but I don't have particular loyalties. Not even for toothpaste.
If we opened your medicine cabinet, what would we find? Every piece of crap in the world because everyone gives me stuff. And most of it will just sit there until I have to make room for more. I know so many people who won't leave the house without their special creams. That's not me.
If we pulled back your shower curtain, what would we find? Well, my [John Barrett] shampoo. And when I'm not loyal to my own brands, I am obsessed with Christophe Robin Sea Salt Purifying Scrub.
Is there one product you can't live without? [John Barrett] Be Hold Styling Balm. It makes my hair three times thicker, literally.
What perfect product are you still on the hunt for? I'm still waiting for the moisturizer that doesn't make my skin look shiny. It hasn't arrived yet, but that's my dream product. I hate to see a man with a shiny face. I would prefer to have dry skin than a shiny face.
Is there a woman's fragrance that melts you? Joy [by Jean Patou]. It's just so extraordinary. I don't know what it is, but every time I smell it, my god. I grew up in real poverty in Ireland. Whenever we went into the town, there was a lady who worked at the bakery, or whatever. She looked somewhat slutty because her hair was dyed yellow blonde and she wore eyeliner. I thought, "Oh my god, she's so gorgeous." When I first started doing hair, I entered a world that was a real departure from that life in Ireland and I think Joy must've been a part of that. I'd never seen a fur coat or anything glamorous before, and I associate Joy with that.
Is there a grooming or shaving discontinued product you miss? There is a Roget et Gallet hair gel that I used to get in Paris. I don't know what it did and I can't remember its name, but it came in a metallic tube and the smell of it was intoxicating.
Who's got great hair now? Maybe Gisele. It just sort of feels effortless. Beyonce is another one with the best hair ever. You'd think it's all wigs and hairpieces, but it's all her hair.
Which male celeb do you think has the best hair? Probably George Clooney, because it's really well groomed but looks like he doesn't spend a lot of time on it.
What beauty look on women do you love? It has to be effortless beauty. I hate a solid eyeliner; I love smudged. I hate anything that's too perfect. And it has to have individuality.
Conversely, what beauty look on women do you scratch your head at? I hate uber-tanned skin. It just makes me nauseated. I hate hair that's over-processed and looks like it, and I hate too much makeup. So many clients come in here and I give them the reverse makeup treatment. I say, "This has to come off, that has to come off." I think people remember a day back when they were 20 years old and they wore a special eyeliner or something and have kept that look ever since. And it just looks horrible now.
If you were given a Spa Day gift certificate, how would you spend it? I had the most glorious time once at the Encore in Las Vegas where they have the most extraordinary spa. It's like a Roman bathhouse. Slabs of water splash on you and you just lie there. Also, the Bulgari Hotel in London has the best spa. I'd like to check in to either of those places and just stay for a day.
Watch W's most popular videos here:
Photos: Celebrity Hairstylist John Barrett Talks Hillary Clinton, Beyoncé, and Which Celeb Has the Best Hair
Barrett's client Beyoncé performs during the Formation World Tour in Houston, Texas, May 2016. Photo by Getty Images.
Barrett's client Hillary Clinton on Good Morning America, April 2016. Photo by Ida Mae Astute/ABC via Getty Images.
John Barrett with Mary-Kate and Ashley Olsen at his salon in New York, New York, April 1997. Photo by Ron Galella, Ltd./WireImage.
Barrett's client Dame Maggie Smith at the EE British Academy Film Awards in London, England, February 2016. Photo by Getty Images.
John Barrett with client Helena Bonham Carter at the opening of Dolce & Gabbana in New York, New York, September 1998. Photo by Getty Images.
John Barrett with Venus Williams at her Spring 2013 presentation in New York, New York, September 2012. Photo by Getty Images.
Barrett's client Anjelica Huston at PETA's 35th anniversary party in Los Angeles, California, September 2015.
Barrett's client Vanessa Redgrave at the Antalya Film Festival in Antalya, Turkey, December 2015. Photo by Suleyman Elcin/Anadolu Agency/Getty Images.
Barrett's client Dame Judi Dench at the Olivier Awards in London, England, April 2016. Photo by Getty Images.