The Celebs Are Already Posting Their "I Voted" Selfies
Early voting is the hottest trend in America. Literally.
---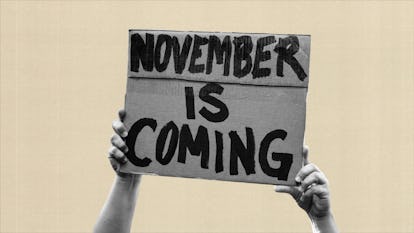 Photo courtesy of Getty Images.
We shouldn't view our basic civic duties through the lens of celebrity and social media, but if we're all running around choosing our next handbag based on what we saw in an influencer's feed or basing our next haircut on celebrities anyways, we might as well get into the latest celeb trend: the early voting selfie.
Even though election day proper is still 25 days away, early voting selfies are quickly taking over social media. And no, the various celebs posing happily with their little "I Voted" stickers are not taking part in some VIP-only vernissage of voting. Americans are voting early at an unprecedented rate.
According to the United States Elections Project per Reuters, 6.6 million Americans have already cast their ballot for the general election. In fact, the trend may portend a modern record voter turnout in 2020. While early and absentee voting has grown in popularity in recent years (especially after the 2000 voting debacle), more and more people are showing up early for two reasons: 1) an expansion of early and mail-in ballot options to protect public health during the Covid-19 pandemic 2) the fact that more so than in most years, increasingly people have already made up their minds about how they'll vote.
Among the celebs who have already partaken are Joe Jonas (who paired his voting sticker with another 2020 trend: the DIY buzzcut and neon dye job).
Actress Camila Morrone (who, yes, is Leonardo DiCaprio's girlfriend) announced the casting of her ballot with a "I am a voter" mask.
Tommy Dorfman's hair choice may be given us major 1990s teen heartthrob vibes, but his "I Voted" sticker is decidedly 2020.
All but six states will allow citizens to cast votes early one way or another this year, though the laws and procedures vary from state to state, and in some cases, county to county. The best way to figure out what your voting options are is to visit the website of your local elections department, which you can find here, by entering your state and county. You can also find a general state-by-state calendar of early and absentee voting dates here.
Depending on your location, your options can include choosing to go to an early voting site to cast your ballot in person (the polling place will in most cases be different than the polling place you'll be required to go to if you wait until election date) or requesting an absentee or mail-in ballot, which you can either drop off at a designated box or office or send through the mail (though, remember, the earlier you send in your ballot the better).
As for posting a voting selfie on Instagram, be aware that in some states it's technically illegal to share a photo of your actual paper ballot (even if you're voting at home).
Of course, before you post that selfie you should take precautions that your mail-in or absentee ballot is properly filled out and sealed correctly as per your state's guidelines. The idea here is that, social media aside, your vote should count more than the likes you get on the photo.
Related: How to Vote in 2020: From Registering to Getting a Mail-In Ballot