Celebs Respond to U.S. Immigration Crisis and Child Detention Centers: "Cruel and Immoral and Deplorable"
Even the U.N.'s top human rights official has called the Trump administration's new policy of detaining children "government-sanctioned child abuse."
---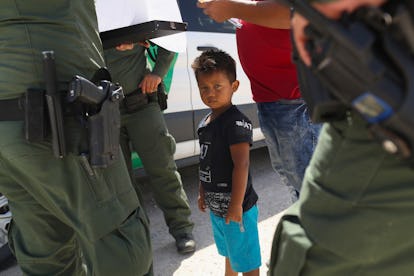 John Moore/Getty Images
"On Sunday, a day we as a nation set aside to honor fathers and the bonds of family, I was among the millions of Americans who watched images of children who have been torn from their parents," Laura Bush wrote in an op-ed that took many aback when it appeared in the Washington Post late on Father's Day. The former first lady joined countless others who felt that a shadow had been cast on the holiday, which this year happened to coincide with increased attention placed on the immigration crisis that's exploded since the Trump administration's "zero-tolerance policy"—that everyone who enters the country without approval, even to seek asylum, will be prosecuted, and therefore separated from their children—came to a head. The sudden influx of hard facts, like how in just six weeks the U.S. separated nearly 2,000 children, including some under 4 years old, from their parents, as well as jarring photos of the resulting chaos, have proven nearly impossible to ignore.
To say that Bush was far from alone in her feelings is an understatement. Last week, pretty much every nonconservative, social media–savvy celebrity you can think of joined those who'd spoken out earlier, like Jessica Chastain, in droves, especially as Father's Day approached. On Friday, Chrissy Teigen shared John Moore's now viral photo of an Honduran toddler crying as her mother, an asylum seeker, was detained, adding that the child was the same age as her (pretty much universally beloved) daughter, Luna. (Her statement was far more sentimental than that of her husband, John Legend, who took quite a different tack, responding to Paul Ryan's early Father's Day post with, among other words, "Seriously, f–k you.")
As temperatures swelled to over 100 degrees in parts of Texas, and more and more children were placed in chain-link cages with cement floors on the holiday, Anne Hathaway, Reese Witherspoon, and Busy Philipps were just some of those who found the country's contradiction hard to ignore.
Of course, a humanitarian crisis that's garnered an increasing number of social media comparisons to Nazi concentration camps merits much, much more than one day's worth of concern. The United Nations' top human rights official kicked off the week by summing up the Trump administration's practice of separating children from their parents as "government-sanctioned child abuse." Meanwhile, Witherspoon, Bette Midler, and more have already joined him in his condemnations on Monday, including Oprah Winfrey, who announced on both Twitter and Instagram that she'd be following what Gayle King, who's currently in Texas, has been calling a "heartbreaking story," which Winfrey made a point to add "is important for all Americans."
Shortly after Jim Carrey created and posted one of his signature political cartoons to address the issue, Rosie O'Donnell tried her hand at the medium too. In other surprise news, even Pope Francis appeared to speak out:
Indeed, over the past few days, the feeds of celebrities who've been particularly vocal on the subject have turned into something of a timeline of how initial attention has increasingly transformed into a John Legend level of rage. But even if they first needed to fire off a few angry tweets, well over a dozen celebrities have also begun using their platforms to share strategies with their thousands of followers—not only for how educate themselves (like by reading the entirety of Texas Monthly's lengthy, horrifying dispatch from an expert on the ground), but also for how to take action, with this list by Slate proving particularly popular. (One could also make like Olivia Wilde, who shared a tweet comparing Jeff Sessions to "sanctimonious slave-owners," by retweeting journalists and political commentators.) Take a look at some of what they've said so far, here.
Related: Fashion's Biggest Names Issue a United Statement: "I Am an Immigrant"