Celine Dion Absolutely Got Her Life at Lady Gaga's Enigma Show
She even knows the "Bad Romance" choreo.
---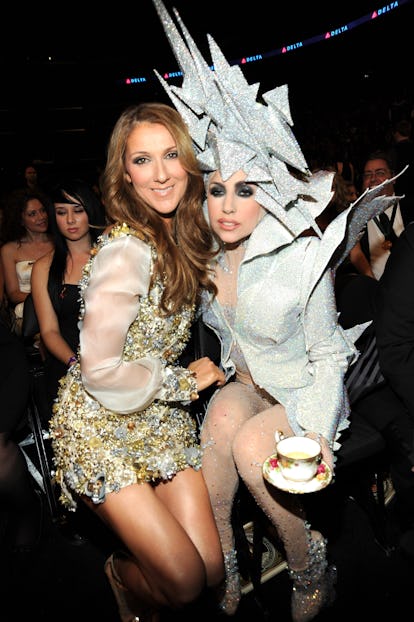 Kevin Mazur
Las Vegas queen recognized Las Vegas queen, apparently. Yes, Celine Dion scored tickets to the second night of Lady Gaga's Enigma residency at the Park MGM, and, as evidenced by video captured by fellow concert goers, she most certainly got her life and revealed herself to be a Gaga superfan in the process. She even knew the "Bad Romance" choreography. Who could have guessed?
Though, Dion has become something of the mother hen of Vegas performers. With her first residency A New Day…, she helped rehabilitate the idea of doing shows in Vegas, and her two long-running residencies are the most successful in Sin City, or anywhere in the world for that matter. In essence, Celine walked on to a Vegas stage so Lady Gaga could fly (no, literally, Gaga flies on to the stage during Enigma). Dion has also been known to send Vegas newbies like Britney Spears and Gwen Stefani roses on the first night of their shows, but we haven't quite seen her this jazzed up about another Vegas performer before. See for yourself:
Like a true Little Monster, she even knows the moves:
It's even more impressive considering that Dion played her own show the night before and is scheduled for another one tonight.
This isn't the first time the two have crossed paths either. They had a particularly memorable meet up on the red carpet of the 2017 Grammys:
Perhaps it's not surprising to find out Dion is a Gaga fan. After all, like Gaga, she's taken a liking to wearing edgy fashion out and about over the past few years, and recently attempted to single handedly end the gender binary with the campaign for her unisex line of children's wear.
Alas, Dion's own time in Vegas is scheduled to come to an end (for now anyway) with the final show of Celine set for June 8th of 2019. She'll have wound up playing well over a 1000 shows in the city when all is said and done.
As for Gaga, her plans for Vegas aren't quite as Celine-sized. Her residency, which included Enigma and special occasional night dedicated to her love of jazz and simply playing the piano, will only run for a planned 32 shows interspaced throughout the year (with noticeable gaps open for Oscar season and the like).
Perhaps Dion of "My Hear Will Go On Fame" also slipped Gaga some advice about performing "Shallow" at the ceremony.
Related: Here's Everything That Went Down On the First Night Of Lady Gaga's "Enigma" Residency In Vegas
Celine Dion's Style Has Always Been About Taking Risks
Winning her second Grammy award at the 34th Annual Grammy Awards, the singer wore black pants with an embellished tank dress. 1992. Photo courtesy of Getty Images.

GETTY
The next year, the singer wore a form fitting red gown with cutouts by Versace to the 20th Annual American Music Awards. 1993. Photo courtesy of Getty Images.

GETTY
Dion kicked up the glitz at the 69th Annual Academy Awards in this Chanel couture dress with white, silver, and black stones. 1997. Photo courtesy of Getty Images.

GETTY
Dion attended the 71st Annual Academy Awards wearing one of her most iconic, most talked about looks to date. This white Christian Dior suit, by John Galliano, was designed to be worn backwards, making quite the statement. The look was finished with a Dior fedora and black sunglasses. 1999. Photo courtesy of Getty Images.

GETTY
The singer continued to wow in white at the 41st Annual Grammy Awards, wearing a gown designed by red carpet favorite Carolina Herrera. 1999. Photo courtesy of Getty Images.

GETTY
On the opening night of 'A New Day', in Las Vegas, Celine Dion stunned in a black jumpsuit finished with a sparkling cape. 2003. Photo courtesy of Getty Images.

GETTY
At the World Music Awards in Las Vegas, Dion was truly sparkling in a stunning Yves Saint Laurent sequined gown. The dress, designed by then-creative director, Tom Ford, speaks to the star's love of cutouts in a fresh way. 2004. Photo courtesy of Getty Images.

GETTY
Dion's look at the 13th Annual Ella Awards took a fun spin on the little black dress. This strapless, bubble skirt dress was truly a staple of the early 2000's. 2004. Photo courtesy of Getty Images.

GETTY
Dion stepped out in black pants with an embroidered steel blue jacket with fur trim at a celebration for her collaboration with Anne Geddes. The look was sleek and exceptionally flattering, tied with a belt. 2004. Photo courtesy of Getty Images.

GETTY
Dion shimmied down the red carpet in an embellished mini-dress at the World Music Awards in Monte Carlo. 2007. Photo courtesy of Getty Images.

GETTY
Dion was a green goddess on the arm of her husband, Rene Angelil, at the 79th Academy Awards. The singer's long gown was accented in the sparkle we have come to love about her signature style. 2007. Photo courtesy of Getty Images.

GETTY
Dion took sparkles from an accent to a statement at the 52nd Annual Grammy Awards wearing an ultra embellished dress with refreshing sheer sleeves from Aquilano Rimondi's spring collection. 2010. Photo courtesy of Getty Images.

GETTY
Dion was the definition of old Hollywood glamour at the 83rd Annual Academy Awards wearing a long sleeve white gown with a touch of sheen by Armani Prive. 2011. Photo courtesy of Getty Images.

GETTY
Again, the singer made waves in a minimal full length gown with this off the shoulder look by J. Mendel at the BAMBI awards in Germany. 2012. Photo courtesy of Getty Images.

GETTY
Dion proves she can work street style with the best, as she sports black leather pants with a short white fur jacket out on the streets of Paris. 2013. Photo courtesy of Getty Images.

GETTY
Dion may have taken a step away from her usual glitz at the UCLA Luminary Awards, but looked every bit as sophisticated draped in a nude and black gown. 2014. Photo courtesy of Getty Images.

GETTY
Dion looked luxe in leather at the 2015 Billboard Music Awards in this one shoulder green dress by Mugler. 2015. Photo courtesy of Getty Images.

GETTY
Dion had a major glamour moment at the 2015 American Music Awards when she stunned in a floor length gown with floral detail by Elie Saab. 2015. Photo courtesy of Getty Images.

GETTY
Dion won the Icon Award at the following year's Billboard Awards in Las Vegas wearing her signature sparkle. This beautiful off the shoulder gown, by Valentin Yudashkin, showed off the singer's leg with a not so subtle slit up to her thigh. 2016. Photo courtesy of Getty Images.

GETTY
The singer sat front row at the Giambattista Valli couture show wearing a flowing black and white gown from the designer's previous collection and a pink bag by Roger Vivier. 2016. Photo courtesy of Getty Images.

GETTY
Ever the queen of fashion, Dion sat front row at Paris Fashion Week wearing head to toe black Christian Dior. The sleek look is finished with a pair of door-knocker earrings and a black croc leather bag. 2016. Photo courtesy of Getty Images.

GETTY
Again opting to show off her leg, Dion wore an incredible leather gown by August Getty Atelier to perform on Jimmy Fallon, keeping her signature glamour and adding a splash of edge. 2016. Photo courtesy of Getty Images.

GETTY
The singer stunned as she arrived on the red carpet for the premiere of Beauty and the Beast. Her light blue dress, by Christian Siriano, was long sleeved and elegant, exaggerated with a bow over her right shoulder, keeping on trend with Dion's signature dramatic flair. Photo courtesy of Getty Images.

GETTY
Dion was radiant in a dazzling green Zuhair Murad dress at the 59th Annual Grammy Awards. The look was everything we have come to love from the star from the plunging neckline to a thigh high slit. 2017. Photo courtesy of Getty Images.

GETTY
Celine Dion attends the "Rei Kawakubo/Comme des Garcons: Art Of The In-Between" Costume Institute Gala at Metropolitan Museum of Art on May 1, 2017 in New York City. Photo courtesy of Getty Images.

GETTY
Celine Dion poses in the press room during the 2017 Billboard Music Awards at T-Mobile Arena on May 21, 2017 in Las Vegas, Nevada. Photo courtesy of Getty Images.

GETTY
Celine Dion is seen on the streets of Manhattan on April 30, 2017 in New York City. Photo courtesy of Getty Images.

GETTY
Celine Dion seen leaving her hotel in Paris, France, on June 14, 2017. Photo courtesy of Getty Images.

GETTY
Celine Dion is seen on June 28, 2017 in Paris, France. Photo courtesy of Getty Images.

GETTY
Singer Celine Dion is seen on July 2, 2017 in Paris, France. Photo courtesy of Getty Images.

GETTY