Central Park, Home to 22 Statues of Men, Will Add a Statue of Real Women For the First Time Ever
Mother Goose is finally getting some nonfictional company.
---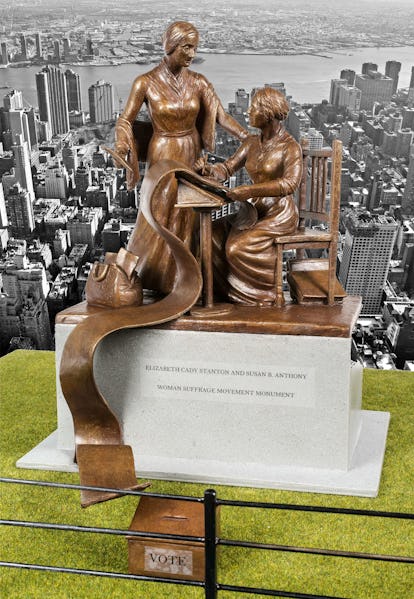 While Mother Goose, Alice in Wonderland, and Juliet (plus Romeo) have all found a permanent homes in New York's Central Park over the course of its 164-year history, real, nonfictional women have not been so lucky. For the first time ever, though, some will finally be joining the statues of fictional characters and 22 real-life men that can currently be found in the park, thanks to its plans to install a joint statue of Susan B. Anthony and Elizabeth Cady Stanton—a monument to those who worked to advance women's rights in America and, to those who've been advocating for the statue, an honor to "the biggest nonviolent revolution in the history."
It'll be a couple of years, though, before all that takes place; the statue will be installed into the park's so-called Literary Walk, which stretches from 66th to 72nd Street, in 2020, thereby marking the centennial of the ratification of the 19th Amendment to the U.S. Constitution, which gave women the right to vote. For now, a model of the sculptor Meredith Bergmann's creation can instead be found at the New York Historical Society, featuring a miniature Anthony and Stanton poring over a lengthy scroll that stretches past the statue's pedestal, which will be inscribed with the names of other significant suffragists, including Alice Stone Blackwell, Lucy Stone, Carrie Chapman Catt, Ida B. Wells-Barnett, and Sojourner Truth.
One of the most prominent names associated with the suffrage movement, Anthony's activism ranged from the political—including founding the Women's Loyal National League, which broke records at the time with the 400,000 signatures it collected for a petition against slavery—to the personal, like the time that she was arrested for voting in Rochester, New York (and refused to pay the fine). She and Stanton worked together closely once they met in 1851, a few years after Stanton and Lucretia Mott organized the 1848 Seneca Falls Convention, which was the country's first convention for women's rights. Once again working together, she and Anthony are now upping the number of statues of historic women which exist across the entire city of New York from five to a whopping seven (compared to nearly 150 men).
While progress is definitely being made, only one of those five statues—of Joan of Arc, Gertrude Stein, Golda Meir, Eleanor Roosevelt, and Harriet Tubman—pays tribute to a woman of color. That oversight is particularly relevant when it comes to honoring Anthony and Stanton, as their fight for women's rights also brought to light their controversial views on race. (They both petitioned in favor of the 13th Amendment to abolish slavery early on, but the possibility that black men might get the right to vote before any women did infamously led Anthony to tell Frederick Douglass, "I will cut off this right arm of mine before I will ever work or demand the ballot for the Negro and not the woman.")
Earlier this year, New York's first lady, Chirlane McCray, drew attention to the city's lack of diverse representation, noting that "there are big gaps in our City's public art, with few statues of women, trans and gender nonconforming people." Her initiative to change that, She Built NYC, will likely get a boost from Anthony and Staton, even if they're more than a century beyond the grave; as the "Fearless Girl" has proven, even statues of fictional women are more than capable of shaking things up.
Related: How the Artist Ai Weiwei Installed 300-Plus Political, Public Artworks Across New York