Hollywood Remembers Chadwick Boseman, an Icon Gone in His Prime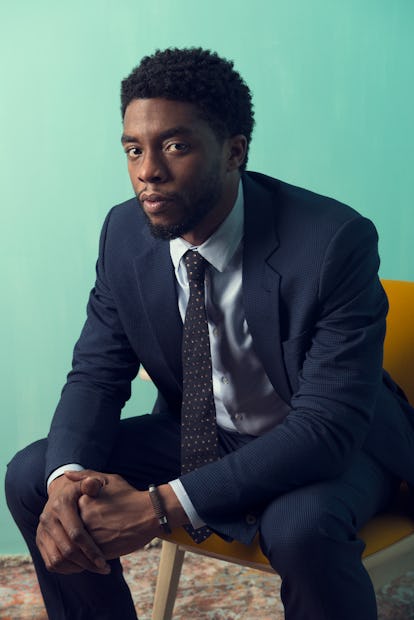 Caitlin Cronenberg
Not long ago, Chadwick Boseman was on the verge of giving up acting completely after a decade of work in television and theater that garnered no major breakthrough roles. Then, at the age of 36, Boseman landed the role of Jackie Robinson, the first Black player in the MLB, in the biopic 42 after auditioning for the role twice.
With the film, Boseman proved Hollywood was shortsighted in relegating him to bit parts in network procedurals for all those years. He'd follow up his performance as Robinson quickly by playing James Brown in the 2015 biopic Get On Up and Supreme Court justice Thurgood Marshall in a 2017 biopic. In 2018, Boseman would shift the culture forever by taking on the lead role in Marvel's Black Panther, a box office sensation featuring the studio's first Black superhero lead. His work, time and again, not only captured the dignity but the leadership and pioneering spirit of Black men.
Though, at the height of his career, Boseman was diagnosed with stage three colon cancer, an ailment that was kept quiet until his family released news of his passing at stage four earlier today. In the midst of suiting up as T'Challa and completing other projects, Boseman fought a quiet four-year battle with the disease that included chemotherapy and multiple surgeries.
Yet, in his relatively short time of prominence, Boseman left an indelible legacy on screen. He not only portrayed several barrier-breaking Black men with whom American culture would not be the same, but became one in his own right. It's the kind of legacy that not only leaves one wondering what could have been if not for the cruelty of cancer, but what should have been had Hollywood recognized the talents of a Howard University graduate from Anderson, South Carolina earlier.
Several of Boseman's co-stars and peers remembered the actor on social media.
His final film, Ma Rainey's Black Bottom, an adaptation of an August Wilson play co-starring Viola Davis, is still awaiting release.