Meet Chance Perdomo, Sabrina's Resident Pansexual Warlock
The British actor is here to defend Prudence and Ambrose.
---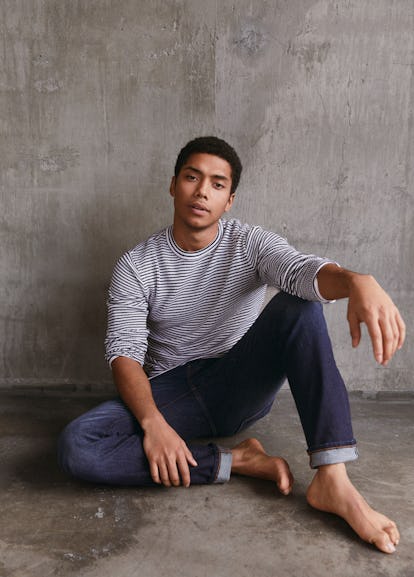 Gray Hamner
Before Chilling Adventures of Sabrina premiered on Netflix in 2018, there's a good chance you'd never heard anyone be described as a "pansexual warlock." The term almost uniquely belongs to Sabrina's cousin Ambrose, a role that the series's showrunner, Roberto Aguirre-Sacasa, created specifically for the 23-year-old British actor Chance Perdomo, who made a lasting impression on Aguirre-Sacasa when he auditioned for the lead of another cult series he created, Riverdale. Judging from his Instagram followers alone, the actor has since stuck with at least a million others, too. "My notifications have been off since the first season, when my phone crashed," Perdomo said on the phone from Vancouver, where he's already wrapping up filming Sabrina part four.
But just like Ambrose with his research, when it comes to fandom, Perdomo has studied up. He looks at every single one of his Instagram Stories mentions. He reads—and occasionally replies—to comments like "we have decided to stan for life." He's even picked up fans' shorthand for Ambrose's relationship with Prudence, a witch played by Tati Gabrielle. "Hashtag Pambrose!" Perdomo enthused when asked what it was like to work so closely with Gabrielle on part three of the series, which Netflix premiered last week. It finds Prudence and Ambrose outside of Greendale for a spell, on an emotional quest to kill their sad excuse for a father, Faustus Blackwood. (Technically, Ambrose is an orphan, but Blackwood is the closest to a father figure the 90-year-old warlock has ever had.)
Keeping abreast of the comments has also taught Perdomo that Pambrose is not without its detractors; while nowhere near the size of "Pambrose Nation," there's also a faction of fans who are hell bent on seeing Prudence date a girl. But in this particular instance, Perdomo politely disagrees. "The comments that hate on Pambrose are doing pansexuality a disservice," he said. "I can see how at face value, there might be some complaints about the heterosexual nature of their relationship, but in this context, it's not so much built on man and woman so much as I understand who you are, I understand your soul, and I understand your pain and your struggles. And they're very similar in their hearts, and in their pain."
"It's never a question of being attracted to that person simply because of their gender, or wherever they are on the spectrum," he continued. "In this context, it's more that they spend a lot of time together and they understand each other more than anyone else does. They're human-being characters. They go about their lives as human beings do."
Perdomo has picked up on such nuances on the job, though even since taking on the role of Ambrose, he's more of the opinion that sexuality is just one aspect of a person's identity, and not something that can—or needs to—be defined. When it comes to his own sexuality, Perdomo prefers ambiguity, though more out of practicality given how his lifestyle has changed. "At this point of speculation and where my career's at and what not, I quite value my personal privacy," he said with a laugh.
Born in Los Angeles and raised in Southampton, England, where he first got into theater, Perdomo first attempted to pursue acting at the same time that he was getting a law degree. He abandoned the latter after landing a role in a children's TV show. It took a year and a half, which he spent waiting for his next role and studying acting, but Perdomo's breakthrough finally came. Last year, Perdomo was nominated for a BAFTA for his lead role in the British film Killed by My Debt. He doesn't mind that he lost; after all, it was to none other than Benedict Cumberbatch.
For the most part, though, Perdomo hasn't had time to venture outside of Greendale. Netflix renewed Sabrina for a fourth season even before season two premiered, and it's been quite the commitment ever since. Perdomo and the rest have been in Vancouver filming season four since March, and they still have at least one episode left.
From the sound of it, there's more than enough material left for a season five, too—especially when it comes to Ambrose's backstory, which has been on hold since the revelation that a plot to blow up the Vatican was what earned him a 75-year house arrest. "Next season it's more external, narrative threats, because we end it on cliffhangers that need to be addressed," Perdomo said. "So whilst we don't necessarily see the backstory, it does double down on what are Ambrose's core values as a human being, and what he might be up to in the future."
Gabrielle, the actress who plays Prudence, has said that each character will leave their comfort zone in season four. And according to Perdomo, "an inability to use his mind and wit to save the day," and ruminating on if "he's supposed to have love, and if he can sustain it," are what would cause Ambrose the most discomfort. But neither are necessarily in store for next season. The only thing Perdomo would confirm about Ambrose's storyline is that he definitely has more scenes with Father Blackwood. (More generally, he also hinted that there will be "some character interactions, pairings, and duos and teams that might surprise.")
Until we get some answers, Perdomo will keep on "politely passing" on non-Ambrose roles, even though they've been of a much "higher caliber" than any he's been offered before. (He's most interested in projects "that are political in nature or deeply character motivated and driven.") He'll keep practicing parkour, in hopeful preparation for his "absolute dream role": Miles Morales, the half-Black, half-Latino Spider-Man. And he'll keep doing his best to contribute to the Sabrina cast's jam sessions, despite his current lack of musical talent. "I recently started learning the triangle," he said with a laugh. "I'd say I'm around level three."
Related: Gavin Leatherwood, Chilling Adventures of Sabrina's Nick Scratch, Is Actually "Team Harvey"