A Documentary About Chanel's Couture Show Is Coming to Netflix
We'll find out on December 21.
---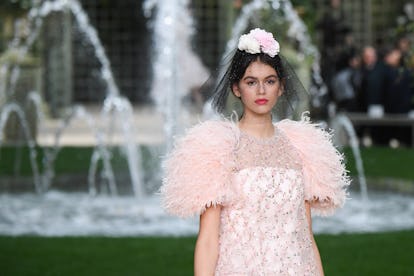 Stephane Cardinale/Getty Images
The Chanel Spring/Summer 2018 Haute Couture show in January of this year saw models like Kaia Gerber, dressed in muted tweed skirt suits and birdcage-veiled headpieces, wending their way through a maze of runways in a dreamy garden centered around a fountain in the middle of Paris. The materials and designs fell in line with decades-old Chanel conventions, and the hair and makeup, though avant-garde, were just as unexpected as we've come to expect from Karl Lagerfeld; but the designer did break one major tradition: He had the tranquil garden scene built from scratch around the 18th-century fountain, rather than filling the French capital's Grand Palais with his usual drama.
Lagerfeld, of course, neglected to explain why, exactly, he decided to forgo his typical venue. All he would tell Vogue at the show was that the idea for the rose-covered pergola-filled setup had come to him in a spontaneous moment, and not out of any desire to send shockwaves through the fashion world. "I'm not a marketing person; I don't know what I'm doing, in a way—it's just a feeling," he said.
Next month, however, Netflix subscribers will get a peek into the process of creating the show. According to WWD, the inaugural episode of upcoming documentary series 7 Days Out will follow Lagerfeld in the week leading up to the January couture presentation. The Chanel episode will depict all the preparations that took place in Lagerfeld's design studio, in the brand's haute couture ateliers, and in their Métiers d'Art craftsman-focused ateliers. The short film was reportedly directed by Andrew Rossi, the brains behind another popular fashion doc, The First Monday in May, about the preparations for the "China: Through the Looking Glass"-themed 2015 Met Gala.
The 7 Days Out collection will be released on Netflix on December 21. Besides Lagerfeld and Chanel, the subsequent episodes will follow other masterminds in the realms of food, space, sports, entertainment, and more, including one chronicling the 2017 renovations of New York City's Michelin starred eatery Eleven Madison Park, and another giving viewers an inside look at the famed Westminster Dog Show.
Related: A Brief History of Chanel's Daring Use of Colorful, Eccentric Makeup on the Runway
A Brief History of Chanel's Daring Use of Colorful, Eccentric Makeup on the Runway
Supermodel Claudia Schiffer wore plenty of bold, black eyeshadow paired with a high ponytail at Chanel's Haute Couture Fall/Winter 1995 fashion show.

Getty.
At the 2003 Fall Haute Couture show, Linda Evangelista wore a frosted silver eye and a glossy mauve lip the

Getty.
A glossy magenta lid was the perfect compliment to the colorful hair accessories on the 2003 Haute Couture spring runway.

Getty.
Models at Chanel's 2007 Haute Couture show rocked jewels on their eyes, a swipe of blush along their cheekbones, exaggerated lashes and a feathered hair piece.

Getty.
Australian beauty Miranda Kerr made embellished eyebrows the ultimate beauty statement at the Fall 2012 show.

Getty.
At Chanel's Spring 2014 show, models wore an electric purple, red, and blue eye paired with blunt bangs.

Getty.
At Chanel's 2014 Haute-Couture Spring show, model Anna Ewers made the case for a bold, glittered cat eye, and a lion-esque 'do.

Pascal Le Segretain
At Chanel's Fall 2015 show, Cara Delevingne's extra bold brows called for an extremely neutral lip.

Getty.
At Chanel's Fall 2016 show, the classic smoky eye got an upgrade courtesy of a lid-sweeping "quilted" effect.

Getty.
An exaggerated frosted blue eye with hints of silver shimmer on the lower lash line was the look at Chanel's Spring 2016 fashion show.

Getty.
At the Spring 2017 show, models wore playful pink makeup on their eyes and lips to match their sporty ensembles.

Getty.
At the Chanel Haute Couture Fall/Winter 2017 show, models paired their Chanel tweet suits with the ultimate rainbow smoky eye.

Getty.
As showcased on French beauty Lily-Rose Depp, models at the Chanel Pre-Fall 2017 fashion show paired a messy ponytail with a heavily contoured eye and neutral face.

Getty.
At Chanel's Fall 2017 show, model Bella Hadid took eyeliner to new heights.

PATRICK KOVARIK
At Chanel's Spring 2018 fashion show, models wore bold blue eyeshadow paired with an orange lip color and contoured cheekbones.

Dominique Charriau
Model Kaia Gerber wore monochromatic pink makeup on her eyes, cheeks and lips at the Chanel Spring 2018 show.

Getty.