During Remote Couture Week, Presentation Took Precedence Over Clothes
During an unprecedented fall 2020 haute couture season in Paris, brands went digital with their collections, with varying degrees of success.
---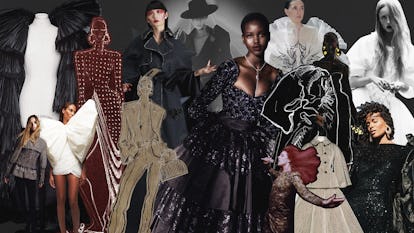 Collage by Tilden Bissell.
The stress of the global pandemic and the roiling protests in support of the Black Lives Matter movement were the backdrop for the fall 2020 haute couture shows this week. But for most designers, these events appeared to register as something happening in the background, like fuzzy newscasts beaming in on a television from another room.
"Shows" is also a loose description of the presentations that took place starting Monday morning in Paris; in past seasons, entire worlds were created inside packed venues like the Grand Palais, but this time around, designers had to rely on other means to convey their creative visions.
Haute couture is the apex of the fashion industry, created entirely by hand, in ateliers that date back to the late 1800s, when France was still ruled by a monarchy. The often fantastical clothes stir up emotions of excitement and whimsy. It's the larger-than-life, out-of-this-world version of what goes down the runways during the regular seasons. Simultaneously, couture is meant to be the most personal of fashion experiences: the techniques, embroideries, and details of its craft can only be fully appreciated up close and in person.
It was no surprise when, in late March, Paris Couture Week was cut from the fashion calendar. Some houses—including Armani Privé and Balenciaga, where Demna Gvasalia was slated to make his haute couture debut—postponed their dates. Others, like Dior, Chanel, Schiaparelli, and Azzaro—where the designer Olivier Theyskens was showing his first haute couture collection—stuck to their guns, figuring out what a remote collection could look like. It was fun to see how different designers approached the challenge: Iris Van Herpen made just one dress, with an accompanying short film called "Transmotion," starring Carice van Houten of Game of Thrones; Dior had a multi-tiered digital rollout that included a short film directed by Matteo Garrone, an accompanying AR experience on Instagram, and miniature doll ensembles based on the Théâtre de la Mode of the 1940s; Chanel, meanwhile, opted for a scaled-back, black-and-white film with behind-the-scenes footage of the couturiers inside the atelier, along with a look book.
Did you notice I didn't mention any of the clothes? In this digital landscape, the way the collections were presented took precedence over the fashion itself. This wasn't too different from what was happening on the runways before the pandemic took hold. For a while now, designers have been pulling out all the stops to make it onto their audiences' Instagram stories—whether it's bringing special-guest celebrities onto the catwalk (Offset at Jeremy Scott), hosting experimental live-dance performances (Marc Jacobs), or even having a painter create works live, while models swirl around her (Ashley Longshore at Christian Siriano).
To be fair, the designers who chose to stage digital couture shows were severely limited by the practicalities of pandemic safety measures: even having a runway show with no spectators, filmed from a distance, was deemed too risky. Perhaps releasing a couture collection in some form, despite all the challenges, was a way for some brands to prove that they were stronger than the pandemic, and able to withstand the crashing economy.
This environment is especially tough for designers working at smaller houses. Speaking over the phone from Paris, Theyskens, who was appointed artistic director of Azzaro in February, recalled how uncertain he and his team felt over whether they would even be able to show when the pandemic began. Still, he went to Azzaro's mirrored-lined atelier—still intact from when Loris Azzaro established it as his studio in the 1970s—and started working. Theyskens knew he wanted to get to the heart and heritage of the brand, paring things down to the essentials and stepping away from trends. "That first day, I happened to sketch very quickly, something like 10 dresses," Theyskens said. "It took me like a matter of minutes to do it. And then I just felt like, this is strong. There's a good vibe here." His collection—a riff on Loris Azzaros' famous slinky evening ensembles—was not shown via a look book. Instead, Theyskens gave the Belgian musician Sylvie Kreusch carte blanche to create a short film, which was made by director Lukas Dhont and creative director Alessandro Cangelli.
All this was done out of necessity, Theyskens explained. "You can only appreciate couture when you see it in real life," he said. "Having a presentation for the clothes, seeing how it moves on the body when the person walks, what the look of it is." When asked whether he thinks the industry will continue showing clothes remotely in the future, the artistic director did not hesitate."I'm not sure people really want that," he said. "There is something about the energy, the music, the momentum of a live show. It's not a necessity for all brands to do a show, but for many, there is not anything better than that. The heart is inside the teams of the people working on the collection; and with digital, you lose the climax of the people working night and day, right until the day before. The show conveys this energy of everybody, collectively, making a strong collection."
The stylist and image architect Law Roach, who has worked with Zendaya and Céline Dion, among many others, said he feels similarly—especially when it comes to the business aspect of couture. Who's going to feel excited about a piece when they can't touch it, feel it, see the handiwork? "Couture has to be shown to an audience," he said. "There are only a certain number of people in the world who actually buy it, so being able to present to those audiences is huge for that part of the fashion business."
Perhaps that's why Schiaparelli's creative director, Daniel Roseberry, did not release any clothing this haute couture season—just a series of sketches of an "imaginary collection." A short film showed Roseberry working on these illustrations while sitting in a park. "I loved that he took it back to a feeling," Roach said. "For me, when I was growing up, couture always felt like a fantasy. My level of couture was always John Galliano at Dior. It was an over-the-top, fantastical world. Daniel brought it back to that—he left space for the imagination of whoever's looking at the clothes, which I thought was really beautiful and clever—and cost effective."
After reflecting on the collections shown, Roach, asked the same question that I had been pondering all week long: How is fashion capturing the current cultural moment? Apart from some footage in a couple of videos of couturiers wearing masks in the atelier, I saw no nods to what is going on outside the fashion bubble. The one exception was Viktor and Rolf. The Dutch designers poked fun at social distancing—ballooning coats had spikes, and crying emojis were plastered all over dresses that resembled nightgowns.
Even the models in the videos, who were likely cast at the crest of the Black Lives Matter movement, were overwhelmingly white. "There was no acknowledgement of what's going on," Roach said. "And I am a little bit disappointed with the lack of diversity."
Designers were clearly open to experiment with different ways to show their collections in response to the multiple crises we're facing. But here was an opportunity to also comment on those crises and take a stand, all while presenting the most exquisite clothing on earth. Perhaps that's too much to ask for right now. But isn't the point of fashion to hold a mirror to the world?
Related: Dior Opens Paris Couture Week With a Dreamy, Experimental Short Film