Gloss Over
With its new lipstick line, Chanel challenges the dominance of gloss.
---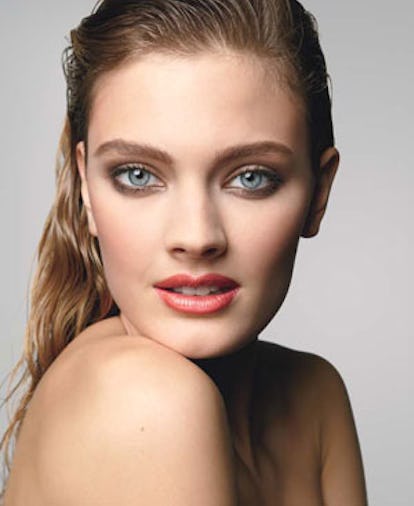 Chanel has long had a flair for dusting off antiquated styles and making them impossibly chic again. Consider its recent reinterpretations of several of its own designs: the quilted 2.55 purse, the bouclé jacket and the black satin hair bow. In March the house hopes to do the same for something else that has faded from glory: the lipstick.
True, lipstick never disappeared from the makeup counter, but it's hardly the cosmetic bag mainstay it used to be. "There's a whole generation of women who have never worn lipstick—they were raised on gloss," laments makeup artist and Chanel Makeup global creative director Peter Philips. (The company reports that it sells two Glossimer glosses for every tube of the solid stuff.) "Many women don't even know how to apply lipstick. I want to offer one that's easy—just one swipe."
What Philips came up with is Rouge Coco Hydrating Crème Lipcolour. In some ways the line harks back to the early Chanel days: its reference to Mademoiselle Chanel's youthful nickname; its old-school metal tube (plastic replaced metal in most tubes decades ago); its use of shades that date to the Sixties. But the formula is modern, combining strong pigments with the kind of smooth, slippery texture usually reserved for sheers. The glassy glide ensures Philips's one-swipe promise is fulfilled, with none of the dabbing and blotting required by most of its peers.
There are 33 shades of Rouge Coco, ranging from beiges to intense reds. The majority, though, are wearable taupes and dusty roses that keep with Philips's mantra of ease. He sums it up with a sartorial comparison: "To me, Glossimer is like our ballerina flats"—that is, something to be worn very casually—"whereas Rouge Coco is like a classic Chanel pump: It's comfortable, but it looks elegant."
Philips thinks his attempt to incite a lipstick renaissance will resonate with the new generation of 2.55 bag owners. "I walk down the street and I can't believe how many young women are carrying this bag that is over 50 years old!" he says, adding that perhaps its resurgence bodes well: "Ever since the bag came out in 1955, it has had a special slot in it for lipsticks."
Makeup by Peter Philips for Chanel. Model: Constance Jablonski/Marilyn Models.