Choreographer Ryan Heffington on Collaborating with Marion Cotillard in Her First Chanel Campaign
The choreographer, who has fans in Reese Witherspoon and Emma Stone, provided the dance moves for the French actress's Chanel No. 5 ad.
---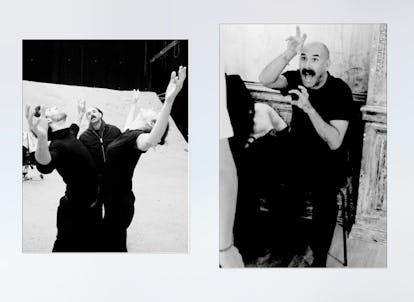 Although Ryan Heffington has spent the past six months going viral on Instagram with his dance class series #SweatFest, the choreographer's most recent work was actually completed before the pandemic took hold.
Back in December, Heffington—who has worked with Sia on her "Chandelier" choreo, and created the dance for Kenzo's fragrance campaign that won the brand (along with director Spike Jonze and star Margaret Qualley) a slate of awards—was in a Paris studio with Marion Cotillard. They'd linked to work together for Chanel's newest No. 5 ad campaign, which was released today, in celebration of the maison's 100th anniversary.
In the short video, Cotillard is joined by the French ballet dancer Jérémie Bélingard; together, they move through a desert landscape, synchronized in their steps, communicating through the choreography.
"I created the movement with my team then we transferred it to Marion and Jérémie," Heffington explained from New York, where he's currently at work with Lin-Manuel Miranda on the director's first feature for Netflix, Tick, Tick…Boom!. "We spent days finessing the choreography and adapting it to what felt best on the heroes' bodies."
Heffington, whose #SweatFest IG Live dance party has found fans in Emma Stone, Tracee Ellis Ross, and Reese Witherspoon, said he wanted to "represent a true relationship" with the No. 5 commercial: "Playful, sensual with a bit of power play," he said. "Using gestures that are relatable and allow the viewer to dive in. At one point they are lovers and then flip to portray kids playing."
The playful aspect was not necessarily part of the initial plan when Chanel first approached Heffington to take on the project, but became an integral part of the short's overall energy.
"All of the mood boards from Chanel were incredibly majestic," he said. "I remember listening to Marion declare how she wanted to identify—in this particular commercial—as a powerful, independent woman. To represent women as they are. I definitely wanted to add playfulness to her power. I think the combination is more relatable than a 'woman in distress' scenario or a woman longing to be complete by identifying within a partnership. These concepts feel dated."
In the campaign—Cotillard's first since being named an official face of the house—the actress wears a gown based on one Gabrielle Chanel once donned. Golden, covered in intricate beading, and with a scalloped lace slit, the dress is lovely but delicate. Heffington said a seamstress was on set while they filmed, sewing up minor rips as the day progressed.
"Dancing in heels with a lengthy lace gown is always a tricky endeavor," he said. "One demand was that they travel across the moon. So I had to incorporate choreography that moved briskly in a forward direction while also having them face each other. Marion would lead Jérémie so she was traveling backwards a lot of the time, and that's where the snag-a-thon occurred." Consider it an occupational hazard of being an artist in the real world.
Related: What Happens When an Artist and a Ballerina Meet on Zoom?