Channing Tatum, Like Brad Pitt, Has Turned to the Healing Powers of Sculpture in the Wake of His Breakup
He's turned to the healing powers of sculpture post-breakup, just like Brad Pitt.
---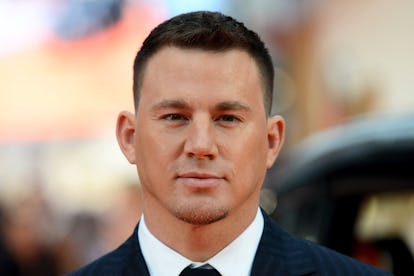 Dave J Hogan/Dave J Hogan/Getty Images
Breakup hair is officially a thing of the past. Maybe that's why Channing Tatum has turned to the healing powers of sculpture in the wake of his split from his wife of nine years, Jenna Dewan.
The dancer turned actor revealed a first look at his work on Twitter, sharing a photo of his 3-D take on Picasso's turn-of-the-century portrait The Old Guitarist, from the icon's Blue Period. "This was my attempt at creating a sculpture of Picasso's Guitarist. It's was starting out ok," Tatum tweeted. "Then i had to get different clay for the hands. Then my daughter destroyed it. Hahahaha oh well. Start a new."
The Magic Mike and 21 Jump Street star's embrace of sculpture comes a year after Brad Pitt announced that he was using sculpting as a form of therapy following his split from Angelina Jolie. While Tatum could have read about it on the Internet like everyone else, it's possible that Pitt shared his post-breakup routine directly with Tatum. After all, the pair worked together five years ago when Pitt—who, fun fact, got his early career start with a cameo on the original Jump Street series—filmed a scene for Jump Street 22 (which ultimately didn't make it into the movie). Now they're both going through high-profile divorces, forced to mourn their long-term relationships in the public eye.
Pitt explained his sculpting hobby as "something I've wanted to do for 10 years… I'm working with clay, plaster, rebar, wood. Just trying to learn the materials," he told GQ. "You know, I surprise myself. But it's a very, very lonely occupation. There's a lot of manual labor, which is good for me right now. A lot of lugging clay around, chopping and moving and cleaning up after yourself." He also added: "I've been going to a friend's sculpting studio, spending a lot of time over there. My friend [Thomas Houseago] is a serious sculptor. They've been kind. I've literally been squatting in there for a month now. I'm taking a shit on their sanctity."
Houseago later told W, "Brad is really interested in art, architecture, sculpture, and design. So it didn't seem odd that he wanted to spend time around the studio." Houseago's partner, El Fituri, added, "What really started to bother me was the paparazzi's insistence to sneak in and discover Brad's work. An artist gets to show his work when he's ready." When that day comes, nothing would excite the Internet more than Pitt and Tatum staging a joint show.