Inside the Healing L.A. Studio of Artist Thomas Houseago, Where Ghosts (and Brad Pitt) Roam
Thomas Houseago's epic sculptures are largely shaped by life. Susan Morgan meets the artist on his home turf.
---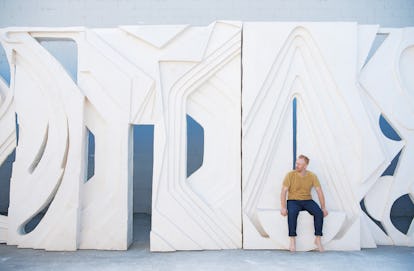 Photographs by Jason Schmidt
Thomas Houseago's drawing studio, in the Frogtown neighborhood of Los Angeles, is smartly outfitted with plywood bookshelves, comfortable couches, and a low table perennially laid out with a stainless steel carafe of hot water, a bamboo whisk, and an assortment of matcha tea bowls. It's a contemplative domestic scene set against an exhilarating backdrop—a wall covered floor to ceiling by a grid of wildly sundry images of movie scenes, comic book characters, architecture, sculpture, musicians, murderers, urban decay, masks, works in progress, and family snapshots. Each addition to this constantly changing collage introduces new juxtapositions and unexpected visual rhymes—mapping out an ever evolving portrait of the artist.
Houseago began to collect these images in 2013, after he was invited to give a talk in Leeds, his hometown in the north of England. "I was radically against doing it," he says, brusquely interrupting himself to up his complaint. "I was rabidly against doing that talk." His voice has a hoarse sweetness and still betrays his Yorkshire origins and the instilled British trait for self-effacement. Houseago left Leeds in 1991, at the age of 19, and embarked on what he describes as his "itinerant" education and career. After completing a foundation year at Leeds College of Art, where he was encouraged to channel his furious energy and ideas into performances and actions (he covered himself in dirt, set fires, and launched faux Scud missiles packed with ink-soaked rags from the rooftops), Houseago received a grant to attend Central Saint Martins, in London, and was suddenly transplanted to what seemed like a world away. A bristling misfit, he landed in the midst of aspiring fashion designers and would-be theoreticians. "At Christmas, they all left to go skiing," he recalls with mock horror and a whiff of disdain. He went on to De Ateliers, a studio program in Amsterdam, where he met his former wife, the American painter Amy Bessone. The couple spent eight years living and working in Brussels (eight years of "lost weekends," as Houseago has described it). Bankrupted by tax bills and delinquent in their rent, they decamped empty-handed to L.A. in 2003. Too broke to ship work or hire a dumpster, Houseago chopped up 20 of his finished sculptures into bits and buried them in a field before leaving the country.
Upon settling in Southern California, Houseago worked days on ­construction sites and nights in the studio drawing obsessively and building audacious, emotionally charged large-scale figurative sculptures. His nocturnal studio practice, regularly fueled by alcohol, was a performance piece of jackass daredevil bravado: Although he's been sober for four years (frothy green tea is now his drink of choice), Houseago is still antic and hilarious when he regales listeners with tales of falling off ladders, wrestling with chain saws, and narrowly escaping dismemberment or self-castration.
One morning, in 2006, at the crack of dawn, the Miami-based collectors Don and Mera Rubell, who were looking for work to include in a group show of L.A. artists entitled "Red Eye," stopped to see Houseago on their way to LAX at the insistence of the art dealer David Kordansky. The Rubells ended up buying every piece they were shown in one fell swoop and offered to help finance Houseago's bronze-casting expenses.
Things moved quickly after that. In 2010, Houseago's Tuf-Cal plaster–and–iron rebar sculpture Baby—a squatting figure with an ominous, disarmingly vulnerable presence, measuring more than eight feet tall—was featured in the Whitney Biennial. (Francesco Bonami, the curator that year, hadn't managed to visit Houseago's studio, but he discussed with Houseago the dimensions of the Whitney's elevators over the phone.) Work on Baby took place during the course of what Houseago describes as one very weird summer: Bessone was pregnant with their second child, there were wildfires near their home in the hills, and a murder had taken place directly outside his studio window. When the art shippers arrived to transport Baby to New York, they constructed the crate on the sidewalk alongside the victim's makeshift altar, surrounded by onlookers. "It was like something from a Fellini movie," recalls Houseago. "It was beautiful."
Following the biennial, Baby was included in Houseago's first major solo museum show, at Modern Art Oxford. Since then, his enormous hollow-eyed masks, mythic figures, and striding men have appeared in art institutions around the world, from the Palazzo Grassi, in Venice, to the Broad museum, in L.A. "When people say 'skeletons in the closet,' I always literally think I'm making the skeletons in the closet," Houseago observes wryly. "I think my work, figurative sculpture, is the skeleton in the closet."
That hometown talk that Houseago was determined to avoid was, in fact, the annual guest lecture at the Henry Moore Institute, a decidedly heavyweight honor for any sculptor. "It was pretty soon after we'd met that he said that he wasn't going to do the Leeds lecture," recalls Muna El Fituri, Houseago's wonderfully erudite and empathetic partner, whom he met after he split with Bessone, in 2013. "I said, 'No, you completely have to do it.' " While Houseago was still grasping at excuses, El Fituri countered with a piece of practical, coolheaded advice: Don't try to write your own story; tell it in images.
Houseago methodically compiled a visual lexicon of his past: a film still of the monolith appearing at the dawn of humanity in Stanley Kubrick's 2001: A Space Odyssey; the green-skinned Hulk lumbering into action; Bruce Nauman's punning photograph of his own naked feet caked in clay; the sculptor Jacob Epstein's Rock Drill, a vintage 1913 bronze cyborg sporting a proto–Darth Vader visor; the steep entrance to an Olmec temple; and loads of other images, all essential to Houseago's personal narrative. "This process of printing out images and making connections has turned into a fascinating journey," he observes, pointing out a shadowy newsprint photo. "That's the ­Yorkshire Ripper. He was terrorizing Yorkshire when I was a kid, killing women at the end of the street near my home."
Houseago grew up just northwest of Leeds in Meanwood, a place with a Dickensian name well suited to a 19th-century industrial village. By the 1970s, Meanwood had become another bleak suburb rife with unemployment, social mayhem, and police harassment. Houseago's parents were hardscrabble bohemians with a violent streak; in their household, someone was always hitting someone else. His mother, however, had painted a Spider-Man mural on his bedroom wall, and Houseago spent hours with his father poring over pictures in a book about the Middle Ages while they listened to the Beatles' Magical Mystery Tour on repeat. When Houseago was around 9, his father was committed to a mental institution. "The fog would come down in the winter, and I was living alone with two sisters and a mom and no dad. It was really frightening," he admits.
At school, Houseago was a recalcitrant student, struggling to read and occupying himself mainly with drawing, daydreaming, drinking, and brawling. Early on, he made up his mind to become an artist and get out of town. "Darkness and doubt just follow me around," he says, summing up his childhood with a lyric from a 1985 song by the Mekons, the brainy honky-tonk punk band and student art collective that came out of the University of Leeds in the 1970s. "Every decision I made until quite recently was like jumping from one burning log to another burning log," he continues, quoting no one but himself and marveling at where he's now arrived and the life and work he's made.
During the fall of 2013, Houseago and El Fituri traveled to England together, and he presented his lecture. To his amazement and relief, he was not consumed by the quicksands of his past. The following spring, a new sculpture was installed at the entrance of the Leeds Art Gallery: Yet to Be Titled (Large Walking Figure), a 16-foot striding man, occupied a spot previously inhabited by Henry Moore's Reclining Woman. When Houseago talks about the unpredictable way that random events and experiences amalgamate, almost miraculously, into an artist's ­education, he is quick to mention having seen a Joseph Beuys show at the city gallery in 1983. For an 11-year-old boy, encountering Beuys's performative, socially engaged attitude and radical drawings—made with watercolors, blackboard chalk, blood, and beeswax—ignited complex questions about the far-reaching possibilities of making art. As his Large Walking Figure attests, Houseago actively probes questions about art, ideas, and process: the willfulness of materials and gravity, decision-making and uncertainties, and the enduring history of creating objects. When the piece was installed, Houseago compared it to a ghost, "like a shadow or echo from my studio in L.A., but also my past walking at night in the city."
Houseago's studio complex occupies four single-story industrial buildings along the concrete banks of the Los Angeles River. In addition to his drawing studio and offices, the 25,000-square-foot interior features enormous areas dedicated to painting and sculpture, a sheltered patio, and an open-air courtyard where he has been steadily adding 12-foot-high panels to Open Wall (Beautiful Wall), a section of which was shown earlier this year at Gagosian in Beverly Hills. Carved in clay, cast in pale shimmering plaster, and reinforced with hemp and iron rebar, the wall is a voluptuous edifice, a structure without any predetermined purpose, a performative sculpture built in relation to the human body: Concave curves inscribe nestling spaces, stairs lead up to open escape hatches, and ledges offer places to perch.
The studio, for Houseago, has always been a kind of sanctuary, a space where he could make things, investigate sculpture's ongoing dialog between gravity and grace, and deal with failure on a regular basis while listening to music all day long. When he met El Fituri five years ago, at an art dinner, he was at a roiling low point and three days into a drunken bender. "I really was on the edge of the edge, walking the plank in my life," he remembers, summing up a period of personal discontent and tragic loss topped off by a hammering review in The New York Times ("He needs therapy" was a line that stuck). "I was about to walk out of the dinner, and I literally saw an open seat. Like a dumb animal, I thought, That feels warm. So I went over to sit down."
El Fituri sensed "this insane ball of energy" hurtling across the room toward the spot next to her, so she swiveled her chair and dove deeper into conversation with her friend the artist Lorna Simpson. When Houseago piped up to interrupt, her innate politeness kicked in and she turned to speak with him: When she mentioned that she was an art therapist, he replied that he could use some therapy.
"Looking back, the connection was there in the first five or 10 ­minutes of us talking," marvels El Fituri, who was born in Libya and grew up in Europe as the well-behaved, hypervigilant only child of a Libyan father and a Polish mother. "When we met, I knew that I needed to be a little crazier and Thomas needed to be calmer, and that's the way it's been." El Fituri is fluent in seven languages. She obtained an undergraduate degree in psychology at Williams College and landed in the downtown New York art world after her career took what she calls "a meandering kind of project-based trajectory": She worked with a dance company, taught workshops for homeless youth, translated texts, and then entered graduate school. "I picked art therapy," she says, "because it was not about words."
Following the deaths of both her parents, El Fituri bought an eccentric 1920s Hollywood villa by the architect A.F. Leicht. Although this quixotic residence boasts an impressive rock 'n' roll provenance—previous tenants have ranged from Bob Dylan to Flea, the bassist for the Red Hot Chili Peppers—El Fituri was attracted to the property for other reasons: The turreted, tile-roofed house, situated on a promontory and surrounded by gardens, was reminiscent of her childhood. Now shared with Houseago and their family—three children ages 8 to 18 from their first marriages—the house is less than 10 minutes away from the Frogtown studio.
"One of the things about living in L.A. is that opportunity for people in different creative fields—artists, dancers, actors, poets, writers, musicians—to mix together and cross-reference disciplines," Houseago says. "I've always loved those group photographs from the 1920s of Brancusi's studio, where there's a dancer and Erik Satie and Marcel Duchamp. I always wished I could live that way. I wanted my studio to be that place, and suddenly, something about being with Muna, something about us, has made it possible." With El Fituri, Houseago has invited in a wider world and stirred up a creative synergy between ­disciplines. He recounts one dinner where the guests included museum directors Thelma Golden and Michael Govan; artists Henry Taylor, Lorna Simpson, Slater Bradley; filmmakers Arthur Jafa and James Gray; restaurateur Wolfgang Puck; and actor Brad Pitt. When Gray started work on Ad Astra, a science-fiction film in which Pitt stars, the actor flowed into the stream of regular studio visitors.
"Brad is really interested in art, architecture, sculpture, and design," Houseago says. "So it didn't seem odd that he wanted to spend time around the studio. Any human who talks to you when you are working on a pile of clay will eventually ask to try it. And you say, 'Feel free!' It really is something Freudian." But as El Fituri points out, when you enter an artist's studio, the rules of an artist's studio apply. "What really started to bother me was the paparazzi's insistence to sneak in and discover Brad's work," she says. "An artist gets to show his work when he's ready."
And that's not the only rule. Each morning, Houseago puts together a five-hour playlist that can be heard throughout all the buildings. "I don't care if you're Brad Pitt or the Queen of Sheba," he says. "You're listening to Frank Ocean's Blonde." The ambitious project that's currently percolating is a "living, breathing environment" based on Maurice Sendak's children's book In the Night Kitchen. Like Mickey, the little boy in Sendak's book who "kneaded and punched it and pounded and pulled" the dough to carry out his adventures, Houseago is constantly wrestling with great slabs of clay, building things from the ground up, and inventing new spaces and relationships. In Houseago's Night Kitchen, the studio will be transformed, filled with clay and chairs and activated by people from all walks of life performing, talking, and generating new ideas and creative work.
"Every sculptor is trying to make a paradise," he once vividly reflected. It seems he is almost there.