Angelina Jolie Would Like to Keep Her Divorce Very Quiet Again
She's even switched lawyers.
---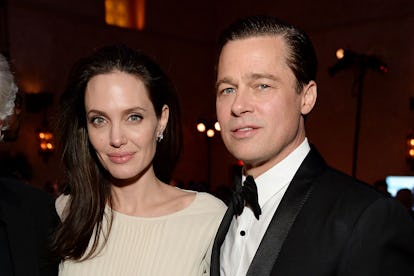 Michael Kovac/Getty Images
Angelina Jolie and Brad Pitt were once the most famous couple on the planet, and as such their divorce proceedings were bound to be some of the most talked about in Hollywood history, try as each side might to avoid it. The couple, who have been separated for almost two years now but are still technically legally married, had managed to keep many of the divorce and custody matters out of the public eye by agreeing to seal documents and and use private judges. That was until earlier this month when a spree of leaks and details from public documents made there way into the tabloid press in sensational fashion.
A filing from Jolie's team claiming that Pitt had "paid no meaningful child support since separation" garnered headlines, but Pitt's team struck back that the leak was misleading and that he had helped out his ex financially. After months of relative public quiet, suddenly the legal process surrounding their uncoupling was back in the spotlight.
Of course, being a lawyer is a completely different profession than being a PR professional. Little bits of legal jargon taken out of context can sure sound damning to the ears of the public (and celebrity journalists), and lawyers aren't in the habit of playing nice of holding back in filings regardless of how the actual parties they represent actually feel. Most divorce lawyers don't have to think about how their filings may play out in the press, but most divorce lawyers don't represent Angelina Jolie or Brad Pitt.
Incidentally, the gossip column flare-up coincided with Jolie's decision to switch attorneys. According to People, she's dropped divorce attorney Laura Wasser and has now transitioned to Samantha Bley Dejean. Dejean first came to the attention of the public as a member of Jolie's legal team when she publicly commented on the suddenly public legal battle with Pitt earlier this year.
While Wasser counts celebrities like Ryan Reynolds, Heidi Klum, Ashton Kutcher, Christina Aguilera, and Johnny Depp amongst her divorce clients, the San Francisco–based Dejean doesn't quite have the same celebrity pedigree. But her official bio says she "specializes in all aspects of marital dissolutions, particularly complex family law trial work."
According to an official statement given to People, Jolie's change comes with the best interest of her children in mind.
"Angelina has decided to change counsel to Samantha Bley Dejean, as Samantha's expertise is the protection and best interest of children," spokesperson Mindy Nyby told the magazine. "Angelina appreciates Laura's cooperation in transitioning the case over the past several weeks."
The couple is said to be trying to reach a custody agreement before officially continuing with the other legal matters of their divorce. The latest headlines centering on the ongoing attempt to reach that custody agreement came as both parents spent most of the summer filming projects on seperate continents. Jolie was busy with Maleficent 2 in London, England while Pitt is still at work on Quentin Tarantino's Once Upon a Time in Hollywood in, well, Hollywood.
Whether the change in legal team results in a quieter legal battle remains to be seen, but the surest way to keep the ongoing divorce and custody cases out of the headlines is just to finish them up all together.