What Is Going on With Brad Pitt and Angelina Jolie?
The divorce proceedings between the former power couple have reportedly turned into a "he said, she said" custody battle.
---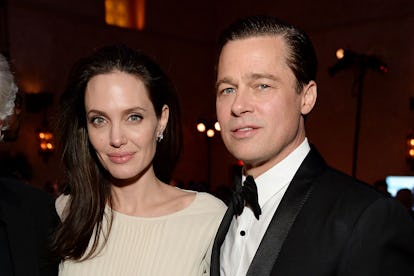 Michael Kovac/Getty Images
Before this summer started, it appeared that all legal matters were going smoothly between the separated Brad Pitt and Angelina Jolie.
In September 2016, Pitt and Jolie announced they would be separating and eventually filing for divorce. Since then, Pitt has been filling his days with sculpting, flirting with normies, courting academics, and acting in Quentin Tarantino's new film about the Manson murders in Hollywood. Jolie, on the other hand, has been directing and starring in films, flying planes, and teaching her children about the merits of philanthropy.
In fact, Jolie was spending so much time with their children in London that she was reportedly told by a judge in June to give Pitt more time with the kids. Now, thanks to the leak of that court document, it has become clear that the couple's divorce has turned into a reportedly ugly custody battle for their six children. The back-and-forth between the former power couple that has been reported in the media this summer is based on a lot of hearsay, but, unfortunately, it is turning out to be a "he said, she said" battle of epic proportions.
In August, People obtained a court filing in which Jolie claimed that Pitt had not been giving enough child support to the family, as is required by California state law. Samantha Bley DeJean, the divorce attorney hired to Jolie's case, released a statement in Los Angeles Superior Court on August 7, saying, "As of present, [Pitt] has paid no meaningful child support since separation."
One of Jolie's spokespeople followed up with another statement supporting the actress. "The aim of Angelina's routine court filing is to provide closure to the marriage in a way that clears a path toward the next stage of their lives and allows her and Brad to recommit as devoted co-parents to their children," the spokesperson said to People.
However, Pitt's team followed up with a statement of their own. His lawyer, Lance Spiegel, called Jolie's court filing "a thinly-veiled effort to manipulate media coverage." Apparently, Pitt has given Jolie roughly $9 million in total since their split in September 2016. Technically, he gave her $1.3 million in child support and an $8 million loan to buy her new house, which she moved into after Pitt kept their family home in 2016, following the incident in which Pitt allegedly smacked their son Maddox (he was later acquitted).
As far as Jolie's so-called attempt to "manipulate" the case goes, Pitt's lawyer alleges that earlier in August, his team had requested to get the divorce proceedings finalized before moving on to any other issues, but Jolie's lawyer at the time (Laura Wasser, famous for being a divorce attorney to the stars, and possibly no longer attached to the Pitt-Jolie divorce case, according to TMZ) had asked Spiegel and his team to wait a week. One day later, Jolie's team filed a motion "to create the impression that she, not [Pitt], wanted to bifurcate," according to Spiegel.
On August 8, Jolie's team followed up once more to refute Pitt's claims about child support. "What has been filed by Brad's side today is a blatant attempt to obfuscate the truth and distract from the fact that he has not fully met his legal obligations to support the children," Bley DeJean said. What Jolie is asking Pitt for is half of the children's expenses, but her team alleges that she has yet to receive that from him. "Typically a father of means would pay these expenses voluntarily without the need for a request or court order. We are hopeful that this can be resolved without further delay or posturing," her lawyer went on. As for the $8 million loan, for which Pitt is also reportedly charging interest, Bley DeJean insisted that to say the loan counts for child support "is misleading and inaccurate."
As the proceedings between the two continue, and the "he said, she said" debate between their respective teams of lawyers goes on, one thing has become clearer than ever—those halcyon days of a totally amicable divorce between Pitt and Jolie are over.
Related: Brad Pitt and Leonardo DiCaprio Shut Down Hollywood Boulevard for Once Upon a Time in Hollywood