A Brief History of Brad Pitt's Recent Misfortunes in Dating
The actor is now providing solace for fellow singles, after months and months of rejections from A-listers and coffee-shop randos alike.
---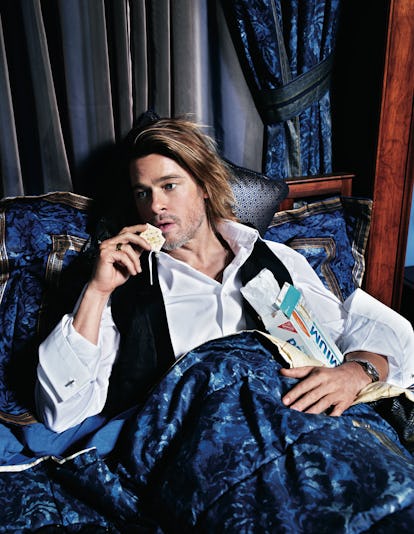 Mario Sorrenti
No shade to Brad Pitt, but it's a bit hard not to find comfort in the fact that even the most attractive human beings on this earth can go through some serious rough patches when it comes to dating. Since his 12-year relationship with Angelina Jolie came to an end in 2016, Pitt has been doing his best to wade through custody battles, nonstop rumors, and tackling his substance abuse issues. And while he's succeeded at getting sober, getting into woodworking, and getting back to work, he hasn't found nearly as much luck in the one field in which you'd think he'd be mostly likely to succeed: dating.
There has, however, been one potential—not to mention extremely promising—love interest: the superstar architect and professor Neri Oxman, whom Pitt had reportedly been spending increasing amounts of time with. Until Thursday, that is, when reports brought Oxman's billionaire boyfriend into the picture. Now it seems that Pitt's back to square one. All things considered, though, if there's one thing the past couple of years have proven, it's that Pitt will be just fine—and, of course, that he actually is human. Now that it's confirmed he is indeed one of our kind, it's time to shelve your schadenfreude and commiserate with Pitt on just how hard out it can be out there—even, and perhaps especially, for picture-perfect celebrities. If you're not totally convinced, here's a list of everyone who's somehow rejected Pitt in the past year and a half.
Coffee-Shop Randos
Perhaps in an attempt to change things up right before the new year, in early January news broke that Pitt had allegedly been attempting to rejoin the plebeians, shifting his flirting for what seemed like the first time ever from Hollywood to the real world. In an acknowledgment that this was a rather impossible feat, he opted to go not by Brad, but by his birth name, introducing himself to a woman in line with him at a coffee shop in L.A. as "William." Things didn't go exactly as planned: She reportedly responded by remarking that he in fact looked like a Bradley, before strolling out of the café.
Emilia Clarke
About a year after Kate Hudson told Andy Cohen that she actually "kind of liked" that false rumors about her dating Pitt had been circling around earlier that year, the actor seemed to accept that if he wanted to move beyond flings that were "nothing serious," the easiest way would be with one of his own kind—i.e., another single celebrity. Leaving "William" behind, Pitt took an entirely different tack just a few days later by publicly and unabashedly bidding $120,000 to simply watch an episode of Game of Thrones with Emilia Clarke. Alas, Pitt didn't even succeed at that; he was ultimately outbid, and while Clarke has gone on to say his move made that "the best night" of her life, and of course received a multi-thousand-dollar confirmation of his interest, she certainly doesn't seem to have pursued Pitt.
Tiffany Haddish
After the Oscars, in March, Tiffany Haddish told Kelly Ripa that a run-in with Pitt in an elevator at the awards ceremony had led to a pact between the two: that if "in one year, if he's single and I'm single, we gonna do it." Even then, Haddish wasn't entirely sold on the idea of their hookup, making a point to add, "I don't know if I could deal with a man that's got that many kids." Once she found out that everyone had actually been taking her story seriously, though, she made it crystal clear that to her, that was not only outlandish, but perhaps even offensive. "So funny to me, it was a Joke but I Love how serious you all are," she tweeted in response to TMZ's post about their so-called pact, making it clear that as far as she's concerned, Pitt has way too much baggage. "I want to be number one in a man's life. he has a lot of kids that would make me what number 8 or at best baby Mama 2. And as much as I would love to chitchat with Angie that is not what I want to be talking about."
Shania Twain
Over the summer, Pitt suffered another blow when, on a press tour for her first studio album since 2002, Shania Twain shared the headline-generating tidbit that it was Pitt's nude photos that so famously didn't impress her much. It was a bit of a blow to Pitt, especially considering that at the time, he was not only having trouble on the dating front, but still deep in the throes of tackling his divorce and sobriety, the latter of which he'd only recently, and quite seriously, opened up about.
Neri Oxman
Finally, Pitt seemed to hit the jackpot earlier this year when it was reported that he, like George Clooney before him, had somehow ended up with a woman way out of his league. The rumors that he was dating the "rockstar M.I.T. professor" Neri Oxman, whose work can be found in the collection of institutions like the Centre Pompidou and MoMA, were in fact so exciting that no one seemed to pay attention to their small caveat—that the pair's relationship was in fact strictly "professional." (Though at that point, even that the fact that he was landing some solo hangs, and perhaps even flirting with Oxman, felt like a win for Pitt.) Unfortunately for Pitt and the tabloids, though, that wishful thinking came to a sudden halt on Thursday, when Page Six reported that Oxman is actually still going strong with her billionaire boyfriend Bill Ackman, a hedge fund manager who's apparently worth flying to Paris for just to cheer him on at his tennis matches.
Given how tough his skin must have gotten at this point, Pitt will no doubt be fine. In any case, if not, the past couple of years have also taught Pitt the best way to eventually get through it: listening to Frank Ocean. Hang in there, William—and better luck next time.
Related: Brad Pitt, Hollywood God, Comes Out as Painfully Human