Tiffany Haddish Sets the Record Straight on Beyoncé Feuds and Brad Pitt Flirtations
It would appear that her haters are her biggest motivators.
---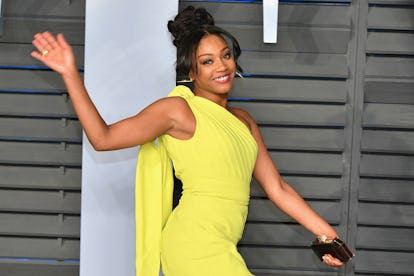 Dia Dipasupil/Getty Images
Tiffany Haddish may be a comedian, but she is not here to play games.
It can be rare for verified celebrities to reply to their mentions on Twitter, but it looks like Tiffany Haddish has half a mind to reply to some trolls today and set some things straight. On Wednesday morning, the comedian took time to address the various rumors that have been circulating about her in the news over the last few weeks involving her dating life and her alleged beef with some fellow A-listers. It's almost as if each of these rumors could have been subplots on the Jay-Z version of Friends.
The One Where Tiffany Haddish Is Dating Brad Pitt
Backstage at the Oscars, the comedian played a game of "Marry, Date, Ditch" with Kelly Ripa, and when Brad Pitt's name was drawn up as a possible candidate to marry, date, or ditch, she told the story of how she recently met the actor in an elevator where the two made a dating pact. "He said in one year, if he's single and I'm single, we gonna do it, so you know what that means…" She then took to Twitter Wednesday morning to blast every publication that took the whole Brad Pitt thing seriously, and to clarify that it was just a joke.
The One Where Tiffany Haddish Beefs With Beyoncé
After Haddish regaled us with a tale of how she took this selfie with Beyoncé, she later revealed that on the same night, a stranger tried to touch Jay-Z and Beyoncé told the unnamed actress to back off. On March 2, Beyoncé released a new song with Jay-Z and DJ Khaled, in which she raps, "If they're tryna party with the Queen, they gon' have to sign a nondisclosure." Some fans took this line as a direct hit at Haddish for telling the tale of the girl who tried to touch Jay-Z on national television, but when one stranger tweeted about the alleged beef between the two, Haddish took a moment to respond that it's "all love" between them.
The One Where Tiffany Haddish Isn't Funny
In what world would anyone ever think that Haddish is not funny? After various tweets calling the comedian "embarrassing," too talkative, and insinuating that she has a cringeworthy voice, she responded to every single negative remark. And from the looks of it, she replied to more than just the haters who directly mentioned her handle. Next time someone hates on you on Twitter, just pull a Tiffany Haddish and tell them you're thankful they are even talking about you in the first place, because it will surely shut them down quickly.
The One Where Tiffany Haddish Asks Meryl Streep to Be Her Mom
This one is actually true. There is indeed footage of Haddish jumping the velvet ropes at the Oscars red carpet to ask Meryl Streep to play her mom in a sequel to Girls Trip.
In short, Tiffany Haddish is not planning to date Brad Pitt, has no beef with Beyoncé, and will put a hater on blast if she must. #Blessyourhearts!
Related: Tiffany Haddish Wore Her Favorite Alexander McQueen Dress to Present at the 2018 Oscars