Tiffany Haddish Says Brad Pitt Asked Her Out at the Oscars, with One Major Stipulation
Best celeb dating pact ever?
---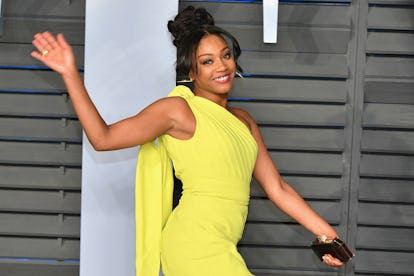 Dia Dipasupil/Getty Images
There's a new romance brewing in Hollywood… but you may not see these two A-listers together until the 2019 Academy Awards. During a backstage interview at the Oscars on Sunday night, Tiffany Haddish told Kelly Ripa that Brad Pitt had set up something of a dating pact with her just minutes before.
The big reveal came while Haddish was playing a round of "Marry, Date, Ditch" with names of famous men drawn from a bag. As soon as Ripa drew Pitt's name, Haddish interjected, "I just met him in the elevator! He said in one year, if he's single and I'm single, we gonna do it, so you know what that means…"
But Haddish, apparently, isn't yet sold on the idea. "He do got seven kids," she continued. "I don't know if I could deal with a man that's got that many kids." Luckily, she's got a whole year to weigh the pros and cons of dating a single dad. Also, for what it's worth, Pitt actually only shares six kids with ex Angelina Jolie—perhaps that nonexistent seventh child was the tipping point for Haddish. (For the record, the comedian went on to say that she would date Pitt, marry George Clooney, and ditch Javier Bardem, "'cause I don't know who Javier is.")
If Haddish, 38, and Pitt, 54, do end up following through on their pact next year, and one thing leads to another, it isn't tough to guess which dress Haddish would wear down the aisle. After purchasing a gorgeous white Alexander McQueen gown with a beaded halter top for the Girls Trip premiere last year, the film's star wore it again during her monologue while hosting Saturday Night Live in November—where she proclaimed, "I feel like I should be able to wear what I want, when I want, however many times I want, as long as I Febreze it"—and then again while presenting an award with Maya Rudolph on Sunday night. It would make an extremely glamorous wedding gown, just saying.