Tiffany Haddish Wore Her Favorite Alexander McQueen Dress to Present at the 2018 Oscars
She said she was going to get her money's worth.
---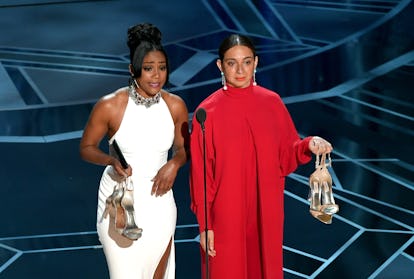 Kevin Winter/Getty Images
When most celebrities make a joke on Saturday Night Live, it makes headlines the next day before being promptly forgotten. Tiffany Haddish, however, really wasn't joking when she said that she likes to save money any way she can. When the comedian and actress hosted Saturday Night Live in November 2017, she opened the show in the same white Alexander McQueen dress that she wore to the premiere of her movie Girls Trip because, she said, she wanted to get her money's worth. But if you thought that she meant she would wear it during her monologue and then retire the gown, you would be wrong: Haddish chose to wear the halter-top dress for a third time, while presenting the awards for Best Animated/Live Action Short with Maya Rudolph at the 2018 Academy Awards.
As Haddish explained on SNL (where she made history as the first black female comedian to ever host the show), the $4,000 gown cost more than her mortgage, so it's only right that she rewear it for special occasions. And what could be more special than Hollywood's biggest night, the Oscars? Aside from delivering a hilarious commentary on #OscarsSoWhite with Rudolph, Haddish also made headlines at the Oscars for curtseying before Meryl Streep, as one does, and asking the legendary actress to play her mother in the sequel to Girls Trip. Earlier in the night, Haddish walked the red carpet wearing a traditional Eritrean gown in honor of her late father.
The actress clearly has a good dry-cleaner on duty. As she said on SNL, "I feel like I should be able to wear what I want, when I want, however many times I want, as long as I Febreze it." Something tells us though that it won't be long until Haddish is having to turn down offers from designers offering to loan her dresses.
Related: Tiffany Haddish Explains How to Take a Selfie With Beyoncé