Brad Pitt Bid Over $100,000 To Watch Game Of Thrones With Emilia Clarke
But he was outbid by another gala-goer.
---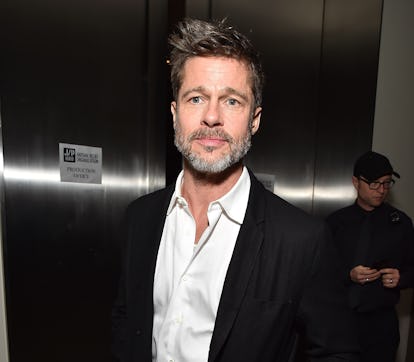 Photo by Kevin Mazur/Getty Images for J/P HRO Gala
If you think your HBO subscription is pricey, consider that Brad Pitt was willing to pay over a hundred thousand dollars just to watch one episode of Game of Thrones with the mother of dragons herself, Emilia Clarke. At a charity auction to benefit disaster relief organizations hosted by Sean Penn and other Hollywood heavies, the actor and producer bid $80,000, then $90,000, before topping out at a cool $120,000. Eventually though he was "outbid by a gala-goer who ended the auction at $160,000," according to Variety. At that point the prize was to watch an episode from the final season with both Clarke and her co-star Kit Harington. Sure, there are probably plenty of women who would be willing to send an hour and change on Brad Pitt's couch for free, but this is for charity, okay?
Pitt probably isn't the only fan looking to make the last season of the hit show memorable. The final six episodes of Game Of Thrones won't air until 2019, so you have plenty of time to get your costume and themed drinks ready. And then, of course, the process will start all over again when Amazon makes that Lord Of The Rings show.
Also in attendance at the gala was Leonardo DiCaprio, who made a speech encouraging everyone to pay attention to climate science despite the fact that Donald Trump has called for more offshore drilling and denied the effects of global warming. He, too, was willing to drop serious cash that night, and "bid $80,000 on a painting by artist Josh Smith, but was outbid by Clarke herself for $90,000 — but, there was a second Smith painting available, so in the end, both DiCaprio and Clarke ended up walking away with artwork," per Variety. Isn't it nice when everyone gets a painting?
Related: Brad Pitt Is Out There Flirting with Real People Under His Real Name
Exclusive: See Up-Close And Personal Images of Brad Pitt, Jared Leto, Amy Adams, And More From LACMA's Art + Film Gala
Brad Pitt and and Thomas Houseago attend LACMA's seventh annual Art+Film, hosted by Eva Chow and Leonardo DiCaprio, honoring artist Mark Bradford and filmmaker George Lucas. Photo by Josiah Green.

Josiah Green
Marco Prego and Zoe Saldana attend LACMA's seventh annual Art+Film, hosted by Eva Chow and Leonardo DiCaprio, honoring artist Mark Bradford and filmmaker George Lucas. Photo by Josiah Green.

Josiah Green
Gia Coppola, Soko, Hari Nef, and Rowan Blanchard attend LACMA's seventh annual Art+Film, hosted by Eva Chow and Leonardo DiCaprio, honoring artist Mark Bradford and filmmaker George Lucas. Photo by Josiah Green.

Josiah Green
Soko attends LACMA's seventh annual Art+Film, hosted by Eva Chow and Leonardo DiCaprio, honoring artist Mark Bradford and filmmaker George Lucas. Photo by Josiah Green.

Josiah Green
Jared Leto attends LACMA's seventh annual Art+Film, hosted by Eva Chow and Leonardo DiCaprio, honoring artist Mark Bradford and filmmaker George Lucas. Photo by Josiah Green.

Josiah Green
Armie Hammer and Timothee Chalamet attend LACMA's seventh annual Art+Film, hosted by Eva Chow and Leonardo DiCaprio, honoring artist Mark Bradford and filmmaker George Lucas. Photo by Josiah Green.

Josiah Green
Darren Le Gallo and Amy Adams attend LACMA's seventh annual Art+Film, hosted by Eva Chow and Leonardo DiCaprio, honoring artist Mark Bradford and filmmaker George Lucas. Photo by Josiah Green.

Josiah Green
Rosie Huntington-Whitely and Behati Prinsloo attend LACMA's seventh annual Art+Film, hosted by Eva Chow and Leonardo DiCaprio, honoring artist Mark Bradford and filmmaker George Lucas. Photo by Josiah Green.

Josiah Green
Petra Collins attends LACMA's seventh annual Art+Film, hosted by Eva Chow and Leonardo DiCaprio, honoring artist Mark Bradford and filmmaker George Lucas. Photo by Josiah Green.

Josiah Green
Kerry Washington attends LACMA's seventh annual Art+Film, hosted by Eva Chow and Leonardo DiCaprio, honoring artist Mark Bradford and filmmaker George Lucas. Photo by Josiah Green.

Josiah Green
Asia Chow, Inez van Lamsweerde, and Vinoodh Matadin attend LACMA's seventh annual Art+Film, hosted by Eva Chow and Leonardo DiCaprio, honoring artist Mark Bradford and filmmaker George Lucas. Photo by Josiah Green.

Josiah Green
Usher attends LACMA's seventh annual Art+Film, hosted by Eva Chow and Leonardo DiCaprio, honoring artist Mark Bradford and filmmaker George Lucas. Photo by Josiah Green.

Josiah Green
Jane Fonda attends LACMA's seventh annual Art+Film, hosted by Eva Chow and Leonardo DiCaprio, honoring artist Mark Bradford and filmmaker George Lucas. Photo by Josiah Green.

Josiah Green
George Lucas attends LACMA's seventh annual Art+Film, hosted by Eva Chow and Leonardo DiCaprio, honoring artist Mark Bradford and filmmaker George Lucas. Photo by Josiah Green.

Josiah Green
Asia Chow attends LACMA's seventh annual Art+Film, hosted by Eva Chow and Leonardo DiCaprio, honoring artist Mark Bradford and filmmaker George Lucas. Photo by Josiah Green.

Josiah Green
Rowan Blanchard and Hari Nef attend LACMA's seventh annual Art+Film, hosted by Eva Chow and Leonardo DiCaprio, honoring artist Mark Bradford and filmmaker George Lucas. Photo by Josiah Green.

Josiah Green
Salma Hayek and Francois-Henri Pinaultattend LACMA's seventh annual Art+Film, hosted by Eva Chow and Leonardo DiCaprio, honoring artist Mark Bradford and filmmaker George Lucas. Photo by Josiah Green.

Josiah Green