Angelina Jolie Has Been Ordered to Let Brad Pitt Spend More Time With Their Children
The Superior Court of Los Angeles County told her to make it clear to their six children that it's "critical" for them to maintain a relationship with both of their parents.
---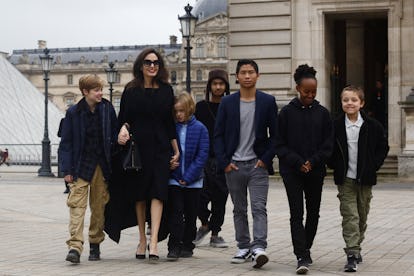 Mehdi Taamallah / Nurphoto
Last week, Angelina Jolie celebrated her 43rd birthday by taking all six of her children to a theme park in London—and even hopping on roller coasters with them. As it turns out, according to a court order obtained by CNN, at the same time she was weathering the much rockier roller coaster of her custody battle with Brad Pitt, which has continued for well over a year and a half, since their divorce in 2016.
Though Jolie has had full custody of their children—Maddox, 16; Pax, 14; Zahara, 13; Shiloh, 12; and Vivienne and Knox, both 9—since the divorce, now, according to the documents, the Superior Court of Los Angeles County has "determined that not having a relationship with their father is harmful to" the children, and that they are "safe with their father." (The court also told Jolie she must communicate these two points to their kids.)
After their divorce—which immediately followed an alleged instance of child abuse, of which Pitt has since been cleared—Pitt made it clear that, in addition to being a Hollywood god, he's painfully human and has been dealing with alcohol- and substance-abuse issues for decades. He's reportedly now been sober for over a year, which may have been a factor in the court's decision to grant him unlimited phone access to his children, and to outline a custody schedule for the summer that divides the children's time between their parents in London and Los Angeles. (They also told Jolie she must tell her children that having a healthy relationship with both of their parents is "critical.")
The arrangement is subject to change—and the court raised the possibility of both a future "reduction of the time [the children] spend with [Jolie]" and "ordering primary physical custody to [Pitt]"—but as of right now, Jolie, who's sought and still seeks sole custody, still has primary physical custody of the children. (For the record, a spokesperson for Jolie has since called the custody development a "misleading leak" that's "not in the best interests of the children," adding that "from the start, Angelina has been focused only on their health and needs, which is why it was so important that this last court hearing be conducted privately. It's deplorable that someone, for their own selfish reasons, leaked selective portions of the confidential and sealed court record to create an inaccurate and unfair picture of what is really happening.")
Jolie and Pitt have proved they're capable of being amiable—for example, they still run their shared wine estate—and it's hopefully true that Pitt has been "much, much happier" and "charming" since the divorce. Of course, the real hope here is that things will get sorted out soon for the children—at the very least so that they can continue enjoying days at the amusement park with Mom in peace.
Related: Angelina Jolie Celebrated Her 43rd Birthday by Taking All of Her Kids to a Theme Park
Domestic Bliss: Angelina Jolie and Brad Pitt at Home
On her: Vintage dress from the Attic, Las Vegas; Mikimoto earrings. On him: Jil Sander cotton suit and leather belt; Alexander McQueen cotton shirt. Timex watch; Polo Ralph Lauren socks; Kenneth Cole shoes.

Steven Klein
On her: Yves Saint Laurent embroidered astrakhan and wool cape. David Yurman ring; Harry Winston wedding band. On him: Original Penguin cotton poplin shorts. Vintage shirt from the Attic, Las Vegas; Cartier wedding band; Persol sunglasses.

Photography by Steven Klein July 2005
On her: Narciso Rodriguez wool and silk crepe dress. Ciner earrings; Lee Angel brooch. On him: Thom Browne wool pants and silk tie; Trussardi cotton shirt.

Photography by Steven Klein July 2005
On her: Luisa Beccaria silk satin dress. Harry Winston earrings; D&G shoes. On him: Thom Browne wool suit.

Photography by Steven Klein July 2005
On her: Luisa Beccaria silk satin dress. Harry Winston earrings; D&G shoes. On him: Thom Browne wool suit.

Photography by Steven Klein July 2005
On her: Alberta Ferretti silk chiffon dress. La Perla silk bra. On him: Thom Browne wool pants. Dsquared belt.

Photography by Steven Klein July 2005
Eres black lace-trimmed silk jersey slip.

Photography by Steven Klein July 2005
On her: Alexander McQueen mohair sweater and silk dress. Cynthia Wolff earrings. On him: Alexander McQueen cotton shirt.

Photography by Steven Klein July 2005
On her: Vintage white dress from The Attic, Las Vegas; LaCrasia gloves; Christian Roth sunglasses; Van Cleef & Arpels watch from Kenshire Galleries; Miriam Haskell earrings; Christian Louboutin shoes. On him: Original Penguin's mulicolored cotton jersey sweater, at Original Penguin, New York, www.originalpenguin.com; Thom Browne's gray wool trousers, at Bergdorf Goodman and Feffrey, New York; Ron Herman, Los Angeles. Makins hat; Omega watch from Aaron Faber Gallery.

Photography by Steven Klein July 2005
On her: Vintage gown from The Attic, Las Vegas; Harry Winston wedding band.On him: Vintage shirt from House of Style, Las Vegas; Makins hat; Polo Ralph Lauren socks; Versace shoes.

John Currin's Healthcare Worker, 2003, ink and gouache on prepared paper, from the collection of Rosette Delug, courtesy of Gagosian Gallery, Los Angeles.

Beauty Note: Simmer down with Estee Lauder After-Sun Rehydrator for the Body, a cooling treatment that not only soothes skin but also prolongs a tan.

Photography by Steven Klein July 2005
On her: Vintage white dress from The Attic, Las Vegas; LaCrasia gloves; Christian Roth sunglasses; Van Cleef & Arpels watch from Kenshire Galleries; Miriam Haskell earrings; Christian Louboutin shoes. On him: Original Penguin's mulicolored cotton jersey sweater, at Original Penguin, New York, www.originalpenguin.com; Thom Browne's gray wool trousers, at Bergdorf Goodman and Jeffrey, New York; Ron Herman, Los Angeles. Makins hat; Omega watch from Aaron Faber Gallery.

Photography by Steven Klein July 2005
On her: Alberta Ferretti's silk chiffon dress, at Maxfield, Los Angeles; Mix, Houston. On him: Thom Browne's wool pants, at Bergdorf Goodman and Jeffrey, New York; Ron Herman, Los Angeles, DSquared belt.

Beauty Note: A swipe of winged eyeliner manages to look seductive every time. Dior Style Liner packs a sexy, retro punch.

Photography by Steven Klein July 2005
White vintage Gottex swimsuit from The Attic, Las Vegas.

Photography by Steven Klein July 2005
On her: Cartier earrings. On him: Vintage hat.

Beauty Note: Capture a great hair moment with L'Oreal Studio Line Fast-Forward Hairspray, which freezes styles in place without any stickiness.

Photography by Steven Klein July 2005
On her: Cartier earrings. On him: Vintage hat.

Beauty Note: Capture a great hair moment with L'Oreal Studio Line Fast-Forward Hairspray, which freezes styles in place without any stickiness.

Photography by Steven Klein July 2005
Photography by Steven Klein July 2005
On her: Miu Miu's cotton slip, at select Miu Miu stores, 888.977.1900. On him: Burberry London's wook pants, at select Bloomingdale's stores; Burberry, New York and Los Angeles, 800.284.8480. Vintage shirt from House of Style, Las Vegas; Omega watch from Aaron Faber Gallery.

Photography by Steven Klein July 2005
On her: Vintage dress from The Attic, Las Vegas; Mikimoto earrings. On him: Jil Sander's cotton suit and leather belt, at Jil Sander, New York, 800.704.7317; Alexander McQueen's cotton shirt, at Barney's New York, Bergdorf Goodman and Alexander McQueen, New York. Timex watch; Polo Ralph Lauren socks; Kenneth Cole shoes.

Photography by Steven Klein July 2005
On her: Vintage dress from The Attic, Las Vegas; Mikimoto earrings. On him: Jil Sander's cotton suit and leather belt, at Jil Sander, New York, 800.704.7317; Alexander McQueen's cotton shirt, at Barney's New York, Bergdorf Goodman and Alexander McQueen, New York. Timex watch; Polo Ralph Lauren socks; Kenneth Cole shoes.

Photography by Steven Klein July 2005
On her: Alberta Ferretti's silk chiffon dress, at Maxfield, Los Angeles; Mix, Houston. On him: Thom Browne's wool pants, at Bergdorf Goodman and Jeffrey, New York; Ron Herman, Los Angeles, DSquared belt.

Photography by Steven Klein July 2005
On her: Giambattista Valli ostrich feather and silk velvet and tulle dress. Christian Louboutin shoes. J. Medel's mink coat. Harry Winston earrings. On him: Alexander McQueen wool suit; Dior Homme cotton shirt. Dior Homme shoes. DSquared tie.

Photography by Steven Klein July 2005
On her: Giambattista Valli ostrich feather and silk velvet and tulle dress. Christian Louboutin shoes. J. Medel's mink coat. Harry Winston earrings. On him: Alexander McQueen wool suit; Dior Homme cotton shirt. Dior Homme shoes. DSquared tie.

Photography by Steven Klein July 2005
On her: Michael Kors's cream silk charmeuse blouse, at Saks Fifth Avenue; Bergdorf Goodman and Michael Kors, New York; Ralph Lauren's black wool skirt, at Bergdorf Goodman, New York; select Ralph Lauren stores, runway.polo.com. Christian Louboutin shoes. On him: Alexander McQueen's white cotton shirt, at Barney's New York, Bergdorf Goodman and Alexander McQueen, New York; Thom Browne's gray wool pants, at Bergdorf Goodman and Jeffrey, New York; Ron Herman, Los Angeles.

Photography by Steven Klein July 2005
On her: Michael Kors's cream silk charmeuse blouse, at Saks Fifth Avenue; Bergdorf Goodman and Michael Kors, New York; Ralph Lauren's black wool skirt, at Bergdorf Goodman, New York; select Ralph Lauren stores, runway.polo.com. Christian Louboutin shoes. On him: Alexander McQueen's white cotton shirt, at Barney's New York, Bergdorf Goodman and Alexander McQueen, New York; Thom Browne's gray wool pants, at Bergdorf Goodman and Jeffrey, New York; Ron Herman, Los Angeles.

Photography by Steven Klein July 2005
On her: Michael Kors's cream silk charmeuse blouse, at Saks Fifth Avenue; Bergdorf Goodman and Michael Kors, New York; Ralph Lauren's black wool skirt, at Bergdorf Goodman, New York; select Ralph Lauren stores, runway.polo.com. Christian Louboutin shoes. On him: Alexander McQueen's white cotton shirt, at Barney's New York, Bergdorf Goodman and Alexander McQueen, New York; Thom Browne's gray wool pants, at Bergdorf Goodman and Jeffrey, New York; Ron Herman, Los Angeles.

Photography by Steven Klein July 2005
On her: Narciso Rodriguez wool and silk crepe dress. Ciner earrings; Lee Angel brooch. On him: Thom Browne wool pants and silk tie; Trussardi cotton shirt.

Photography by Steven Klein July 2005
Photography by Steven Klein July 2005
Alberta Ferretti's silk chiffon dress, at Maxfield, Los Angeles; Mix, Houston.

Photography by Steven Klein July 2005
Vilebrequin's multicolored polyamide canvas swimming trunks, at Vilebrequin, New York, www.vilebrequin.com.

Photography by Steven Klein July 2005
Eres's black lace-trimmed silk jersey slip, at Eres, New York, Palm Beach and Los Angeles, 800.340.6004, www.eresparis.com.

Photography by Steven Klein July 2005