Angelina Jolie Celebrated Her 43rd Birthday By Taking All of Her Kids to a Theme Park
She's a cool mom, not a regular mom.
---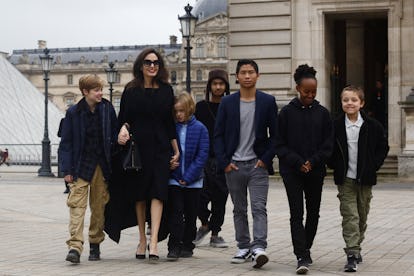 Mehdi Taamallah / Nurphoto
Angeline Jolie isn't a regular mom, she's a cool mom. For her 43rd birthday, the actress and humanitarian focused on her six children instead of herself: She treated them to a day at a theme park.
The Jolie-Pitt children tagged along with mom to Thorpe Park outside of London, where the Maleficient star has been filming the sequel—as her costar Elle Fanning tipped off fans to last week. Jolie didn't just bring her kids to an amusement park, though; she actually hopped on the rides with them. One of the rides Jolie braved was a a 2,460-foot, 50-mph roller coaster called the Nemesis Inferno, which, coincidentally, sounds like the kind of thing her Maleficent character would be very into.
While "nope" is a totally appropriate reaction to the ride, Jolie—along with most who'd go out of their way to visit a theme park with roller coasters—seemed to be loving it. After she survived the ride, she was seen laughing. "I'd just come off the Nemesis and Angelina was standing right next to us with her family and her bodyguard," a source told People. "She had her arm around her daughter Zahara and was having a real laugh with her under her very big sunglasses."
Outside of the fact that theme park visitors who came into contact with Jolie shared anecdotes about it, the mother of six was able to maintain a fair amount of privacy on her birthday trip. "Lots of people were trying to take a picture, but her bodyguard politely asked people not to because she was with her children," the source said. "She just seemed really happy and was laughing pretty much all the time!"
Outside of riding towering roller coasters—which are no big deal for the actress who can fly a plane completely on her own—Jolie also participated in some milder activities. She reportedly brought 13-year-old Zahara, 12-year-old Shiloh, and 9-year-olds Vivienne and Knox to the games section of the park, where she apparently walked away toting "a giant toy snake."
Hitting up games at amusement parks is a routine for the Jolie-Pitt family, as just last month the actress was seen (in the picture above) walking past walls of stuffed animals at Legoland Windsor with Knox and Shiloh. Two amusement parks within one month? Angelina Jolie truly is a saint.