Brad Pitt Is Reportedly "Much Happier" and "Charming" Again After Split with Angelina Jolie
He's reportedly living his best life.
---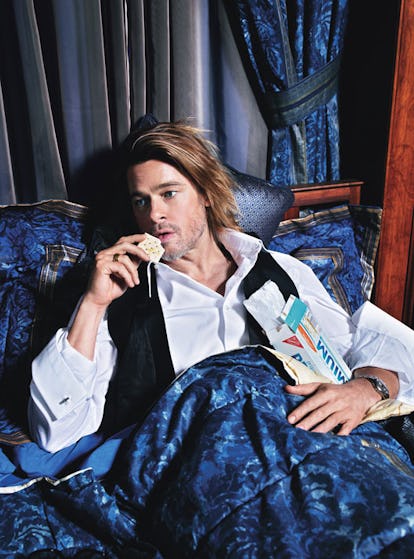 Long before Channing Tatum and Jenna Dewan's split became the internet's most convincing proof that love is dead, there was Brad Pitt and Angelina Jolie. Since the longtime couple announced their split and impending divorce, we've all grown just a tiny bit more jaded and cynical. One person, however, seems to be doing just fine a year and a half later, and that person is Brad Pitt. On Wednesday, People reported that "multiple sources" claim the actor was living his best life.
According to one insider, Pitt is "more like the old happy and charming Brad," now that he's spent some time focusing on himself. "Separating was very sad and shocking to him, but he started taking care of himself again," the source said. "He seems much, much happier."
"It took him a long time to date, but he is now," the insider added. "There hasn't been any talk about a special someone, though."
Or has there? The new and improved Pitt has reportedly been hanging out with brilliant architect and MIT professor Neri Oxman, People reports, dropping by her class and indulging her students' requests for a group photo. "She's genius and gorgeous," one unnamed architect who has "seen Oxman lecture and knows her work," told People.
Then again, this could be a case of gossip getting out of hand, as Page Six reports that they are merely friends with a shared love for architecture.
Either way, it's very interesting that the two are now enjoying each other's company, considering Oxman said this to W back in April 2017: "For the same reason we have the Brad Pitts and the George Clooneys, it's just part of human nature to idolize stereotypes."