Who's to Blame for Ending Brangelina? It Must Be Somebody's Fault!
Brad and Angelina are no more, and very, very clearly we must find a culprit to blame – a French Chateau? Becky with the Good Hair? Who!?
---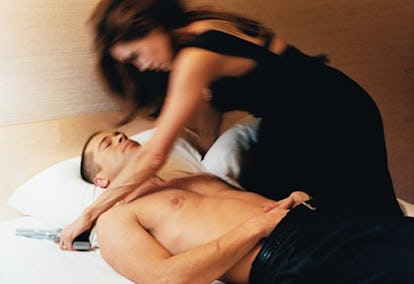 Photography by Steven Klein July 2005
Brad and Angelina have separated. Now we could accept that at the end of the day celebrities are merely people with their own very human issues and flaws and choose to give the couple privacy as they work out what's best for their future and children. We could just be patient and wait for the inevitable post-split interviews to have any curiosity satiated.
Or we could just all jump to conclusions. Because aren't celebrities entire lives meant solely for our entertainment? And doesn't all good, mainstream, easy-to-digest entertainment have a villain on whom to pin blame? Clearly, the crumbling of our greatest celebrity union must be someone's fault! But whose?
It Is a French Chateau's Fault According to an US Weekly report that predates the split, tensions in the Jolie-Pitt household were reportedly bubbling over whether or not to sell Chateau Miraval, the family's compound in the French countryside. Yeah, having a 1,200-acre estate with its own vineyard seems nice, until it stabs you in the back.
It is the Entire British House of Lords' Fault The same US Weekly report also claims that Jolie (who is not British) wants to move to Britain to join the House of Lords, which seems completely bonkers, as the House of Lords is a nearly obsolete institution with little real remaining powers. Except, apparently, the power to break up Brangelina.
It is Marion Cotillard's Fault As per Page Six's gossiping, Jolie reportedly hired a private eye who uncovered evidence that Pitt and Marion Cotillard were "fooling around" on the set of their upcoming movie Allied. Though, Page Six has since walked back the report with a source close to Cotillard denying the allegations and affirming she's still with long-term partner Guillaume Canet.
It is a Savvy Publicist's Fault Well, the first trailer for Allied did just conveniently drop today. Seems this divorce is working out just a little too well for that release, set to open November 28. Very suspicious.
It is Jon Voight's Fault According to TMZ, Jolie was upset that Pitt had grown so close to her still semi-estranged father Jon Voight.
Jon Voight, however, says he has no idea what's going on.
"I have no idea [what happened], but I'll find out," he told US.
Which is exactly what someone who doesn't want you to think it's his fault would say.
It is Nicole Kidman's Fault
Nicole Kidman was originally set to star in Mr. and Mrs. Smith and recruited Pitt for the other lead role, but dropped out due to her commitment to Stepford Wives. Clearly, it was all part of her master plan to destroy as many A-list marriages as possible following her split from Tom Cruise. If she couldn't be happy, no one would.
It is Gwen Stefani's Fault Alas, Gwen Stefani was Angelina's only major competition for the role of Mrs. Smith once Kidman dropped out. At least according to Gwen Stefani. It's likely she bombed her final audition because according to RIAA bylaws she gets triple royalties anytime a celebrity cries to "Don't Speak."
Interestingly, Stefani maintains friendships with both Jolie (they've been papped taking their kids on play dates) and with Aniston (she reportedly recently brought Blake Shelton along on a double date with Aniston and Justin Theroux). Really makes you think, doesn't it? At the very least we'll imagine that Aniston texted Stefani this morning like, "Girl, tell me what you know."
It is Weed's Fault TMZ's sources also claim that Jolie had grown tired of Pitt's penchant for pot, which led to strains in their marriage. Not such a harmless drug now, is it?
It is Becky With the Good Hair's Fault We're just saying, the police always check out suspects who have committed similar crimes in the past.
Watch Brad Pitt Lynn Hirschberg's Screen Test.