Chart of Darkness: My Month of Charcoal, the New Beauty Staple
An exhaustive personal investigation of the latest detox craze, ER visit included.
---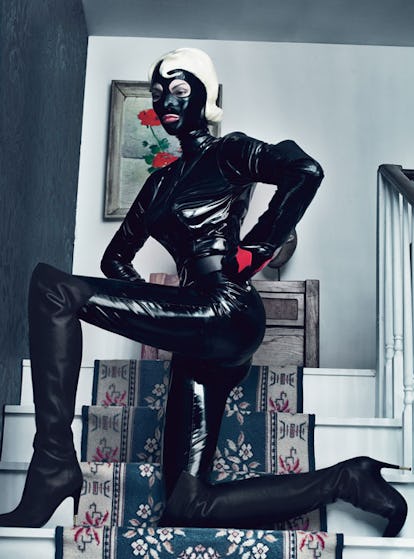 Ever since Gwyneth Paltrow gave charcoal her GOOP stamp of approval last year by declaring a pitch-black lemonade concoction one of the "best juice cleanses," the world's most underground beauty ingredient (literally) has become a household staple, found in everything from toothpaste to towels. Organic Avenue founder Denise Mari was an early adopter of the trend as well, telling The New York Times in November after shuttering her juice empire that now, "Everyone is talking about coal and charcoal." Juice Generation still sells a bottle of activated charcoal for a cool $9.95, and Dirty Lemon will ship you a week-long charcoal cleanse if you simply text them your address. Over at Vanessa Traina's Apartment by The Line, you can even buy a bundle of neatly stacked charcoal sticks for $54 dollars. It's official: charcoal is the new black, but in more ways than a GOOP gal ever imagined.
In the past, coal was the last thing you would find on someone's wish list. It symbolized the death of desire: a flame blown out. It's still used in hospitals to combat over-indulgence, or to subsume all things naughty, like alcohol and drugs. But thanks to the beauty and food industries' recent obsession with cleansing customers of all things "toxic," charcoal has been rebranded as an all-natural, zero-calorie detox miracle that absorbs anything bad in its path. And by "anything," I mean even your smelly shoes. Throw one of those $54 sticks into your Common Projects this summer and no one will know you wore leather sneakers without socks.
12 Charcoal-Based Beauty Products to Buy Now
It's a simple leap, really: If charcoal is used to combat alcohol poisoning in hospitals, why not combat your own, inevitable raging New Years hangover at home (with a lower dosage of course)? This was my first bright idea of 2016. Before going out, I swallowed two charcoal capsules, which you can buy in any pharmacy's vitamin section. When I woke up the next morning, truth be told, I felt relatively less awful than I should have — though still awful, objectively. After more (tamer) weekend trials, the results were the same. Still, it was possible that it was due to some placebo effect, or a self-preservation symptom after over-hyping charcoal to friends at bars ("It's like eating a lot of burnt toast!"). So I decided on the side of rigor: I would continue to test the combined effect of as many different charcoal products as I could find over the span of a month.
My Dirty Lemon charcoal juice cleanse was going great until I stabbed myself trying to scrape the bottle label off so I could Instagram the all-black liquid. Be warned, my #NoFilter friends: Detox fads are dangerous! I wish I was kidding, though, when I say that this one landed me in the emergency room. To make matters worse, I kept doing the cleanse without realizing the charcoal was absorbing the antibiotics I was prescribed! If that doesn't prove my devotion to Dirty Lemon, then I don't know what will.
Of course, I knew better than to Instagram myself doing a black charcoal face mask. (Yikes.) I was equally happy with the results though: Fig + Yarrow's clay mask and the Dr. Jart+ sheet mask both cleared up my skin. In the shower, I used soaps from Herbivore and Shamanuti, combined with an exfoliating sponge from One Love Organics for a deeper clean. However, I do not recommend Biore's "Deep Pore Charcoal Cleanser," which will make your face burn within seconds of contact. Pro tip: if charcoal is not one of the first three ingredients, put it back on the shelf.
In the end, perhaps the most surprising success was charcoal toothpaste. While the look and taste is off-putting — I was too horrified by my blackened smile to even look in the mirror — the charcoal's grittiness leaves your teeth feeling smooth and clean. That, plus a charcoal eye mask and some incense before bed, and I was fading to black in no time.
Watch W's most popular videos here: